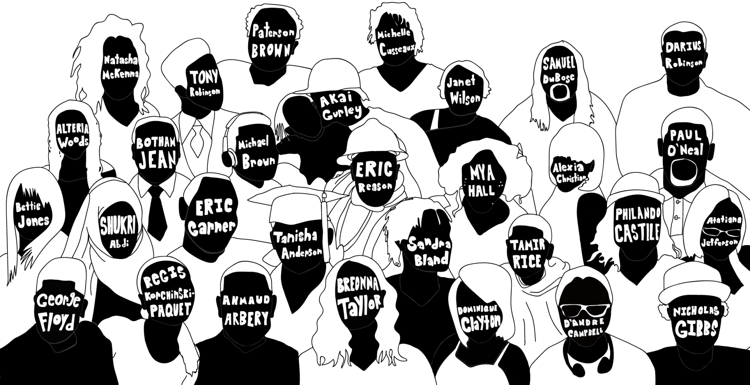 For many of us, the world has changed drastically in the last few weeks.
We are seeing injustices play out in front of our eyes — or more aptly, on our screens — we are reading, talking and discussing systemic inequalities and we are attempting to be an active part of change.
But, what we forget is that for many people, the world hasn't changed at all.
Violence, racism and their intersection are far from alien concepts to people in the Black community. What is outrageous to those outside the community is heartbreakingly normal to those who belong to it.
After widespread protests, online and off, the cops responsible for George Floyd's death were charged, more names like Oluwatoyin Salau, Robert Fuller and Malcolm Harsch are being shared and I see healthy conversations about race happening in many families and social circles.
But, I've also heard my friends say "hey, things are changing — it's getting better," and as I was scrolling through my Instagram feed today and saw far fewer posts about how flawed our systems are, I couldn't help but think "no, it's most definitely not."
We posted stories and black squares, some of us donated and protested. We stood in solidarity for two weeks and now we are getting burnt out. 
Non-Black people want things to go back to "normal" — forgetting the atrocities we've witnessed these past two weeks are normal for Black Canadians.
In the last two weeks, I have seen more resources speaking to racism and systematic oppression than I have seen in my entire life. I urge everyone to read these resources, to respect how people choose to show their support, to listen to Black voices and to check up on their Black friends.
But, if we stop doing these things and if we stop pushing for legislative change, the few victories won this week will simply be another bandage on a broken body. 
I'm not here to tell you what to do, that you aren't doing enough or that what you are doing is wrong. I am here to say that you need to keep going. 
It's not one bad cop. It's not two.
They, collectively, uphold a system that is part of the problem — but the Black community faces more than cops. 
It's about the extrajudicial killings, the inequality in healthcare and education, the unwillingness to open up social circles, the fetishization of culture and the fact that the Black community is facing the brunt of a global pandemic — it is a deep rooted problem that has reared its ugly side time and time again.
So, don't fall back into your routines, don't forget about this when the coronavirus isn't keeping us trapped inside and don't think one action fixes lifetimes of distress.
Don't make this a moment, make it a movement.