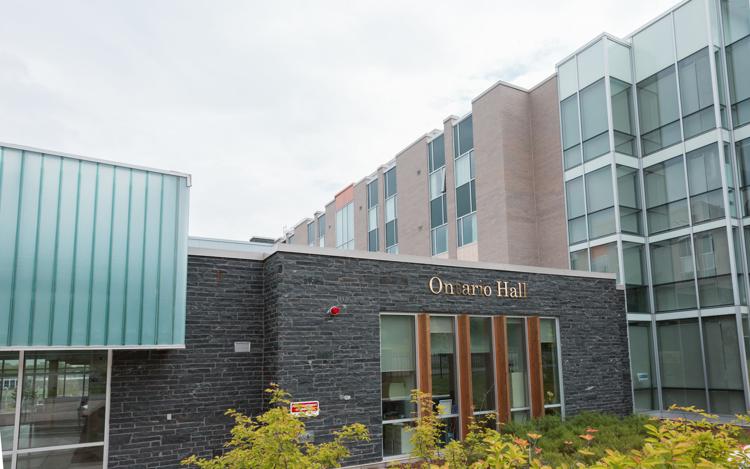 The provincial government spent weeks asking Ontario families to avoid gathering this Thanksgiving. London's Mayor and the local health unit urged students to "keep their gatherings to household members or take the annual festivities online." 
Even Western University's president Alan Shepard sent an email Wednesday night — albeit after most had already made travel plans — asking students to stay in London for the long weekend. 
And what did Western do over the holiday weekend? They closed all residence cafeterias except one in Ontario Hall. 
Ontario Hall is on the south side of campus, a 15 minute walk from both Medway-Sydenham Hall and Saugeen-Maitland Hall. But, even beyond the obvious inconvenience to students who chose to listen to health authorities and not go home for the holidays — and deterrent for students who may have otherwise stayed in London — the decision to close residence cafeterias was dangerous to the health and well-being of our community.  
Closing the cafeterias went directly against Western's own policies designed to keep students and residence staff safe. Students have been barred from entering residences and eating in cafeterias that aren't their own since the beginning of classes — all as a measure to prevent potential spread between buildings. 
To then pretend this was a normal Thanksgiving — especially after asking students to stay in town — and take advantage of a cost-saving opportunity to shut down cafeterias was nothing but gross negligence on Western's part.
The university said their plan to reduce dining hall services was "due to significantly reduced numbers of students staying in residence over the long weekend." But, even if there was a mass exodus of students over the long weekend — going against all public health guidance — that's still no excuse for the impossible position Western put those who did listen and made the tough choice to remain behind in.
The outbreak in London Hall was announced Sunday night, meaning students who lived on the same floor as a positive case could have been using the Ontario Hall cafeteria along with almost every other first-year student who stayed in the city last weekend. 
Even after the London Hall's outbreak, students who live in the residence, but on different floors from the positive cases, were not quarantined and told to continue using the communal cafeteria — even as the detected COVID-19 cases in residence were spread across several floors.
When a patron of a restaurant tests positive, everyone else at the establishment is contact traced and told to seek testing. If these are our public health guidelines, only quarantining students who live on the same floor as a positive case in London Hall — even when all students shared the same eating space — makes no sense. 
Closing the cafeterias put the safety of students who listened to health authorities at risk. If it is dangerous for students from different buildings to share cafeterias during the school week, it is dangerous for them to share on a holiday weekend.
Students residences are not like apartment buildings. Even in a pandemic, students in dorms share cafeterias, common areas and — in some cases — even bathrooms. If anything, distancing measures should be heightened in residence buildings, not cut for cost-savings like they were this Thanksgiving.