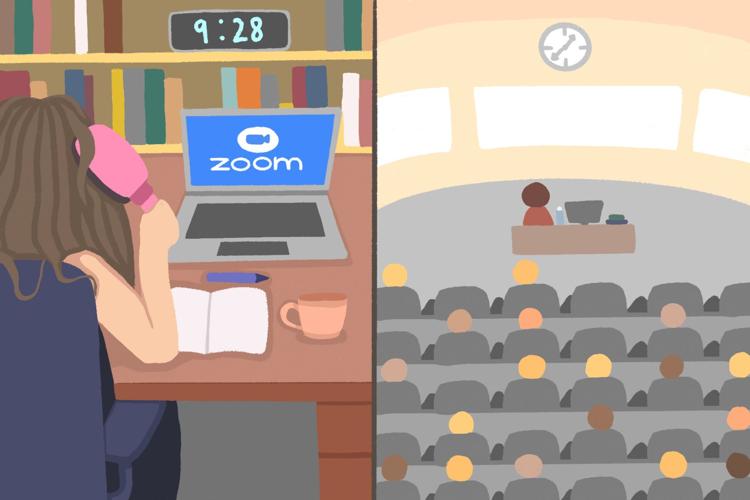 The pandemic has triggered massive shifts in how Canadian universities will deliver their courses this fall — from the introduction of robo-proctors to Zoom lectures — but this shift to mass e-learning is only a temporary change. Once we have a vaccine, we'll all be back in the lecture hall.
Western University announced in May they will deliver the majority of classes online this fall, but still ensure 25 to 30 per cent have in-person components. This is a small number, but it shows that while Western understands that holding fully in-person classes is completely irresponsible, it knows that online learning does not compare to in-person.
Even though digital courses can be more flexible and most are accessible world-wide, there are many courses that don't make sense to be completely online. Archaeology students need labs to properly understand the excavation process. Students in language classes are better off practising their verbs in front of their peers, encouraging more natural conversations. Drama students need to act out plays in front of audiences to properly understand their performance. Going online-only will drastically take away the quality of the education institutions are providing.
Online learning isn't as effective as in-person learning for most students. Being in-person allows students to foster better social connections with both their instructors and fellow students. On average, most students perform worse in online courses, especially those who already struggle in traditional learning environments.
Western also prides itself on student experience. With hundreds of clubs, councils and teams unable to run and the traditional residence experience altered to accommodate social distancing, our student experience is minimal to none. This isn't the Western that students paid for, and it isn't one students will accept post-vaccine.
We also have to consider that Western is a business and their main goal is to turn a profit. In-person classes bring more first-year students into residences, making more money for the university. Being on campus encourages students to spend more on coffee, food and books.
Even without a vaccine, it may prove safer for the community to return to in-class learning. Research conducted by Cornell University found that there's likely to be more cases among university students and staff with online classes than in-person ones. If done in-person, schools can control the testing of their students; with online classes, universities cannot enforce or provide easy-access testing.
For now, we have to settle with Zoom classes and invasive online proctoring systems. But as soon as they get the all-clear, Western will guarantee that we're on campus.
Disagree with our opinion? Read the other side of the story here.
---
This article is part of our annual Frosh Issue, read the full issue online.