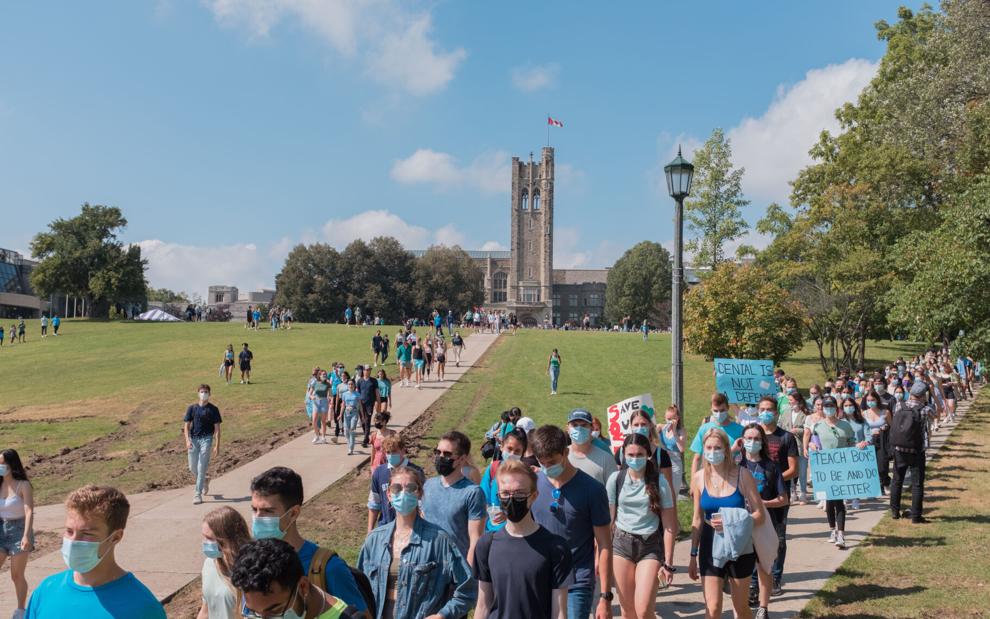 OWeek provides a space where students can party in a somewhat controlled environment. Abolishing the event won't get rid of Western's party culture — it will hurt students.
A recent article written for The Conversation argues that cancelling Orientation Week is the best step forward to reduce the prevelance of rape culture on campus.
While something can be said for OWeek perpetuating rape culture on campus, first-years are going to party during frosh week no matter what. Banning the sanctioned on-campus events will just create a situation similar to Homecoming and Fake Homecoming, moving parties off-campus where Western's resources aren't available.
On campus, Western is able to provide the services like the Student Emergency Response Team and campus police. But, more importantly, when OWeek events are on campus, the university is able to manage who is in the crowd  
If there were no orientation programing, Western would be the only major Ontarian university without a proper OWeek. Instead of having a calm start to the school year, students would more likely just try to find other ways to party to compete with their friends across the province, potentially putting the community and themselves at greater risk. 
More importantly, given the current campus climate, canceling OWeek would send students a dangerous message: students would be told sexual assault and drugging is expected on campus.
Arguing Western's sexual violence problem is due to OWeek says parties are the problem and doesn't address the individuals who are doing the assaulting.
Western needs to tackle the problem of assault during OWeek, not the problem of partying. 
Sophs and other student volunteers shouldn't have to act like bouncers and security guards. If we want first-years to be safer, we need to compensate and properly train the student volunteers who lead them how to act in these situations — and hire people to do the jobs undergraduate volunteers aren't trained for. 
OWeek is introducing students to Western. By taking away the one opportunity they have to meet people and bond in a controlled environment, the school would be putting itself in an even more dangerous safety situation.