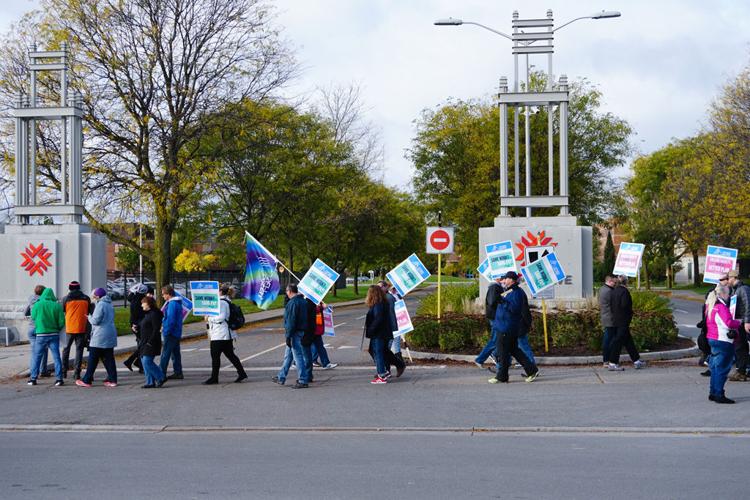 With college students back in school, Ontario has announced two major compensations for students. While it's a good start, many students will be overlooked.
Following the end of the five-week college strike, the province announced two offers of compensation to college students: a full tuition refund or $500. Students who do not wish to continue their semester will receive a full tuition refund while full-time students who wish to continue their semester can apply for up to $500 with proof of financial loss. 
Overall, the two initiatives are good efforts to compensate students, but for some students continuing the semester, $500 isn't enough. 
International students, for instance, might have been more affected financially than domestic students, as factors like exchange rates, plane tickets and tuition are different than those of domestic students. In addition, some international students might not have the choice to discontinue their semester because of their overseas studies, visas and other factors. The $500 cap could be more flexible, considering some students will need nothing while others will need more. 
Perhaps the $500 compensation proposal could benefit from an OSAP-style system: one that determines financial aid on an individual basis based on financial need. This system might be a better way to distribute compensation fairly among students who experienced financial loss because of the strike. At the very least, it's something to consider for the next time college faculty go on strike.
Proving financial need when applying for compensation might also pose problems. Students had no warning they'd need to hang on to proof of purchase for travel or accommodation, and they may not have it.
On the other hand, the full tuition refund for students who wish to drop their semester is fair. Students who feel that they did not, and will not, get what they paid for should be able to get their money back. 
Notably, a class action lawsuit against Ontario colleges for students' lost time and money is also ongoing. While it's likely the lawsuit will be unsuccessful — a similar 2009 class action launched by York University students failed — it's a good advocacy initiative. The class action draws attention to students' voices. 
Colleges should be expected to compensate students for their financial loses during the longest strike in Ontario's history, and their efforts are good, but there could be a more fair distribution of compensation for students who are continuing their semesters.