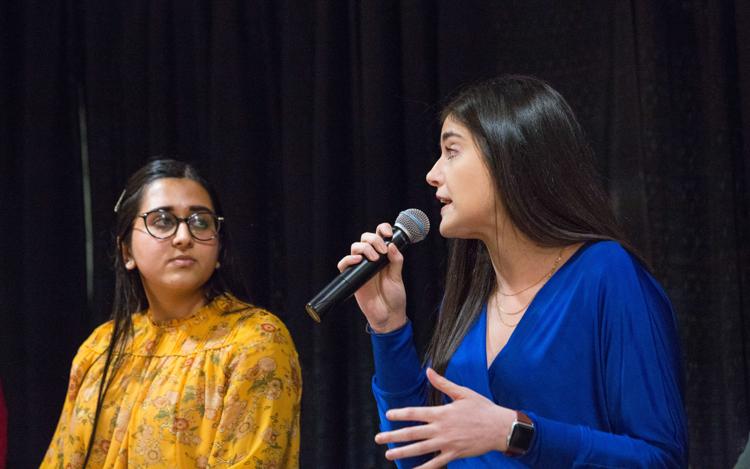 Victoria Barroso is the president of Western's second-largest faculty council. A week from now, students will be casting their votes for next year's USC president, and her name is on the ballot.
Barroso sat down for a recorded Q&A with the Gazette's opinions editor, Hope Mahood; Radio Western recorded the conversation. A transcript, edited for length and clarity is below, but you can listen to the full interview here.
---
A few months ago the USC passed a motion to split the vice-president position in two and have both new positions hired internally by council. This means that students have dropped from electing two out of five executive members to one out of six — in short, giving students less voting power.
This motion passed unanimously, which means you voted for it. Yet you have an entire pillar in your platform dedicated to student engagement and transparency. How do you balance that?
Absolutely, I think in engaging students in elections I think actually the splitting of the VPs and moving the election to just the president at-large will be engaging more students.
I think we've seen that in this election that there are more candidates running, it's engaging more students as candidates. Also four different campaign teams as well as students being more interested in hearing debates because there's a broader variety of different perspectives.
And student engagement is obviously very important to me, because it's such a big part of my platform and I think that balancing the fact that students maybe have less voting power in this election.
If in this position next year I want to ensure that students still remain engaged with the USC, if not more so than before, and so that's why it's such a priority for me. And that's why I think it's kind of a good move for the USC to be splitting this election season and allowing students to have say in their president candidate.
It's well-known that the first challenge of any USC president is Fake Homecoming and Purple Fest. You talk about this briefly in the Student Safety section of your platform but don't lay out a distinct plan — I'm wondering if you'd be willing to get into some specifics now?
Absolutely, thanks for bringing that up actually. Purple Fest and Homecoming are kind of obviously touchy subjects for everybody. And I think it's important to note that the incoming president doesn't actually select the artist for Purple Fest, so that's why it is a kind of vaguer point of my platform.
Because I do want to work with the outgoing executive because they already have some systems in place for next year. So, working with them on the plans that they've put in place.
But also something that I'd like to implement next year is a public contingency plan passed through council. So, coming up as an executive as to what our plan will be in the event that an artist doesn't show up or something has to be changed last minute and presenting that plan to council so that it's very clear as to what the process will be so that when something does happen.
Or if something does happen, students are aware of the process the executive had to go through in order to make the event successful and safe for students.
You're the only candidate to bring up paper-towel-only garbage and you received a lot of praise for that on stage last night at the USC debate. Why is this initiative so important?
Thanks for bringing that up. It's funny because in my time in residence, and also as a residence advisor in my second year, I thought it was a great initiative that already existed in a lot of our traditional residences on campus and then when I would go to class I be confused as to why we didn't have that on main campus as well. It seemed like such a simple thing to me.
Paper towel is 17 per cent of the waste we produce on campus, so it seemed like a really great way to be able to eliminate that from our campus and being able to move towards our zero-waste goal.
It's also something that's already been implemented at King's [University College]. So I think working with residence and working with the affiliates who have been able to implement this on a larger scale. I think it's a great way to, like I said, reduce our waste and implementing it across main campus would be an awesome initiative.
Under your inclusivity and accessibility pillar, you mentioned you want to run an accessibility audit. How do you plan to run this audit? And what is the ultimate goal?
Yeah, I plan to run this audit. In partnership with the university, I think it's something the university should also be considering as well. And obviously, it should be a priority of theirs to make sure that all spaces on campus are accessible to students.
I also think working with the USC's accessibility coordinator, who works directly with students who face different accessibility challenges, whether it's physical or in their academic experiences as well. And I'd like to work with them since they're aware of what the issues are with students.
And formally evaluate different physical spaces but also learning spaces on campus and where we could implement either renovations to make our campus more physically accessible, or in our academic practices, allowing for students to record or better you know, note taking services so that students who need academic accessibility are also able to receive that.