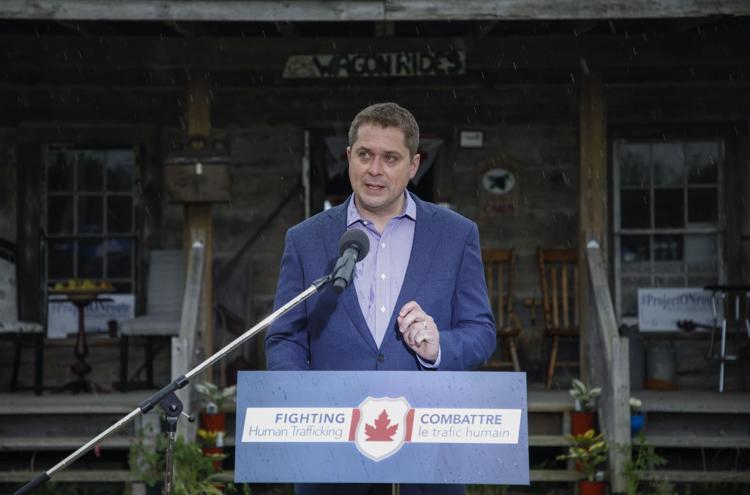 The Conservatives got off to a contentious start this election, with aspirant Prime Minister Andrew Sheer defending two MP candidates for their past bigoted comments.
This election, the Conservative campaign has been defined by its platform's prioritization of securing a strong Canadian economy above all else. 
Adam Wallace, president of the WesternU Conservatives club, sat down to speak with Gazette Opinions Editor, Hope Mahood, on why students should consider voting blue this election. The interview has been edited for length and clarity. 
Early in his campaign Scheer defended two MPs who'd made homophobic comments in the past. Do you think an apology for past homophobia is enough when you're running for office? 
I think it's kind of two-fold. I think you have to look at what exactly the impact is of those kinds of statements and what context they were made in. I think an apology is a great place to start but there's got to be some sort of plan on how to move forward with that. 
You need to make sure you're appealing to the Canadian populace and that you're not necessarily taking anybody out of the framework of who you want to have in your electorate. So, I think an apology is definitely a great start but there is more to be done, especially when you're in the public eye. 
What would that be? 
So one thing I'd recommend is more outreach, showing in different ways, on foot, how you are reprimanding yourself for your previous statements. 
For example, if you said something homophobic, OK, what are you doing now to fight homophobia? What are you doing now for the LGBT+ community? These are things that, when you're a public servant, you have to be careful about. You have to be mindful about that because not everybody thinks like you. It's not just conservative versus Liberal anymore there's Conservative plus, there's Liberal plus. 
Everyone is their own Canadian citizen. So if it were me in that situation, I would start making steps like that doing some more community involvement. But doing it in a sense that's not just going through the motions, it's doing it in a sense that you're going to be genuine about it. You need to show the ingenuousness of your impact. 
So, students really care about climate change — do you think Scheer is promising enough in this area? 
I think Scheer is promising enough for climate change. Well, just to back up, Scheer is promising enough in fighting for the environment in the best way possible to preserve the economy. 
You look at the Green Party, you look at the Liberal Party, the NDPs — they are very active on climate change and many will argue they have made it a larger priority than the Conservative Party. And that's perfectly OK if that's your top voting priority. But one thing that the Scheer government would try and fight for is a strong economy — and so that's their priority. 
They want to help the environment. They want to make sure that our carbon footprint isn't larger than it needs to be — that's going to be detrimental to our future generations. But at the same time they try and make sure that fits in with their economic platform and try to get both of them going harmoniously, as opposed to just forgetting one side of our overall environment — literally.  
Alright, and Sheer's promised to raise government contributions to RESPs from 20 per cent to 30 per cent. Do you think this will do enough to help low-income families, in comparison to, say, tuition grants for low-income households? 
So one thing that I've learned — not that I've been around for too long, right? I'm only 21 — but one thing that is great about an RESP, is that you're able to save some money that's not necessarily being taxed like crazy and apply that towards something else in the future such as education in the future. 
So I think that this is a great way for people, with that increased amount to save their money and apply it towards their children's education. Which I personally believe is an investment and your education is an investment in your career. And so there is what you were saying before — were you alluding to OSAP? 
Not necessarily. 
But something similar? 
Sure, something similar. 
So I think that definitely is worthwhile for low-income families. But at the same time you want to see economic elevation: you want to see people who are struggling do better in the society — economically, socially, so on and so forth. And so with Scheer's decision to increase that RESP limit, that's definitely going to help some low-income families who can see themselves elevate into the middle class.