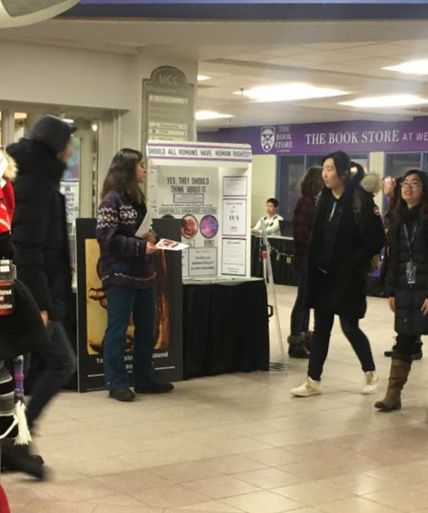 While it is not my intention to silence the opinions and belief systems of another group, I do feel that free speech should be limited under reasonable grounds. As both [University Students' Council] presidential candidates agreed, free speech is permissible on the university campus so long as it does not promote hate speech, endorse violence towards a particular group, or create an unsafe space for students and faculty.
The debate regarding Western Lifeline's demonstration early last semester isn't just a question of abortion being morally right or wrong. Rather, it contributes to a larger conversation surrounding bodily autonomy and women's rights.
Advocating for fetal rights and abortion as a violation of human rights seems unthinkable to me. Women's rights are also human rights, and frankly, being handed graphic anti-abortion flyers is a violation of my own bodily integrity. I am entitled to the right over my own body. For centuries, feminists have been fighting for the rights and freedoms of women — and all for what? Just to be denied bodily agency?
Sexual violence and abortion are all difficult conversations to be had. As a female student on this campus, it is crucial that we have someone who is willing to speak up, have these open conversations, and protect our needs and interests. We need a USC president who isn't afraid to align themselves with women's rights. What we don't need is a president who neglects pervasive women's issues on campus, or the promotion of graphic images of abortion in our safe, public spaces.
— Mimosa Nguyen, fourth year, English and women's studies
Editor's note (Feb. 1, 2018 at 6:00 p.m.): Nguyen is an active member of Team Ocean's campaign team.