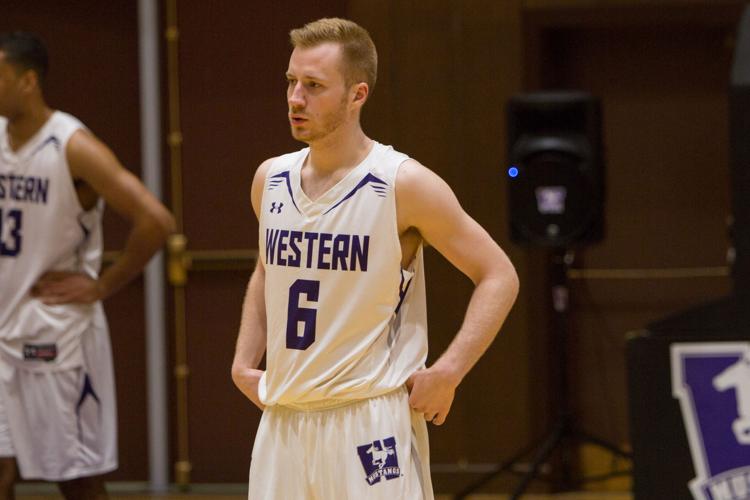 Alex Coote's teammates call him "The Engineer" on Twitter. He's their fourth-year captain and an instrumental part of the resurgence of a basketball program, which is now way ahead of schedule. He also juggles basketball with a fulltime internship Schaeffler Group North America, an engineering company.
But for Alex Coote, juggling basketball and an internship is a challenge he's embraced. As Mustangs head coach Brad Campbell explained, Coote has always been a hard-working gym rat. Some would describe him as a program guy: a player without eye-popping stats whose commitment to his team is an invaluable asset. 
"I am sure Alex wishes he could spend more time in the gym," said Campbell. "Alex has a tremendous work ethic and a positive approach, which has served him well this year."
Coote's schedule is unlike that of most varsity athletes. His hours at his internship average about nine hours a day, five days a week. The Mustangs practice two hours a day, six days a week.
While his job has been accommodating, Coote admits the transition from school and basketball to a full-time internship and basketball was not easy.
"It was definitely something I had to get used to when the season started, and it's definitely been tougher than any of my other years, but I'd say I'm used to it by now," Coote said. "I'm definitely in a routine by this point in the year, and that makes it easier. It's just sort of habit."
Coote's passion for mathematics and science drove him to study engineering. He credits his parents with instilling a drive in him to develop an interest in problem solving. 
As an intern at Schaeffler, Coote worked in the design department. Recently he had the opportunity to become a temporary account executive engineer, which deals with customers on a day-to-day basis. It's an opportunity he's grateful for.
"The internship may not have been what I expected out of the gate, but I know I'm going to return to school with some great experience and great memories under my belt," Coote said.
On the court, Coote's minutes have been limited because of performances by Omar Shiddo, Eriq Jenkins and Nik Farkic at the guard position; however, Coote has been productive in the time he has played, averaging 13 points per 40 minutes.
But his impact on the program has been what makes him such a significant part of the team. The Mustangs clinched second place in the Ontario University Athletics West Division with a win over the Laurier Golden Hawks on Feb. 7. With a record of 15–9, the Mustangs have established themselves as a top-five team in the OUA. Part of that rise is due to the leadership of the team's older players, like Coote.
"Alex's leadership has been very important," Campbell said. "As a senior member of our team, Alex provides experience and is a great example to our younger players in terms of his commitment, work ethic and positive outlook. Above all, Alex is an outstanding teammate who is all about team success."
With a core of players that went through the trials of last season, he's seen how this team and program have grown together.
"We are still a young team, but we've got a good core now that's been together a couple years, and we've been growing together as leaders," Coote said.
Coote's career is a testament to the intangibles. He's shown that gaudy numbers don't make or break a basketball player. Leadership and a sheer will to win and improve every day, can be just as valuable as athleticism and big-time numbers. That's what the The Engineer's legacy will be all about.