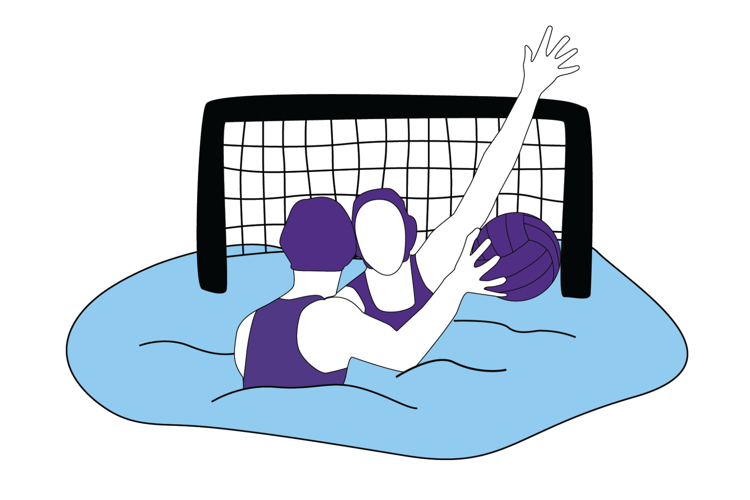 Both Annie Chinneck and Zoé Hlady have made waves in the pool this year as women on the Western Mustangs men's water polo team.
Hlady is playing in her first year for the Mustangs after spending her high school career competing for the Etobicoke Maverick's Water Polo Club.
Chinneck, on the other hand, is a bit of a water polo globetrotter. Going from the women's team at Carleton University to a mixed team at Dalhousie University, she's now on the men's team at Western; the fifth-year graduate student has seen everything that the game has to offer at the collegiate level. 
Since Western doesn't have a women's team, both women tried out individually and made the men's squad. Currently, Western is the only school in Ontario University Athletics that exclusively offers a men's team. However, this major detail hasn't stopped Chinneck or Hlady from playing the sport they love.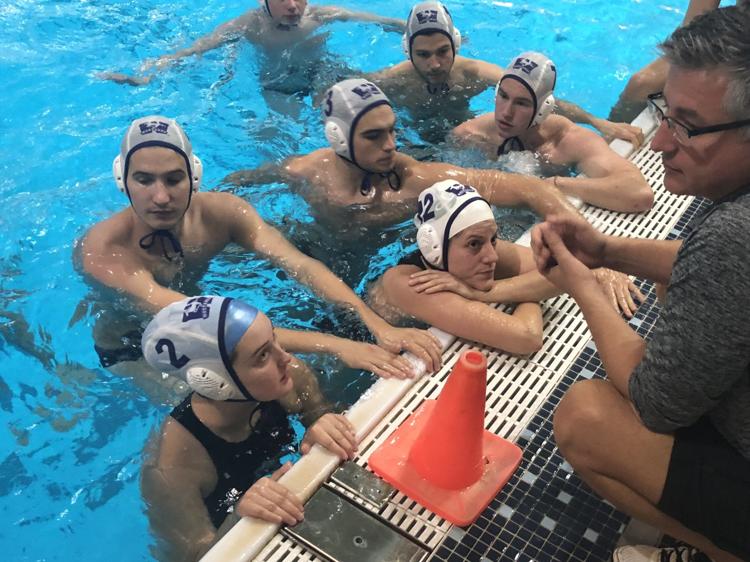 Water polo can be a brutal sport that at times plays like hockey in the water. Competitors on both sides will do anything to put the ball in the back of the net. In fact, Hlady and Chinneck explained that punches and vicious tackles can be staples of the game — even though they constitute a major foul. The difference between the men's and women's game has been stark, according to Chinneck.
"The style of play in women's water polo and in men's water polo is very different," she explained. "So I think that's the most unfortunate part, because we're at a disadvantage. Not because we're not skilled, but because this is actually a different game, and it's not a game that we're used to." 
However, realizing the difference in game style, the Mustangs coaching staff have looked to alter their game plan in order to take advantage of the skills that Hlady and Chinneck bring to the table. According to the pair, the new strategy consists of speed and finesse rather than brute force.
As trailblazers in a completely different sport, the two Mustangs said that, while the men's game can be difficult to play physically, the mental aspect is the greatest challenge.
"There are times where I doubt myself where I would not normally when I'm on a girl's team," said Chinneck. "I feel much more hesitant to make riskier plays or to shoot because I'm worried that I'll be pulled because of that."
Hlady and Chinneck agreed that, even in practice, their physical limitations can affect them mentally. Recently, a workout required the team to swim the width of the pool, climb out, touch the wall and dive back in. After dealing with constant cuts and bruises on her knees, Chinneck told her coach that she could no longer do that exercise. Working up the confidence to raise the issue to the attention of her head coach, Bill Terzis, was the hardest part.
"I went to Bill, and I asked him, which was very difficult for me to do, to be like, 'I cannot do these any longer,' " said Chinneck. "But then I just had this whole period of being like, 'Can I not do it? Or should I be able to do it? Is it because I'm a girl? Is it because I'm slow? Am I not good enough to be on this team?' These are not questions that I would have struggled with on the women's team."
Hlady was similarly hesitant to change her workout. In fact, after Chinneck shifted to a supplementary regimen, one that was an equally difficult challenge, Hlady initially didn't make the switch. The mental challenge kept her away from making a better decision for her body, she explained.
"For a short while, I didn't want to do the modified way; simply because I didn't," said Hlady. "I didn't want to give them any more reason to think less of me, right? Which again, it shouldn't be happening. I shouldn't have to. I shouldn't have to be doing everything in my power just to make them think that I'm equal to the guys."
While it has certainly been a difficult challenge for Hlady and Chinneck, they couldn't say enough about how supportive their teammates have been this year.
"You know it's [just] us worrying," explained Chinneck. "I would say that my teammates have surprised me in really positive ways every time." 
Hlady agreed, adding that she feels the situation has helped their male teammates, too. 
"We've seen a lot of change with them in the two months we've been here," said Hlady. "I think it's beneficial to them, too. To have a couple girls, to have that other side of spending time with girls who are in this world so that they can kind of better understand and be better that way." 
Ultimately, though, both teammates readily admit that without each other, they likely wouldn't be where they are today. And while they proudly continue playing on the men's team, they have been pushing to add an official mixed gender team to Western's long list of athletic programs.
However, the process is an arduous and bureaucratic one, and Chinneck fears that it will keep talented water polo players away from attempting to join the team.
"I think it will be a long process," she said. "Which is unfortunate, because I feel like there are girls here that would play but are deterred by being on a men's team. I think there are girls at Western who would be interested in playing water polo and who aren't."
As part of the process, a mixed gender water polo team would be unable to travel outside of London to compete in tournaments as an official Western team. But after that year of no-travel, the women argue that, since men's, mixed gender and women's teams compete at the same time and in the same place, it won't be a massive economic hit to Western's athletics department. And according to Dave Tennant, another coach on the men's team who is helping, having two programs would be beneficial for the student-athletes' experience at Western.
"It's a natural fit," explained Tennant. "We would mirror the same games as the men's. It makes it that much more fun for both the men and the women to travel and visit places like Queen's and Ottawa. I think it will really add something to the water polo program at Western."
Chinneck and Hlady urge women on campus with water polo experience to join them in their first steps toward making a new team. The final decision on the team's status will be made on March 31, 2019.
But until then, Chinneck and Hlady will continue on the men's team, trailblazing in more ways than one.