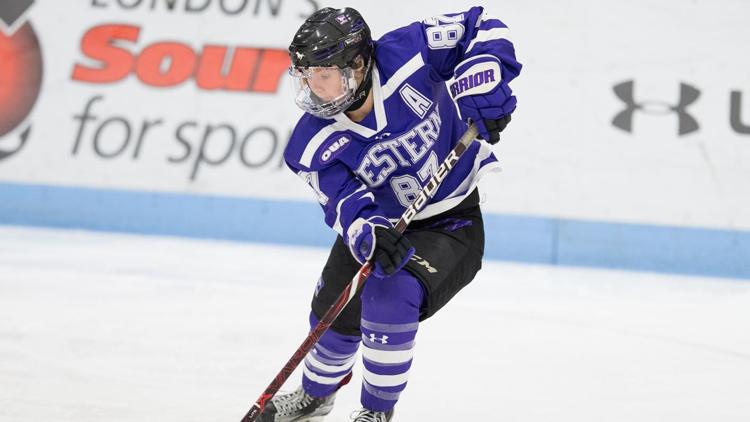 U Sports held its annual All-Canadian women's hockey gala on Wednesday evening in Charlottetown, Prince Edward Island, and Western Mustangs forward April Clark was named to the All-Canadian First Team.
The native of St. Mary's had a standout campaign for the Mustangs, scoring 20 goals and 33 points in 24 games to lead her team to a 14–7–1–2 record and an Ontario University Athletics semifinal appearance.
"It is such an honour to receive that award, it has been a personal goal of mine all year," said Clark on the honour. "But I didn't expect it because there are so many great players in this league."
For Clark, the individual honours come largely thanks to her teammates and coaches, who have supported her in her development on and off the ice.
"[I thank] my teammates and my coaching staff," said Clark. "My team was awesome and supported me all the way and this award goes out to them too, and the coaching staff constantly pushed me to be my best."
Clark was the lone OUA player to be named to the First Team. She was joined on the First Team by defencemen Lindsey Donovan of the St. Francis Xavier X-Women and Erica Rieder of the Manitoba Bisons, fellow forwards Alex Poznikoff of the Alberta Pandas and Jessica Cormier of the Montreal Carabins, and goaltender Tory Micklash of the UBC Thunderbirds.
The Second Team included defencemen Cristine Chao of the Toronto Varsity Blues and Claudia Fortin of the Concordia Stingers, forwards Katryne Villeneuve of the Moncton Aigles Bleu, Autumn MacDougall of the Pandas and Jade Downie-Landry of the McGill Martlets, and netminder Tricia Deguire of the Martlets.
U Sports also announced its All-Rookie team selections at the gala, honouring defencemen Rylind MacKinnon of the UBC Thunderbirds and New Brunswick Varsity Red Jenna MacLean, forwards Tyra Meropoulis of St.Francis Xavier, Erika Crouse of the Ryerson Rams and Breanne Trotter of the Mount Royal Cougars, and goalie Kendra Woodland of the Varsity Reds.
Clark will return next season for her final campaign with the Mustangs.