MAGAZINE
Athletes in the off-season
A peek into what it takes to stay in peak physical conditon
There are dozens of varsity teams at Western, but many sports have short seasons that end after only a couple of months. Student athletes, however, don't stop training there; no longer is the off-season a time to relax, but instead a time to improve and stay in shape.
Whether it's the seven-week baseball season, the eight-game rugby season or the six-week tennis season, the off-season can sometimes dwarf the actual season in terms of length. But what actually happens in the many months when teams aren't playing? What kind of work goes into "staying in shape?"
Here's a look into what it's like for six varsity teams in their respective off-seasons. 
Baseball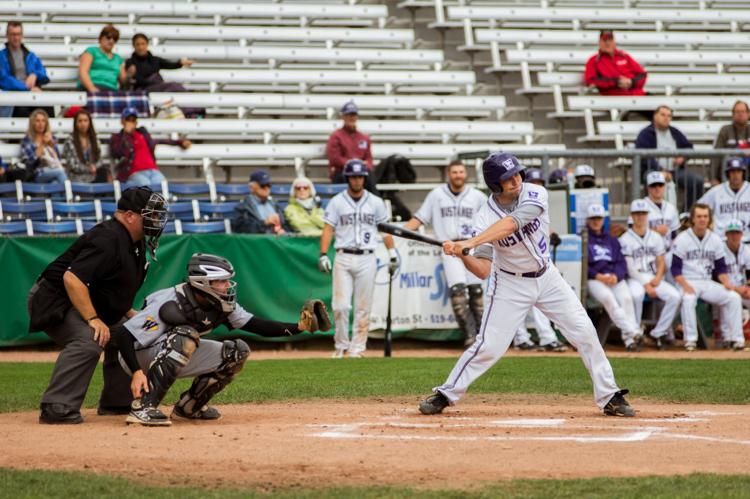 Baseball is a game of tiny details. A slight change in a pitcher's delivery or a tiny adjustment to a batting stance can sometimes make all the difference between a win and a loss. That's why the Mustangs baseball team is on the field non-stop during the season.
Nolan Anderson, a fourth-year engineering student who plays shortstop for Western, knows how tough it is to stay on top of the game. He's been a huge part of the Mustangs' team since 2012, when he was honoured as the Ontario University Athletics rookie of the year.
Anderson's father, a huge baseball fan, was the one who first got him into the game by signing him up for a local house league in London.
"I've been playing since I was six or seven," remembered Anderson. "Somewhere way back in the day."
In his four years as a Mustang, Anderson has become accustomed to the rigours of playing for one of the top varsity baseball teams in the province. During the short competition season the team is on the field every day, with practice Monday to Friday and typically doubleheaders on both Saturday and Sunday.
Practicing so often means the players have no time for any non-baseball workouts.
"We do all the gym stuff off-season," said Anderson.
The off-season training regimen starts in January, after a couple months of rest to heal injuries and catch up on schoolwork. Once the team returns from winter break, they're back at it.
"[Coach Mike Lumley] wants you to be working out two or three times a week in the gym," said Anderson. "He just expects us to do it on our own."
Other than one full-team practice a week, baseball players have flexibility in how they train in the winter. Anderson takes full advantage of the team's indoor practice facility, going in alone for extra batting practice at least once a week.
When exams finish in April, the Mustangs disperse, but it seems a significant chunk of the team stayed in London to play baseball in June and July last year. Anderson played for the local St. Thomas Tomcats, along with nine other Mustangs players.
"There were a lot of us on that team," said Anderson, "but we've got people that go home to Calgary, Vancouver and Toronto."
The team, then, is quite spread out over the summer. The coaching staff trust their players to stay in game shape without their supervision.
The Western team reconvenes in August to prepare for the upcoming season. Anderson finds there's always some rust to shake off at first.
"Your first couple games your swing's slow, your arm doesn't feel as good," he said.
However, he praises the team's new indoor facility for making the readjustment a lot easier.
"[Before the indoor facility], I remember we'd be inside a gym once a week, working out but not really doing much baseball," reflected Anderson. "[Now], being able to do baseball skills inside, two times a week, [you can] keep up your bat speed and you've been able to keep your arm in shape. It was a lot easier the last couple summers."
Last year, at least, the August training prepared Anderson and the team extremely well for the season. They went into the playoffs ranked third and won the OUA championship as the host team, recapturing the Jason Guindon Trophy for the first time since 2009.
In October before the playoffs started, Anderson was named a first-team all-star by the OUA after a tremendous season. He finished seventh in the league with a .400 batting average and a .520 slugging percentage, and was one of the top defensive players with 38 fielding assists, committing just one error all season.
Anderson has one year left of varsity eligibility, which he plans to make full use of in defending the Mustangs' title. After that, he's not sure yet what he wants to do. Anderson has no intention of quitting baseball and is looking into playing in a summer league after Western.
- Charlie O'Connor Clarke, Gazette Staff
Football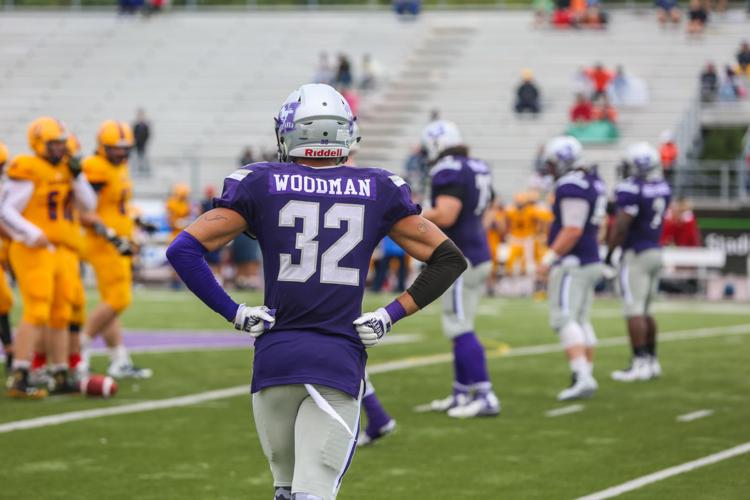 As one of Western's marquee teams, the pressure on football players to stay at the top of their game is tremendous. Players like Josh Woodman, a cornerback in his fifth year in the Mustangs system, deal with that pressure by sticking to a disciplined, intense training regimen.
Woodman was always interested in football growing up.
"My grandfather played when he was younger," he explained, adding his grandfather was also the one to bring Woodman along to his older cousins' games all the time. "They kind of got me into it."
When he got to high school, Woodman was finally able to play organized football.
"We didn't have minor football where I'm from [in Chatham]," he said.
He started with the Chatham-Kent Cougars as a defensive back before switching to the wide receiver position. He was recruited to Western as a wide receiver and didn't switch back over to the defensive side until halfway through his career as a Mustang.
His first year on the Mustangs' team, Woodman didn't burn a year of his eligibility, not playing enough for that until the final game of his second year. He attributes that to his off-season conditioning.
"My first two years here I didn't stay back [in London] in the summer and that really showed when I came back to training camp in August," he said. "I didn't really play that much because I didn't understand what it took to commit to football and get that training in."
After that wake-up call, Woodman figured out how best to get more opportunities to play.
"Once you get to university it's pretty much a full-year commitment," he said. "It can't just be on and off."
From the training schedule he laid out, that seems about right. The team practices five days a week during the short competition season, with two or three weightlifting workouts thrown in on top.
It's not much easier after the season either, with three positional workouts every week, along with a full-team on-field practice and a lifting session with the team's strength coach, Jeff Watson.
When training camp rolls around in August, Woodman admitted there is some readjusting to do, particularly getting in the first few practices and games with pads and helmets.
"It might take a day or two to get back in the groove of things," he said. "When the first game comes there's always a few missed calls or missed tackles."
At that point in the year, most players haven't seen game action for months, so Western's coaching staff raise the level of competition in training camp.
"[Head coach Greg Marshall] makes sure that we're competing almost as if we're in a game," said Woodman.
He also noted typically the Mustangs will invite another Ontario University Athletics team — whichever team they aren't scheduled to play that season — to come participate in a light-contact scrimmage.
Figuring out what it takes to train like a varsity football player has done wonders for Woodman. He's appeared in every Mustangs game the past two seasons, making 34.5 total tackles and catching nine interceptions. In 2014, he was named to the second Canadian Interuniversity Sport all-Canadian team.
Now, Woodman's focus shifts to the upcoming CFL draft. He'll be hoping to hear his named called in May. He could come back to Western for another year of eligibility, but that will depend on how the next few months play out for him.
- Charlie O'Connor Clarke, Gazette Staff
Rowing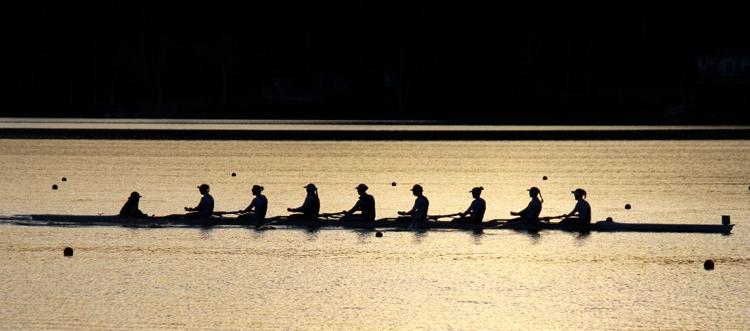 As a varsity sport, rowing often flies under the radar. Very few Western students would have heard that the Mustangs swept the most recent Canadian University Rowing Championships in November, with both the men's and women's teams capturing titles for the second time in three years in Nova Scotia.
Even a varsity rower like Jill Moffatt, a fifth-year health sciences student, only got into the sport by chance when she was asked to try out for the team in her first year at Western.
"[Someone from the rowing team] approached me in the gym and I was like, 'Okay, I'll go try out, because if I don't make it, it doesn't matter and if I do, then sweet,' " she said.
Moffatt did track and swimming competitively in high school, so she was missing the feeling of being part of a team. She rowed for the novice team in her first year and moved up to varsity the next.
Despite never rowing before coming to Western, the sport has become a huge part of Moffatt's life.
"I got kind of sucked in," she said.
You'd have to be dedicated to stick to it like she has, though. The varsity rowing schedule would likely make a typical student squirm.
During the season, the rowing team meets at 5:45 in the morning, six days a week, but Moffatt isn't fazed by this busy schedule.
"It's kind of nice," she said. "It doesn't conflict with your classes."
Even after the short Ontario University Athletics season ends, the rowing team's training regimen is a grind. The women's team works out together every Tuesday morning, and again on Fridays with the men's team. Athletes are expected to put in work on the rowing machine six days a week, either in the scheduled full-team workouts or partnered up with a teammate.
"It's so much more boring," said Moffatt about the off-season training plan. "You're just sitting there staring at numbers for 90 minutes.... Mentally it sucks a lot, it's hot and there's no windows [in the rowing team's indoor facility]."
Rowers don't even get a break during their "off" month of December, as the athletes are encouraged to stay active throughout their time away from school. Moffatt knows firsthand how important it is to maintain your fitness when the team isn't training together.
"If you just sit on your couch all of December, January is like a slap in the face," she said. "The first two weeks of January, especially coming off Christmas break, that sucks."       
Moffatt has had to learn over the years how best to use that month.
"I remember my first year coming back in January it was like, 'What have I done, I'm totally screwed,' " she said. "I think that just comes with time and it depends what level you're at, too. If you're junior varsity and trying to make the varsity team you're probably not doing too much in December because you really don't have to kill yourself, but if you're trying to make a national team there's a lot of different requirements."
Moffatt knows a thing or two about training for the national team. She won a silver medal at the 2013 Canada Summer Games for Team Ontario in the lightweight double sculls competition. In July, she competed for Canada at the World Under-23 Rowing Championships in Plovdiv, Bulgaria. She and her partner finished third in the B Final of their competition.
For someone who hadn't even picked up an oar before coming to university, Moffatt has had tremendous success in the sport. Last August, at the Mustangs Athletic Awards Gala, she received the MVP award for lightweight women's rowing at Western.
Moffatt can only be thankful for the athlete who approached her in the gym in her first year. That person started her on a path that could lead to competing for Canada at the Olympics one day.
- Charlie O'Connor Clarke, Gazette Staff
Tennis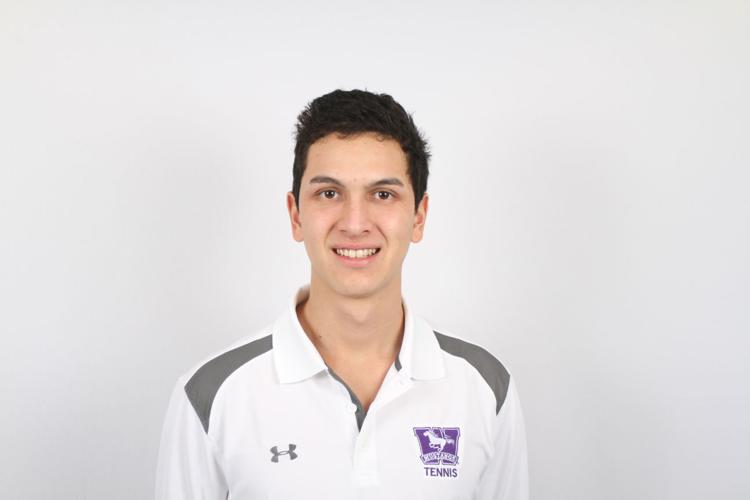 Tennis has an incredibly short competition season; this year, the men's team started their season by facing McMaster on Sept. 13 and wrapped up their season by taking a silver medal in the Ontario University Athletics championships against Toronto on Nov. 18.
Jabrille Kabli, fourth-year honours specialization BMOS accounting student, kept his tennis skills sharp during the long off-season by working as a tennis instructor at the London Hunt and Country Club this past summer.
Kabli, a Trinidad and Tobago native, tried out for the men's tennis team for the first time this September. Prior to playing at Western, Kabli played in the under-18 International Tennis Federation tour within the Caribbean circuit.
"Coming to university, I basically came to Western opting that I would not play tennis and focus on my academics," says Kabli. "But now that I'm in fourth year, I didn't want to graduate Western, look back and be like, 'I could have played tennis.' "
After tryouts, the competition season gears up right away.
"Our season, when it starts, it's straight into matches against other universities, so the coaches try to determine who is the most match-ready," says Kabli.
To determine that, practices are solely match play.
"[It] doesn't matter who's played the most tennis in their life, doesn't matter who has travelled the most," says Kabli. "It matters who is playing the best matches at the moment.... So we do a lot of match play and point simulation."
Independent weight lifting and general fitness training are encouraged by coaches but are not part of the training schedule.
For Kabli, he practices a total of 14 hours weekly during the competition season — two hours of tennis daily, Monday through Sunday.
In the off-season, that commitment drops to two and a half hours weekly.
This off-season, however, is an anomaly for the team. For the first time in four years, the men's team has not qualified for Canadian Interuniversity Sport.
"Unfortunately, it's the first time in four years that we haven't made nationals," says Kabli. "Nationals [are] in the summer, during around August, [so] if we were playing nationals we definitely would [have a training camp]."
To qualify for CIS nationals, teams must win their provincial finals. Western finished second in the OUA finals this year.
Beyond the disappointment of not qualifying for finals, the team faces the constant challenge of getting court time in the off-season.
"I wish there was more practice time in the off-season," says Kabli. "The challenge is, for the most part, buying court time because it's not even free."
Although varsity tennis athletes have the advantage of being waived the upfront membership fee, they still need to pay to use the bubble outside scheduled practice time.
What makes practices most enjoyable, Kabli says, is "when the coach is having a laugh as well." Head coach Anthony Glavanic also encourages athletes to play in a men's league on Saturdays.
"We have played with the coaches," Kabli says. "[Glavanic] is probably better than me, but I won't admit it."
Kabli's hopes for the men's team ­— beyond qualifying for nationals in years to come — is greater integration with the Western community.
"Not many people at school seem to be aware of the tennis dynamic," says Kabli. "A lot of people are interested that I've spoken to, and the way that the bubble is isolated from everything else makes it hard for people to just come across tennis and sit down and play."
Hopefully, the team can gain wider support from Western students as their success is recognized.
"Everyone wants to see their university team and see what it's about," says Kabli. "But with the bubble, if you're going inside, it's to be on a tennis court."
- Annie Rueter, Gazette Staff
Rugby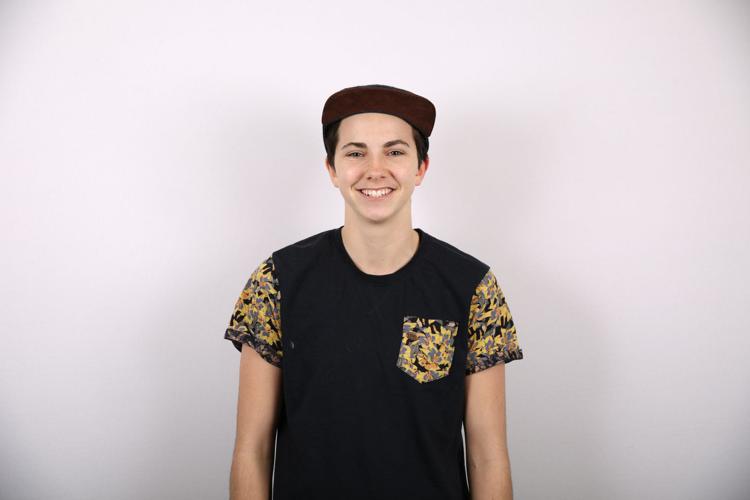 In 2013, Nikki Case was training with the women's national sevens Olympic rugby team in Victoria, B.C. Today, she is a second-year student athlete at Western studying general sciences.
Case, a Toronto native, was given the opportunity to train with the Olympic team after accepting her admission offer to Western.
"I was like, 'What? This has got to be a joke,' " says Case. "I didn't really didn't know what my skill level was at but apparently it was higher than most people to have gotten that email."
After a year of intensive training and playing in rugby tournaments across the globe, Case says she "missed learning" and decided to begin her first year at Western in September 2014.  
Since winning the bronze Ontario University Athletics title this past November, the team continues to train intensively during the off-season. Case explains the importance of off-season training and the level of commitment required to achieve individual and team goals.
"A lot of teams make huge jumps in the off-season," she says. "For example, McMaster has really diligent off-season training and they go to as many tournaments as they can. That was something we tried to do more of this year and keep up with our rugby in the off-season as a team."
The off-season for rugby begins in November and allows time for injury recovery — injuries tend to pile on during the season, says Case.
"It's why it's so great to have 30 people on the team because 15 play at any given time, but at the end of the year you're down to three or four subs," she explains.
After recovery, the team determines individual and collective goals to achieve starting in December. Case's personal goal is to gain more muscle mass.
"Personally, I'm pretty light for the sport," she says. "I want to put on more muscle mass because it's a contact sport — you can get flung around a little bit when you're light, so it's advantageous to be heavier."
Despite being in off-season, the women's rugby team commits six and a half hours to training each week. Case says the team spends two hours a week on rugby skills and one to one and a half hours of weight lifting three times weekly. 
Since last season, the team has seen some changes regarding off-season training. Rather than a personalized weight trainer, the team trusts Jeff Watson, the strength and conditioning coach at the Michael Kirlkey Training Centre, who arranges all the workouts for varsity teams.
"Last year our trainer liked hypertrophy work, which is building a ton of muscle mass, so not necessarily getting stronger," explains Case. "Jeff [Watson] focuses more on fast, explosive movements, which I think is good for rugby in general."
One of the greatest challenges the team faces in the off-season is attendance; Case can't attend one of the lifting sessions because of night class.
"Everyone is a very committed athlete and also a very committed student," says Case. "It's hard putting everything you want into sport and academics."
After exams wrap up in April, training only amps up for the team. Coaches encourage athletes to join club rugby teams in their hometowns over the summer to gain as much playing time as possible.
After the end of club season, the team jumps into the toughest part of their varsity season: training camp. 
"Training camp — no matter if you're in shape — is very intense," says Case. "It's two weeks before school starts, it's the hottest part of the summer, you're sweating out more than you can drink and there's not enough ice in the world to soak your painful body."
During training camp, the team trains for two two-hour sessions daily for two weeks and plays five test matches. The intensity level evens the playing field for athletes, many of whom are first-year student athletes playing rugby at the university level for the first time. 
And the off-season work pays off; Case was named OUA rookie of the year in 2014 and was named a Canadian Interuniversity Sport all-Canadian athlete in the 2015 season. 
Although Case does not want to pursue a professional rugby career, the sport and the people will always play a significant role in her life. Case plans to play throughout the entirety of her undergraduate career. 
-Annie Rueter, Gazette Staff
Soccer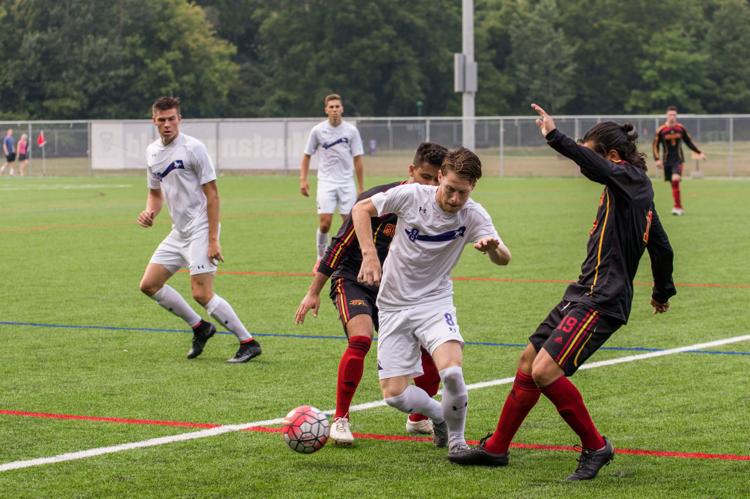 Connor McFall, fourth-year political science student at King's University College, has been a member of Western's men's soccer team for three years. Some of his fondest memories aren't from the wins, but rather from training camp.
"That's probably my favourite part of the year, says McFall, who plays midfield. "Pre-season, getting to see all the boys, back at school, training every day."
After a summer of playing club soccer, the team reunites mid-August to kick-start an intensive pre-season training camp.
"We start with two or three practices a day and by about a week into it they knock it down to one practice with a recovery session — so maybe light ball work or shooting," says McFall. "Pre-season is a lot of fitness to build up cardiovascular endurance."
In the summer, McFall plays for both FC London and London Marconi.
"Our FC London team that we play for is extremely good — they are probably the highest level of soccer that I have played," says McFall. "It's probably two tiers below [Major League Soccer], I would say."
London Marconi, an amateur team, is currently the back-to-back reigning national champion. The two teams feed players back and forth and also have connections to Western: Western's women's soccer coach, Martin Painter, is a former FC London coach.
After playing soccer several times a week from April to November, reduced playing time in the off-season presents a challenge to McFall.
"I kind of get bored or don't know what to do with my spare time," he says. "I just like to train, regardless if it's cardio or scrimmaging ­— its always fun. I'd rather do that than anything else, really."
Despite reduced playing time, the team still commits about five hours a week to off-season training.
"Usually we have two in-gym workouts a week and one indoor session in the BMO Centre in London," says McFall. "Just to get out there and get the legs moving again ... to avoid being rusty basically."
To get in a bit more playing time, several team members also play futsal at the Western Rec Centre.
Like the women's rugby team, the men's soccer team relies on Jeff Watson to design effective weight programs. 
"We have a designed workout plan with Jeff Watson in [the Michael Kirkley Training Centre]," says McFall. "He does an extremely good job at developing sport-specific workouts for soccer athletes."
Rather than attributing the success of the team to any particular element of off-season training, McFall emphasizes the importance of the connection between teammates.
"I think it really comes down to how much we enjoy being with each other, and playing with each other as well," says McFall. "I think it speaks volumes of our team. Although it might not technically translate into points or wins, you can tell that there's a good connection between us on the field."
In the 2015 season, the team was eliminated from a chance at the Ontario University Athletic championships by Guelph. McFall acknowledges how challenging the west division is, which Western plays in.
"We play in the toughest division in the entire [Canadian Interuniversity Sport]," says McFall. "It's tough to make it out — only two teams do usually."
In McFall's third year and the 2014 season, the CIS final was between McMaster and York; both universities play in the same division as Western. McMaster knocked out Western from a chance at competing in CIS by winning the game on a penalty shot.
McFall transferred to Western from Notre Dame College of Ohio in his second year, but was ineligible to play in the CIS because he had played in the NCAA the previous year.
In terms of McFall's plans for next year, he is uncertain if he will return to Western as a fifth-year student athlete. McFall anticipates a good athlete turnover due to the coaches' ability to scout from the talented London pool. 
One thing is for sure: McFall will miss the team social dynamic should he not return to the team next year.
"I wouldn't change it for the world," says McFall. 
-Annie Rueter, Gazette Staff