It's a Saturday night and the men's hockey team steps onto the ice to begin their pre-game warm up. They circle the ice, stretch their limbs and break off into some light drills.
The warm up ends and the players from Western and the Toronto Varsity Blues take their position at centre ice for the faceoff.
While this is happening on the ice, another group takes their positions outside of the spotlight behind the scenes.
This group is the crew of Mustangs TV.
They've actually arrived hours before the game started. The 13-member crew is made up of play-by-play commentators and camera, tricaster and replay operator.
But for many of the Mustangs TV crew, the preparation for a two-hour hockey broadcast starts even before game day.
"A lot of work goes into it," fourth-year MIT student and play-by-play commentator Mike Distefano said. "I had to go and research the [other team's] players, see who their stars are, see how they've been doing [and] research the coach. I keep a log of past games we've played against them over the past few years and I check to see how the games went."
But the preparation and research that goes into the job is worth it, especially in moments where the on-air commentators need to fill dead air.
"If something happens like an injury and we've got to kill five minutes, it's time for me and my partner to stand out and show that we do know a lot about the sport," Distefano said.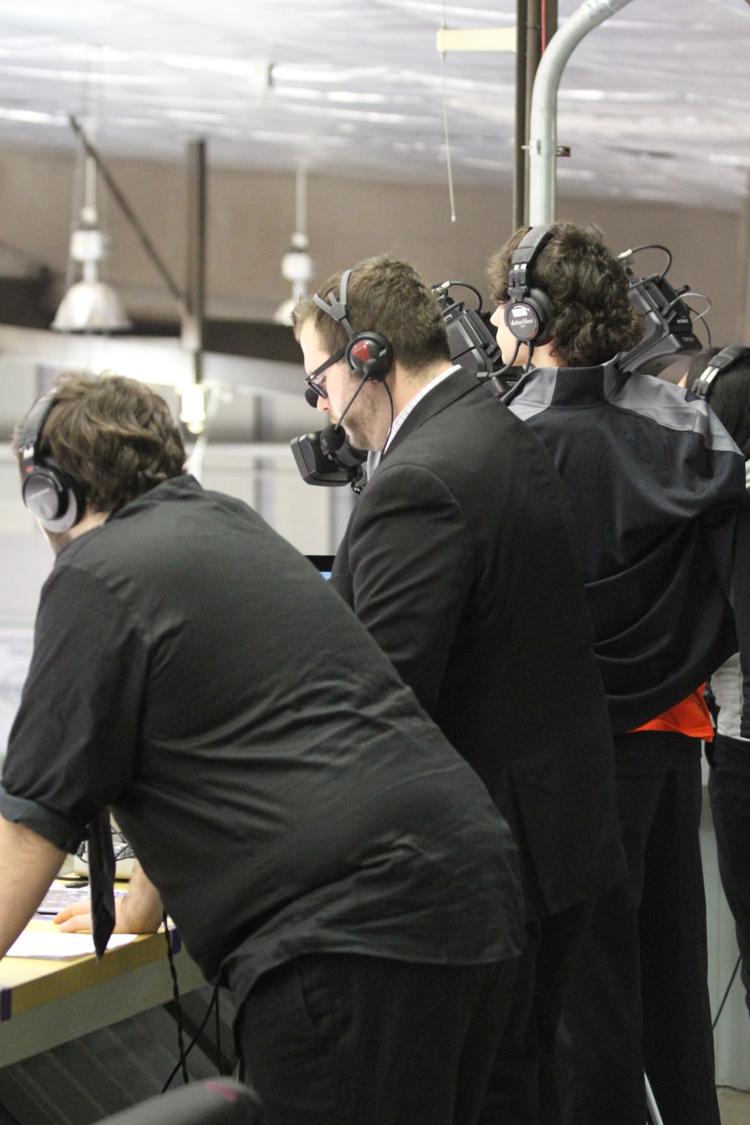 But while Distefano and his partner commentate the action of the game for the online viewer, it's the crew that works even further behind the scenes to capture the visuals.
Camera operators are set up around Thompson Arena, at a number of different vantage point to get the perfect angles.
In a back room, a crew of five tricaster and replay operators translate those visuals into a coherent broadcast sequence as a crew leader urges the operators to "go to camera two" and then "back to camera one."
For the viewer at home it would be hard to fathom the time, energy and manpower that goes into providing them with a live stream of the game.
But one of the most unique qualities about Mustangs TV is that it is almost entirely run by students. 
"Outside of football everything else is completely run by students," Mustangs TV executive director Dan Durack said. "Audio, video, cameras, commentating, everything is students."
Mustangs TV has been around a lot longer than one might think, but their humble beginnings back in 2005 stand as a testament to just how much the program has grown in the last 11 years.
Mustangs TV started streaming in 2005 but halted its production shortly after. When Western's current athletic director Thérèse Quigley came to Western in 2007 she suggested the streaming be re-established.
"We had some gear, it was like little handy cams and one small little dial video mixer and we were on the sidelines right beside our on-air talent," said Durack. "[Therese] kind of realized that we did a pretty good job and maybe if we bought them the right gear they might be able to do it better."
And that is exactly what Mustangs TV did.
At the end of 2007, they were able to buy their first tricaster. With it, they live-streamed 30 games from December to April, a great start considering Rogers typically streamed 30 games the entire year.
With more equipment, Mustangs TV is able to put on much better productions. Five years ago they purchased their first HD tricaster, which improved both the quality of the broadcasts and allowed Mustangs TV to broadcast even more games.
With better productions comes more views and Mustangs TV has had great success with it's viewership. At Western's game against Toronto the broadcast had over 150 unique online viewers watching the live-stream.
"We average about 200-300 people watching our games online," Durack said.
Those numbers are just for sports like hockey, basketball and volleyball. When it comes to the views that football brings in, Duracks said, "just add a zero."
"For football our lowest just online live, unique views was 1,800 and our highest was closer to 4,000," Durack said.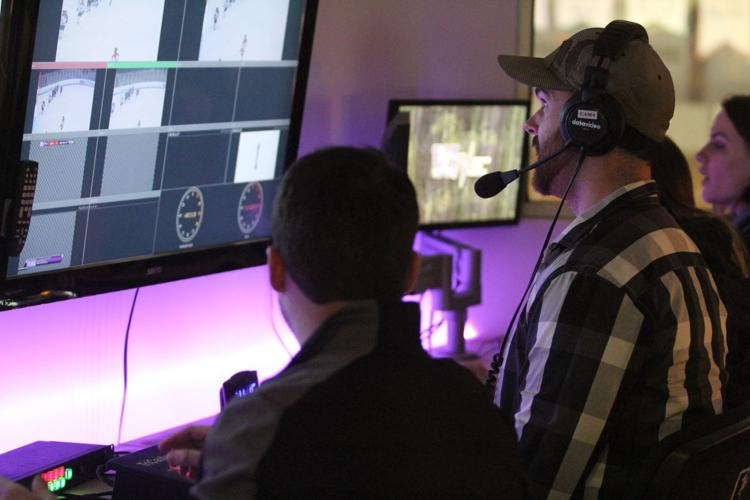 But while Mustangs TV has seen a good deal of growth over the last decade, that success cannot last without the student volunteers who are the heart of this program.
"I've got a good 10 kids that are graduating now," Durack said. "I'm going to have to teach new directors and new technical directors and new audio people."
With a good handful of the experienced volunteers leaving Mustangs TV, the program is looking for passionate, hard working volunteers who are looking to get good hands-on experience in broadcasting.
While some non-sports fans may be discouraged by this opportunity, the program has a lot to offer those who aspire to go onto careers in any area of broadcasting.
"As much as people think that Mustangs TV is just athletics, it's not just athletics — it's TV," Durack said.
Aside from broadcasting live-streams for Western sports teams, Mustangs TV also broadcasts live events and class lectures.
In terms of the skills that volunteers can master, it goes beyond just camera operating or on-air commentating.
"If you like editing we have a brand new video board in Alumni Hall that we are currently doing graphics and cool stuff with," Durack said.
One of the projects the graphic designers and video editors at Mustangs TV are working on is a kiss cam in Alumni Hall. With only one camera available to span the audience, the graphic designers have to have pre-made video graphics to put up on the video board while the camera searches for its next couple.
These are skills and programs that are not neccessarily sports-related, but allow students to develop their video editing skills, gain some hands-on experience and build their portfolio.
For those who have no experience whatsoever with graphic design or video editing, it's never too late to learn.
"I have two interns working for me now and the one came in and he knew a bit of photoshop but he knew nothing about video editing and nothing about After Effects, and now he's my best guy," Durack said.
Along with being a good place to learn the skills necessary for a career in broadcasting, volunteering at Mustangs TV is also a great way meet other people who share similar passions.
"I like working here because it's mostly with a bunch of my friends who are also interested in the same things I'm interested in," fourth-year student Marissa Calberg said. "Its also a fast-paced environment so it keeps me on my toes and it challenges me and teaches me a lot about television."