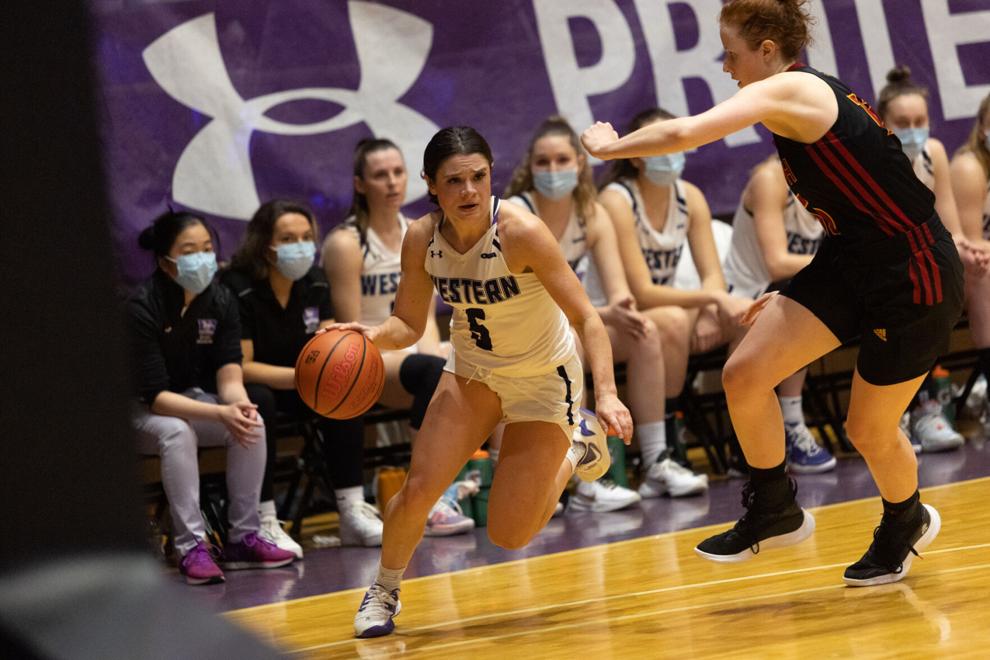 Western's basketball teams will each play their second game of 2023 tonight, with Waterloo in town. Both Mustangs teams should statistically win tonight, but things aren't always as clear as the scores show.
Here's a rundown of each matchup tonight:
Western University's men's team has an opportunity to build on any momentum they gained from last weekend's comeback win, facing a University of Waterloo Warriors squad, averaging the lowest team points per game in Ontario University Athletics

The women's team will take part in a close divisional matchup, as the Warriors women's squad is one place ahead of the Mustangs in the OUA west division
Opportunity for the men's team
The men's basketball team is first in the OUA in points per game, averaging 91.1 on the season. Facing a Waterloo team that's currently last in the conference — averaging just 58.2 points per game — this is an opportunity for Western to build on their comeback win last Saturday against the University of Windsor Lancers.
For the 6–5 Mustangs, every game matters as they continue their playoff race with just over one month left in the regular season. 
Fifth-year forward Aryan Sharma continues to lead the OUA with an individual 23.2 points per game. Leaning heavily on Sharma will be key for the Mustangs, but as last Saturday showed, the team has players up and down their lineup who can score as fourth-year guard Jerric Palma scored 33 points.
Women's team faces tough divisional matchup
Western's women's basketball team faces a tougher matchup tonight with Waterloo sitting fifth in the conference, and the Mustangs right behind them at sixth.
Western currently averages 70.8 points per game as a team, ranking seventh in the OUA, with Waterloo not too far behind at ninth.
Leading the charge for the Mustangs continues to be fourth-year guard Ariane Saumure. Saumure is fourth in the OUA, averaging 19.2 points per game on the season.
On the Warriors side, the Mustangs will be sure to watch out for fifth-year guard Vanessa Hughes, who is second in the OUA, averaging 20.3 individual points per game.
Each of these matchups are key for the Mustangs' playoff push. With the women's team in a close standings race with the Warriors, each win makes a difference in the playoff seeding. 
With the men's team on a roll as of late, Friday night's matchup may add to their prospective playoff future. 
Friday's doubleheader at Alumni Hall gets underway at 6 p.m., with the women's team tipping off first followed by the men's team at 8 p.m..