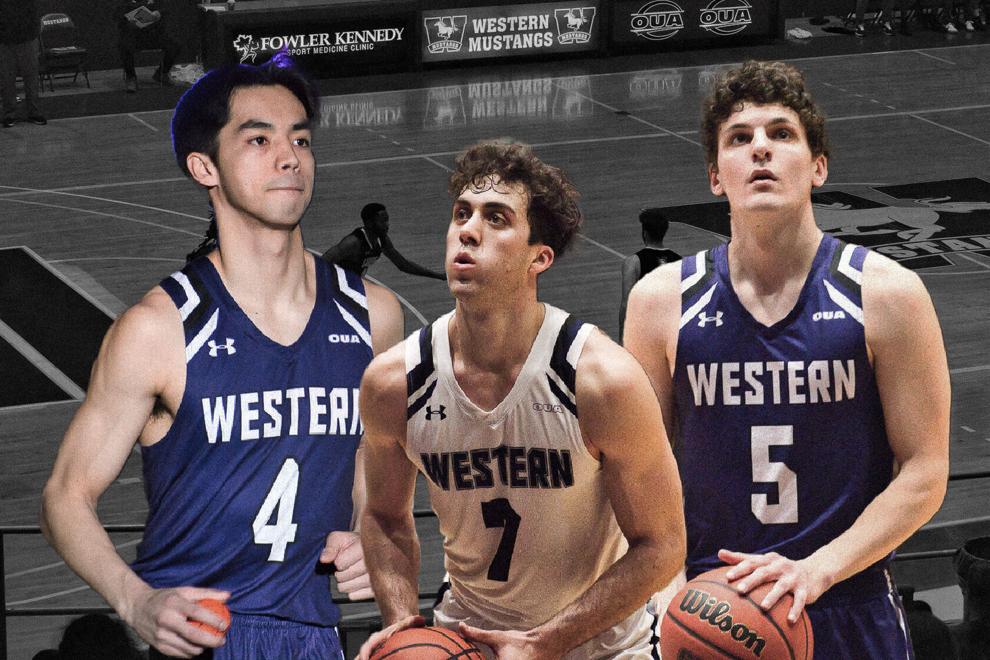 Although the Mustangs men's basketball season ended in an uninspiring first round loss to the Gaels, this year saw the rise and development of a young core of players.
With the departure of star fifth-year forward Aryan Sharma — who led Ontario University Athletics in points per game — the team loses a major offensive force going into next season. But as head coach Brad Campbell has said throughout the year, Western University has a young team that's remained focused on its collective build and performance as a unit.
The 2023-24 season will test the team's build without Sharma.
The Gazette analyzed the Mustangs' offensive performances over the course of the season and identified individual players' shooting trends they can look to build on moving forward.
Three returning players — third-year forward George Horn, fourth-year guard Jerric Palma and second-year forward Matteo Zagar — have played every game this season and are the frontrunners to return as the team's core players in the fall. Third-year guard Tyson Dunn is also a key component of the roster, but was injured in January and missed four games.
Out of the four, Horn's shooting improved the most across the season. In the first five games, he made around 56 per cent of his attempted field goals — by the end, it improved to nearly 70 per cent. 
Zagar shot around the same throughout the year, but what's impressive is how he recovered from a slump in early February to perform well near the end of the season. He made zero of five shots on Feb. 4 against the York University Lions and only two of 11 against the University of Waterloo Warriors on Feb. 8 — but recovered to shoot over .500 in three of his last four games. 
If Zagar continues his upward trajectory in the fall, he will remain a strong contributor to the Mustangs.
Congratulations to @matteozagar for being one of our league stats leaders in field goals🥳🐎 #westernbasketball #runwithus pic.twitter.com/LOIrRmwyrl

— Western Men's Basketball (@Mustangs_Bball) February 23, 2023
Dunn saw his shooting improve dramatically in the early season, from averaging 47 per cent of shots in the first five games of the season, to making 64 per cent in the five games before winter break. 
While Palma's overall shooting stayed around the same, he saw significant improvements in his three-point shooting since the fall.
Congratulations to @jerricpalma for being another one of our league stats leaders in 3-pointers and free throws🥳 #westernbasketball #runwithus pic.twitter.com/2SckizmuDo

— Western Men's Basketball (@Mustangs_Bball) February 24, 2023
Palma was seventh overall in the OUA for three-point accuracy. He improved from averaging 0.409 from the three-point line during the first five games of the season, to shooting 0.483 for the final five.
He's in a great spot to emerge as a top-five three-point shooter in the conference next season in his fifth year at Western, as many players ranked above him will be leaving the OUA.
While the Mustangs offence has seen an upwards trajectory, defence is an area the team will have to improve for next season. 
For the trio — Zagar, Palma and Horn — none saw a significant increase in rebounds per game through the season. Zagar's large mid-season spike before winter break wasn't maintained until the end of 2022-23. Palma, who started the season with the lowest number of rebounds per game, saw a spike in late January but couldn't keep it going.
Horn's rebound numbers stayed relatively consistent until the final month of the season, when his rebounds per game dropped significantly — closing the season at 1.6.
By the end of the season, Dunn performed the best out of the frequent starters en route to a third team OUA all star selection. He averaged 4.2 rebounds per game through the last five regular season games he played. But this number is still down from his average of five rebounds per game in the season's first five games.
Zagar, Horn, Dunn and Palma have already been starting consistently, but that's not to say there aren't other strong candidates for the 2023-24 Mustangs roster. The team has a strong lineup of players in their first year of eligibility who could contribute to next year's lineup.
M🏀 Congratulations to Tyson Dunn of @Mustangs_Bball who is a 3rd Team @OUAsport All-Star.#RunWithUs #WesternMustangs #PurpleAndProud https://t.co/ybfOS2w8CH pic.twitter.com/k7v4ZdF2rD

— Western Mustangs (@WesternMustangs) March 2, 2023
First-year guard Noah Otshudi started four games this season and played 413 minutes. While no other first-year has started, first-year guard Cole Cruz-Dumont played 260 minutes and post Tye Cotie played 146. These players had significant gameplay this year and can continue to grow during the off-season. 
In coach Campbell's words, the build is going to take some time. But the future is bright for Mustangs men's basketball.