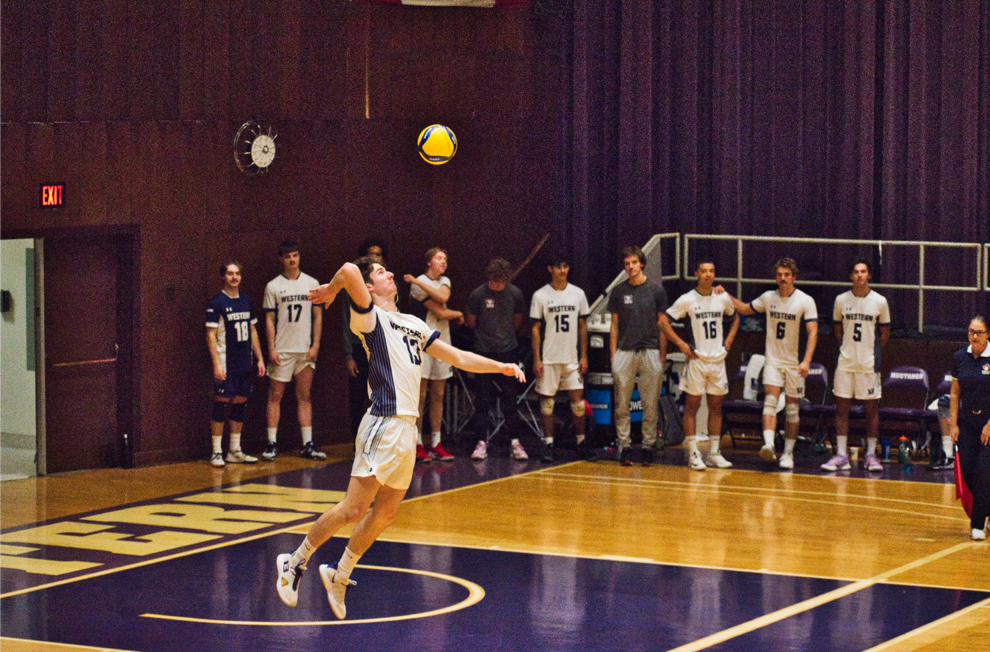 The Mustangs men's and women's volleyball teams were undefeated in a pair of doubleheader matchups against the Trent University Excalibur at Alumni Hall this past weekend.
The women's team continued their hot streak against Trent, winning six straight sets against the winless Excalibur, and improving their season record to 6–1. The team ranks third in kills per set and second in blocks per set across Ontario University Athletics.
Leading the way is Mustangs third-year right-side hitter Rachel Gray, who is the OUA's frontrunner in hitting percentage at 35.7 per cent. Fourth-year outside-hitter Janelle Albert also ranks amongst the top hitters in the OUA, averaging 3.46 hits per set. 
Albert is pulling her weight on the defensive side, too. The senior hitter is averaging four digs per set — good enough for third in the OUA.
While the men's team has had a rockier start to the season, they finished the weekend with a 4–3 record, also defeating six straight sets against the Excalibur.
Fourth-year setter Josiah Esau has been solid for the Mustangs this season, as he leads the OUA in assists per set with 9.22. His partner in crime has been fourth-year left side hitter Jason Guy, who boasts the second-highest hitting percentage in the OUA at 30.6 per cent.
Fifth-year libero Owen Kelly has been holding down the defensive side for Western. The veteran Mustang is ranked fourth in digs and digs per set in the conference. 
To remain effective at the net, the men's team needs to shift some of their focus to reducing block errors — where they're currently ranked 12th in the OUA.
The Mustangs men's and women's teams will look to maintain their momentum in Kingston, Ont. this weekend, with doubleheaders against the winless Royal Military College Paladins. 
Western hopes to extend their undefeated reign against the Paladins — a trend that has lasted since 2006 for the women's team, and 2005 for the men's team.