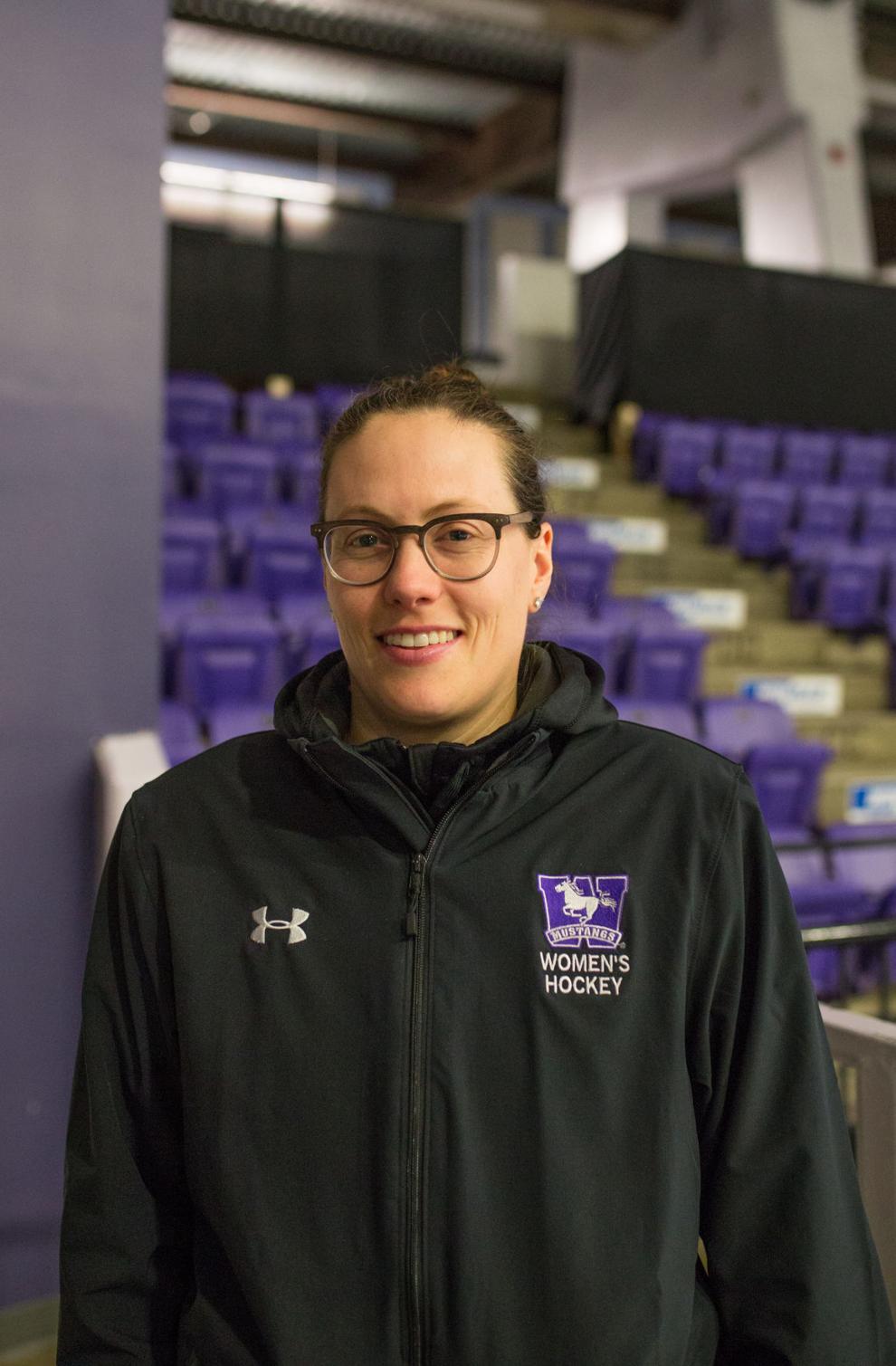 With most of the regular season over, it's clear that the Western Mustangs women's hockey team hasn't lost the momentum from their Ontario University Athletics McCaw Cup title last season. They're currently 12–8 with four games left to play, which puts them in second place overall in the OUA, just a mere three points behind the Guelph Gryphons.
The main expectation going into this season for new head coach Candice Moxley was to sustain the same energy and competitiveness that won the Mustangs a title last season — and she hasn't been disappointed by her team.
"I knew it was a good team; we had a lot of returning players that put up a lot of points last year," said Moxley. "My goal coming in was to pretty much take the momentum from that prior year and just kind of ride it and see what we could do and [as well] get to know the players as quickly as possible so that we could kind of see where we ended up."
She added, "I was definitely pleasantly surprised by a lot of players on our roster, and they've been having fantastic seasons. I think we have a really special team."
Coming off a season assistant coaching the Markham Thunder to a championship win in the Canadian Women's Hockey League, Moxley's adjustments to U Sports and the Mustangs have been team-specific, as she already had coaching experience with student-athletes in the NCAA, where she led the Buffalo State Bengals to four consecutive post-season berths.
With the Mustangs in particular, it was their special teams that struggled early on in the year, but Moxley was optimistic about its progress and the adaptations of her coaching staff's approach.
"We've had to do a lot of video and [have] teaching moments, like, 'If the defensemen's stick is here, what are our options? If I do this, what are our options?' " said Moxley. "So, we put more emphasis on video this second half, learning that the majority of the players on our team are a little bit more visual, hoping that we can maximize those options that we have."
This adaptability and clear communication within the program didn't occur just because of the team — in fact, they're some of the most important components of Moxley's coaching style in developing strong athletes on and off the ice. She highlights the importance of the veterans on her squad, who play important roles in all aspects of the game and have helped her transition to coaching the Mustangs this year.
"They're just a fantastic group of individuals and leaders, so it makes it kind of easy, because our conversations are very open and honest," said Moxley. "We have candid conversations, like, 'What did you guys see [based on this game]?' or 'What do you guys feel we can achieve?' You definitely want the players to think for themselves on the ice."
She adds, importantly, "You don't want to be in their ear all the time, so that's kind of what we're gearing toward."
When asked about a player who may have flown under the radar of spectators and the media, Moxley has a hard time choosing just one.
"Oh, man, we have so many. I mean, those players, like April [Clark] and Carmen [Lasis] are great, but then someone else has to get the puck to [Clark] in order for her to get it — she can't get it herself all the time." 
"We have freshmen who have been able to step up, like, we have Brooke [DiCicco] — she's been fantastic, she's a centreman for us," Moxley said. "She had a huge defensive play against the University of Ontario Institute of Technology in the final minutes of the game where she blocked a shot — like fully laid out to block a shot — and as a freshman, to see those things show up in the game, it's exciting." 
Moxley also directed attention toward the key addition of power forward Sydnee Baker, who joined the team over the winter break after transferring from the University of Prince Edward Island.
"I'm hoping for her that she turns a corner, and she starts finishing, because she has a powerful shot, and again, she creates a lot of chances," said Moxley.
Prior to the season, Moxley expressed excitement for one of the most important aspects of being a head coach— recruiting. With the class of 2019 just being finalized and having already put pen to paper for players set to start their careers in 2020, Moxley's recruiting abilities have certainly been put to work. However, she notes that one of the most important aspects of recruiting is not just selling the program to prospective players, but educating the athletes about the process as a whole, especially in comparison to the procedures and opportunities available in the NCAA, which Moxley is familiar with from her time playing and coaching there.
"The more knowledge [the prospective athletes] have the better, and I feel like U Sports gives a great product here in terms of the quality of hockey and quality of programs available and the quality of education," said Moxley. "So it's, again, teaching all these student athletes that, 'Hey, this is a good place to play as well, it's not just about Division I focus and going to the U.S. to play.' "
Moxley and the Mustangs will play their second-last regular season home game on Saturday, Feb. 2 on home ice. Catch them at Thompson Arena at 7 p.m. as they finish their race to the top of the standings and attempt to surprise Guelph, who have been a powerhouse all season long.