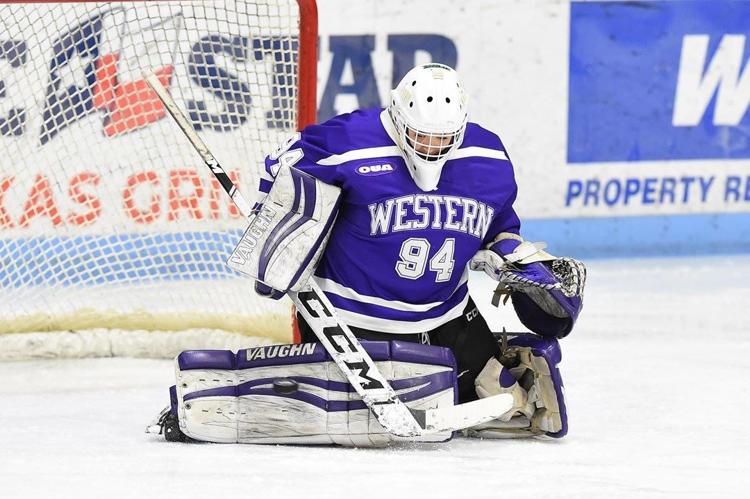 On Saturday, both Tareya Webster and April Clark were honoured as part of the Mustangs' annual senior night celebration.
The goaltender and forward stood arm in arm at the blue line before being called to centre ice to be greeted by their coaches, gifted flowers and allowed to take a picture with their friends and family.
Webster played four years for Western University while completing a degree with the DAN management and organizational studies program. Clark, who was named captain this season, played five years with the program and is currently in the nursing program.
After the game, Moxley detailed why both players would be missed by the program.
"I mean, they've been … Taye is one of the most vocal, supportive, encouraging teammates that we have in the locker room," Moxley said, after pausing to gather her thoughts. "I know her voice is going to be missed next year. I mean, she's rock solid for us. And she's always there to support whoever."
"And then, I mean, Clarky … our assistant coach Hokey [Langan] said it perfectly when we were in the room just there: I'd be surprised if there's another player that comes along and does what she has done in her five years here. She's just outstanding."
"So, that one is gonna be a loss for us in terms of her leadership, but also what she can do on the ice."
The pair were part of the five remaining members of the Mustangs women's hockey team that went all the way to the title game at the U Sports national championships in 2018. That squad lost 2-0 to the Manitoba Bisons, finishing second in the nation.
Webster served in the often underappreciated and unmentioned role of backup goaltender the past four years for the Mustangs. The 23-year-old played 25 games, with her largest workload — 10 games — coming this season.
This year was also the goaltender's best season for Western. The fourth-year finished with a 1.42 goals against average and a .949 save percentage. Both of those totals ranked within the top-three in Ontario University Athletics'.
April Clark compiled 106 points in 119 games during her five years with the Mustangs. The Mustangs captain was also named as the OUA's player and forward of the year last season.
Clark's 106 points rank her first all-time for career points at Western.
The St. Mary's native is not done at the school completely, as she will continue her nursing degree through 2022.
During the ceremony, the team announced that Clark would look to continue working in hockey throughout the remainder of her degree.
Asked after the game on Saturday, though, and Moxley explained that the announcement was merely part of a recruiting pitch — one that she knows might not work.
"Well I'm trying to convince her to coach with me. So that was another plug," Moxley said, with a laugh. "But, I know she still wants to keep playing."
The coach then continued to explain how, despite the player moving on, she will do anything to help Clark in her hockey career.
"I'm putting out, trying to figure out what we can make work with some opportunities that are local in the area and keeping her in shape and ready to [play]. Not sure what's happening with our women's pro league next year. But, she's one that I'll go to bat for any day."
The Mustangs finished their regular season against the Ryerson University Rams on Saturday night and failed to make the playoffs. The team will have the entire offseason to regroup and return for another year next season.