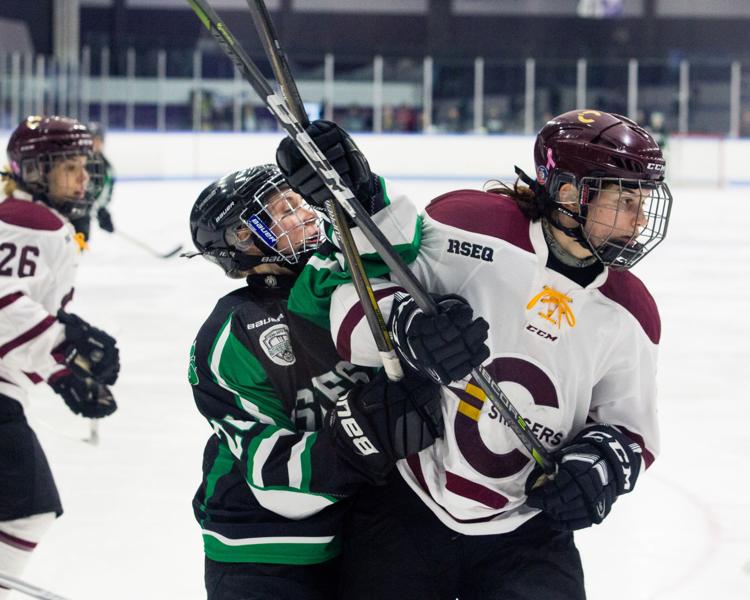 The Concordia Stinger defeated the Saskatchewan Huskies 4–0 on Saturday afternoon. With the win, the Stingers were awarded bronze medals at the U Sports women's hockey national championship.
After missing the opportunity to play in the gold medal game by way of shootout, the team sought redemption in the bronze medal game.
"We know that we're one of the best teams here and we wanted to prove that," said Stingers goaltender Katherine Purchase.
Through one period of play, both sides saw a lot of action, but neither team was able to beat the stellar play of the opposing goaltender.  
Despite outshooting Concordia 14–5 in the first period, the Huskies went down early in the second period. With a five-on-three advantage carrying over from the first period, Stingers defenceman Brigitte Laganière found forward Claudia Dubois in the high slot off the cycle for a hard slap shot goal.
Later in the second, after a scramble and mishandled rebound in front, Concordia forward Sophie Gagnon found the puck and shot it past the Huskies goalkeeper to make it 2–0 with a minute and a half left in the period.
Concordia scored twice in the third period. Brigitte Laganière positioned herself perfectly for a goal off a hard rebound in front four minutes into the third and Dubois added the final goal on an empty netter to ice the game.
Saskatchewan head coach Steve Kook was careful to remind his team of their accomplishments and to treat the loss as a learning opportunity for the young team.
"We try to impart the message to the players that it's hard to get here," Kook said. "I think our game went up another notch when we got to the National Championships from our playoffs."
On the other side of the ice, Stingers goaltender Katherine Purchase, played a large part in the team's win, making 37 saves en route to a shutout. Purchase bailed her team out on several occasions; even holding the team steady during the Huskies' first period onslaught.
"Katherine Purchase, the fact that she was an elected captain, I think says it all," said Stingers head coach Julie Chu. "The calming effect and the confidence she gives us, in goal, is tremendous. She's a great one; she embodies what a student athlete should be."