Despite loss, life goes on for Mustangs
As the afternoon melted into evening and the fireworks on the Stade Telus-Université Laval sideline set off in a splendid display, the Mustangs' unprecedented two-year run of dominance ended in remarkably unspectacular fashion.
From the opening whistle, Laval punched them in the mouth, a two-play drive ripping up the Western secondary and putting the game out of reach before it even began.
"We've been training hard all year and been waiting for this moment," said Laval quarterback Hugo Richard, who spearheaded that opening drive with two long-range bombs and who, time and time again, avenged the results of last year's Vanier Cup game.
Both teams trained hard, mind you. This game was written in the stars since last year's national title bout, when Western ended its 23-year Vanier Cup drought, fighting back against the narrative of a once-proud program that had fallen into a snake-bitten state for more than two decades.
That game toppled the sports' hierarchy, as Laval looked ordinary for the first time since 1999, when it won the first of its now 10 national titles.
That game was appropriate redemption for Mustangs head coach Greg Marshall, his program and the players who lost a seemingly insurmountable lead in the 2016 Yates Cup to the Laurier Golden Hawks. And their meeting with Laval, in Quebec City, for a shot at a second-straight Vanier Cup was the apropos second act in what has become the ultimate rivalry in U Sports football.
And if that sounds like hyperbole, the crowd at the Stade Telus on Saturday afternoon certainly didn't think so. Over 12,000 fans packed the stadium, many of who set up their tents in the stadium parking lot in the early hours of the morning to drink and barbecue and blare French-Canadian rock 'n' roll over their speakers. Even Conservative Party leader Andrew Scheer made an appearance at the game, donning a red and gold Laval jersey in an ode to the home crowd.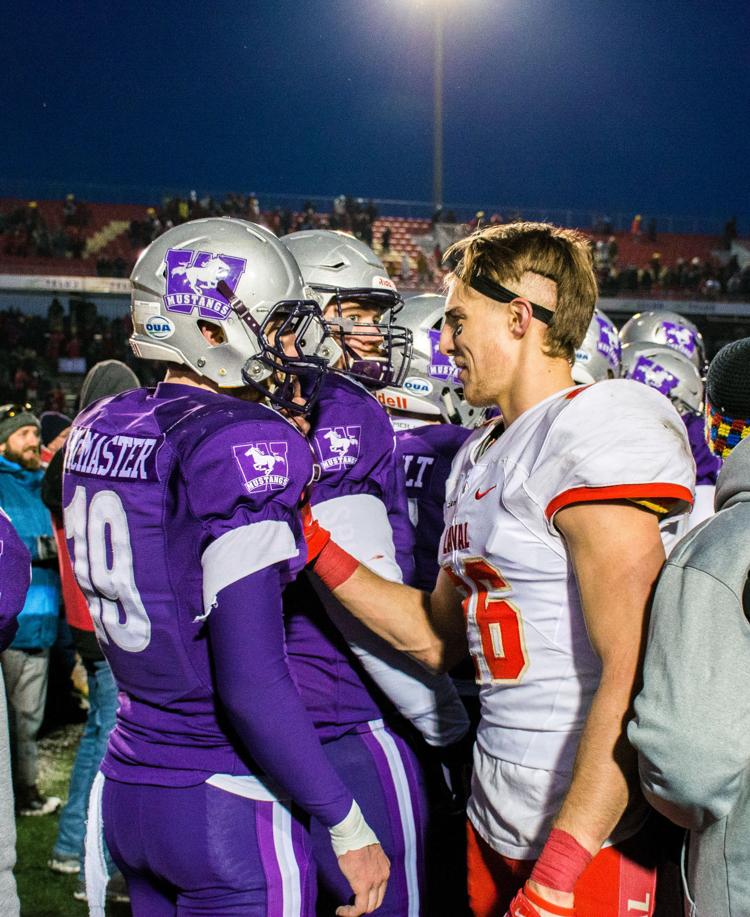 Quebec flags flew in the crowd and boos rained down on the Mustangs as they took the field, the inevitable English-French animosities stoked from the onset. A lone Ontario flag, flown by a Western fan in a leather Western Engineering jacket, brought jeers from the slightly intoxicated Rouge et Or fans. Young spectators lined the fence separating Western's sideline from the grandstand, flipping middle fingers at the Mustangs and, at one point, throwing a football kicked by Western kicker Marc Liegghio into the stands. If there was any question about whether these two teams — despite having only met three other times in their history — really disliked each other, the crowd quickly answered it.
And when Laval scored early off those two Richard passes and quickly climbed out to a 10–0 lead before fans could even spell "r-e-v-e-n-g-e," the stadium roared so loud one would have been hard-pressed to miss the sound on the Plains of Abraham.
What went well for the Mustangs over the last two seasons — an impenetrable defence, a staunch offensive line and smart offensive play — all went so very wrong on Saturday in La Belle Province. The Mustangs secondary blew coverage over and over again. The offensive line struggled to open holes for running backs Cedric Joseph and Alex Taylor, and the pocket collapsed often, forcing quarterback Chris Merchant to take bone-rattling sacks and throw ill-advised passes into coverage. And Merchant, despite an adequate and, at times, heroic performance, played without the cool and collected presence that has made him one of the nation's most efficient quarterbacks.
"When you are playing against Laval, you can't afford to make those types of mistakes, but I'm proud of the boys," said Marshall about his team's struggles. "They played hard and they left it all on the field."
The Mustangs were going to lose at some point, but the defeat still shocked a team that hadn't experienced heartbreak since November of 2016. Multiple important players on the Mustangs had never lost in their stints at Western, including All-Canadian defensive back Daniel Valente Jr. and offensive coordinator Steve Snyder.
Laval looked every bit like a team that was humbled by Western last season. While Western is by no means a pauper program in the grand scheme of Canadian university football, their resources and support barely measure up to the footballing empire built by Laval and its founding booster, furniture magnate Jacques Tanguay. And when the Mustangs routed them in front of a raucous pro-Western crowd at Hamilton's Tim Hortons Field last November, Laval was embarrassed in a way it rarely had been in its history.
But that loss fuelled them throughout their summer and into the regular season. Their defence crushed the hopes and dreams of their challengers in the Réseau du sport étudiant du Québec, allowing fewer than one touchdown a game in eight regular season contests. They faced their conference rival, the Montreal Carabins, three times, winning each time in dramatic fashion. They needed a second shot at Western, and not a soul could stand in their way
"It's been 12 months we've been waiting for this," said Rouge et Or head coach Glen Constantin. "The kids made a vow we'd be back."
And when they got that chance, they took advantage and then some. The game was never really in doubt. Western pushed back but was unable to gain any real momentum, as ill-advised penalties, turnovers and timeout calls stunted any attempts to meaningfully cut into the Laval lead. As Richard said, with an ear-to-ear grin on his face, "We've been training hard all year and been waiting for this moment."
That's not to say the Mustangs didn't have the same fervour and intensity heading into Saturday. They took on all comers for 11 games in 2018, winning their second-straight Yates Cup. When they ran onto the Stade Telus field on Saturday, through the purple and white fog, a number of Mustangs waved and taunted the Rouge et Or sideline. This game mattered to both teams. There was animosity in the air. But at the end of the day, Laval channelled that animosity into vengeance and their 10th national title in program history.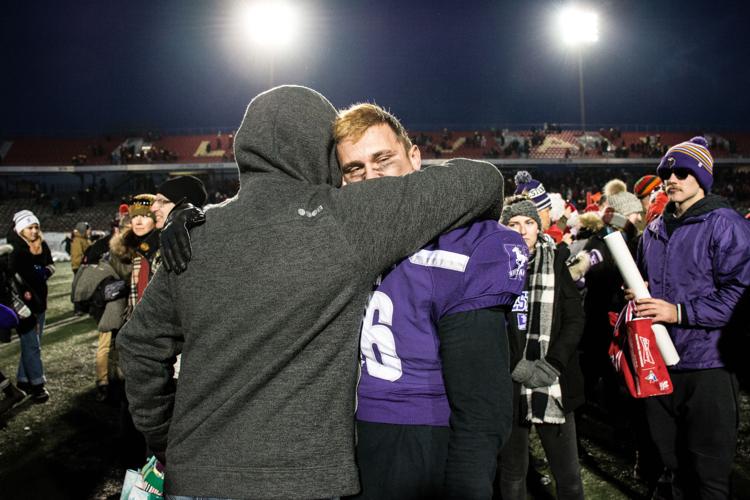 In the long run, this loss probably won't mean much for the health and success of the Mustangs football program. They bring back a number of key contributors, including Valente, Merchant and, potentially, Joseph. Their coaching staff is one of the best in the country, and they continue to recruit successfully and dynamically in the backyard of one of the country's high school football hotbeds. And they can head into the homes of recruits and potential transfers and use the massive crowds and hundreds of thousands of television viewers that playing in a Vanier Cup brings as a tool to continue to reload with talented newcomers.
"One thing our boys will realize is it's a game and they'll have to ... go to class on Monday and carry on, and that's about teaching them mental toughness and mental resiliency," said Marshall.
Much like that loss to Laurier in 2016 fuelled a historic two-year run for the program, this loss will act as a motivator for a team that hadn't experienced the feeling of defeat for so long. And while there are a number of Vanier Cup contenders throughout the country, both Western and Laval have set themselves apart from the pack.
So as the Stade Telus stands emptied out and the Rouge et Or took the Vanier Cup to their locker room for a joyous celebration, the Mustangs hugged their families and the teammates who played their last games in the purple and white. And then they changed out of their equipment and boarded a bus to the airport for the quiet and retrospective ride home.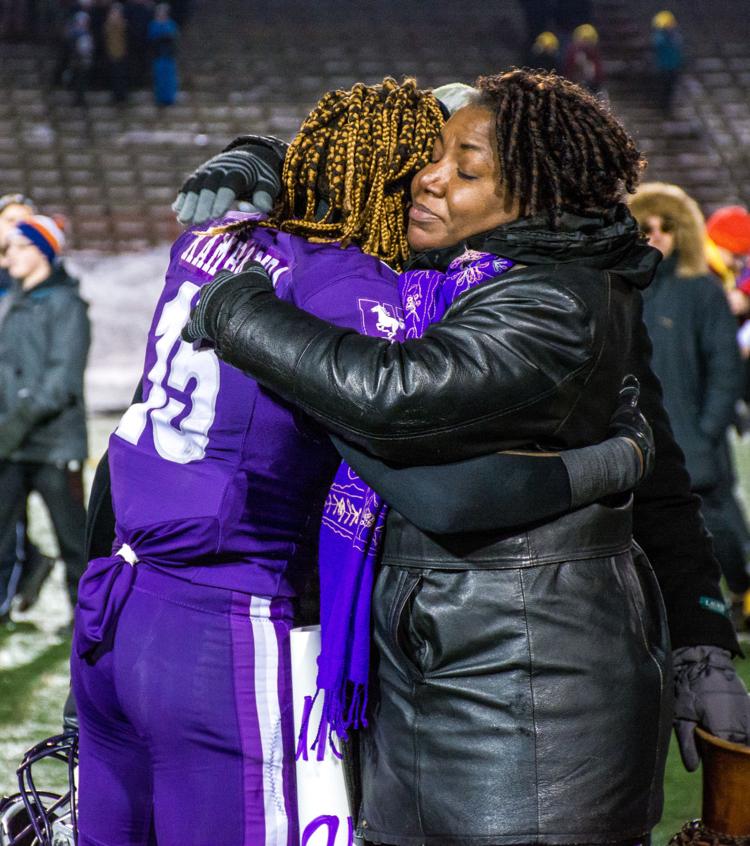 More games will be played, and lives will be lived, and losses, on and off the field, will be suffered. And their head coach had profound parting words for a 2018 Mustangs football team that had so much success, despite how their season ended.
"Sometime down the road, something way worse than losing a football game is going to happen, and you still have to get out of bed and go to work, and you still have to get out of bed and be a dad," said Marshall. "But I am so proud of this team."