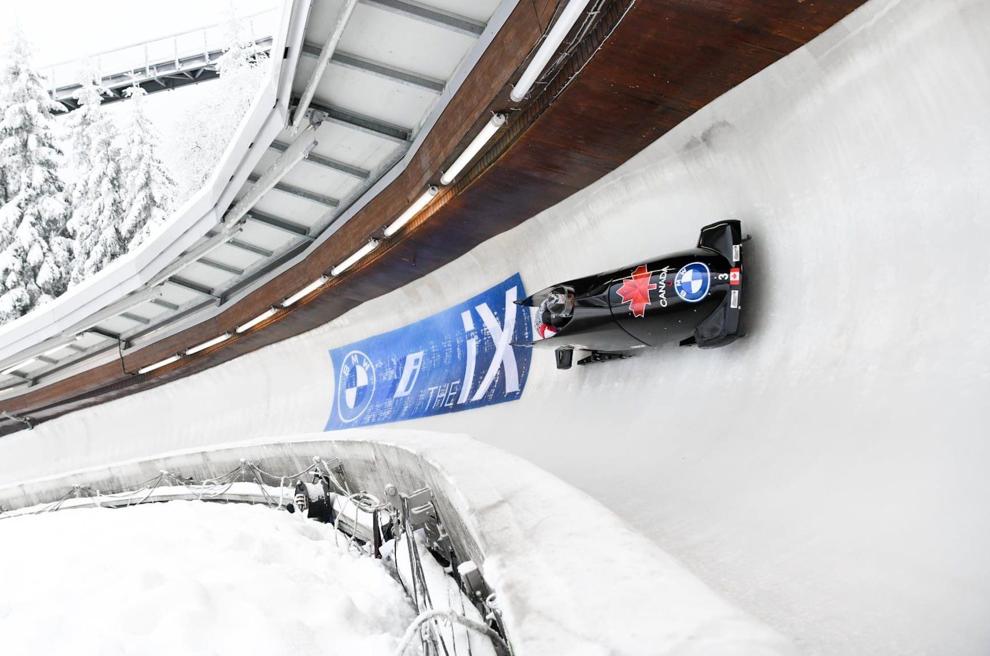 From the age of peewee rugby to minor league hockey, wide-eyed kids from around the world dream of, one day, stepping on the Olympic podium — achieving a level of physical prowess that most humans can't even fathom.
Only two of Western University's athletic alumni have competed in the Winter Olympic Games since 2018 when Alex Kopacz won a gold medal and Kristen Bujnowski competed as a spare in bobsleigh.
Former Mustangs track and field student-athlete Sara Villani sets her sights on gold for 2022.
However, she won't be competing in a sport she trained for at Western, nor is it an event she has ever participated in before her varsity career. Villani is working towards qualifying for the Beijing Games as a Canadian bobsleigh athlete — a sport she has competed in for just one year..
Excited for this new journey 🇨🇦 pic.twitter.com/a5g0c7CPek

— Sara Villani (@likeavillain13) October 24, 2019
After experiencing a series of setbacks at Western — through injuries and life events — she assumed the Olympics were no longer a viable goal. That is, until her dreams were reignited by bobsleigh.
"In 2018, I had my first experience in a bobsled in Calgary," recalled Villani. "After that week, I went home and I told my mom that I was going to bobsled. I finished up my last year of university and then that summer, I started to transition to more bobsled training."
The former Mustang spent time training in Whistler, British Columbia in December, where the Canadian bobsled team prepared for a spot in the World Cup circuit on Jan. 9 in Winterberg, Germany.
Villani and her pilot, Christine de Bruin, placed fifth in the women's World Cup bobsled race, finishing with a time of one minute and 54.43 seconds after two runs. This was Villani's first World Cup race.
In their season debut, pilot Christine de Bruin and Sara Villani placed fifth in a women's World Cup bobsled race ahead of former Canadian teammate Kaillie Humphries 👏🇨🇦 https://t.co/HJ4l7T4POA

— CBC Olympics (@CBCOlympics) January 9, 2021
Excited to have added a new track to my resume #winterberg 🇩🇪 pic.twitter.com/A2ALFx8uZZ

— Sara Villani (@likeavillain13) January 5, 2021
While Villani's new-found success on the bobsled circuit is impressive, her history of success goes back much further.
In her first year at Western, Villani won an Ontario University Athletics Bronze medal in pentathlon, a junior national championship in heptathlon and represented Canada at the 2015 Junior Pan-Am Games in Edmonton, Alberta.
She earned an Ontario Junior Women's Top Athlete of the Year award, an OUA gold medal in pentathlon and an OUA and U Sports silver medal in shot put during her Mustangs career.
While Villani is focused on her new athletic career, she holds her Mustang memories close to her heart. She especially remembers those dog days when training was tough, but the camaraderie was tougher.
"When I was training for the pentathlon, Wednesday's were our special endurance days. I found those days especially tough and those are the days where we would grind together and get through together and try to be as positive as possible," she said.
"In my last year, the throwers, we [would] always have 7 a.m. weight sessions and just getting up that early to be in the gym can be quite tough. But we all arrive, blast some music and just put our head down and get the work done."
Since graduating from Western in 2019, Villani's training has only intensified. With a career in bobsleigh, training and sliding is a 24/7 job.
Put the pedal to the metal 🚴‍♀️ the long weekend is almost here ☀️•••📸: @oscarlaverdephotography#longweekend #holiday #fitness #lifting #girlswholift #girlswithmuscle #girlpower #fitnessmotivation #athlete #workout pic.twitter.com/QNYRzPbJoE

— Sara Villani (@likeavillain13) July 31, 2020
In her first-ever run in a bobsled, December 2018, Villani crashed. She has since experienced four more crashes, yet still gets up each time and reminds herself of the goals she's set for herself.
"The majority of bobsled crashes, people walk away and they're fine," she explained. "But I would say that, even though you're physically fine, it does have a mental toll. A bobsled crash is likened to a car crash. You have to learn how to manage the emotions, the fears and just try to remember your long term-goals. Crashing is just a part of the sport."
Crash count = +3 thanks to Lake Placid•••The self-fulfillment I obtained from climbing up, standing back on that start line, and hopping back in the sled regardless of how scared I was...insurmountable.Choosing… https://t.co/DKIMXZZ1J6

— Sara Villani (@likeavillain13) January 10, 2020
Looking forward, Villani is preparing for another World Championships event in Altenburg, Germany this month where she is looking to be a brakesman for Team Canada.
Although the coronavirus pandemic has hindered Villani's training, she eventually had the opportunity to train in a team environment in the fall after more than four months of at-home training and said it's been a better feeling for her and her team.
"[Canadian Sport Institute Calgary] and WinSport have been excellent at having really good protocols that allow for the national athletes to continue to train and use the facilities," she explained.
The long-term goal is getting to Beijing 2022. Villani has yet to qualify for the Games but trusts that her training will get her to wherever she needs to be.
The Mustangs alumna advises that if there is a young athlete at Western with dreams to earn a spot at a World Championships or seeing their name on the Olympic podium one day, they need to be willing to sacrifice more than they know to get there.
"You have to be prepared to put a lot of things on hold like visiting friends, family, financial security, staying up late every night and eating a bunch of junk food all the time," she said.
"Hopefully, you'll be able to do them later on but when you're going for Olympic gold, your training and focus has to be incredibly intense."
Update: paragraphs two, three and four were edited to correct factual inaccuracies.