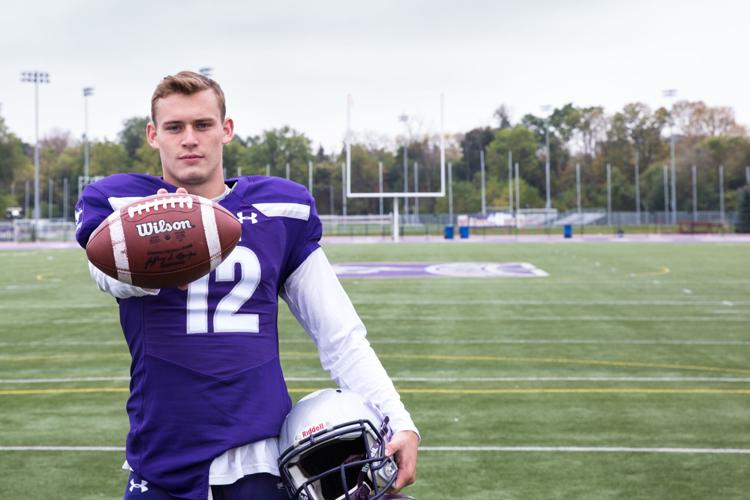 Chris Merchant listens to country music before games. He's from Calgary, and as far as stereotypes go, Alberta and Kenny Chesney go together like peanut butter and jam.
Country music keeps him calm, mellow and collected. With all the noise that surrounds the starting quarterback of one of the nation's premier programs, it's important to find tranquility amongst the pressure. 
There have been a deluge of legendary Western Mustangs quarterbacks since the program was founded in 1929. Michael Faulds finished his career behind centre as the all-time leader in passing yards in U Sports (previously called Canadian Interuniversity Sport). Jamie Bone led the Purple and White to back-to-back Vanier Cups in 1976 and 1977. If not for concussion issues, Will Finch, who quarterbacked the team from 2012 to 2015, could have been the greatest of them all.
It's in that company that Merchant sits as the face of the franchise for a program that boasts six Vanier Cups, 30 Yates Cups and six Hec Crighton Trophy winners. And with the 2017 Mustangs on the verge of a perfect regular season and a shot at a national title, Merchant can add himself into the pantheon of great Mustangs pivots.
Merchant started playing football at the age of eight in the Calgary Wildcats youth football program. He was a running back at first, only moving to quarterback five years later when his coach asked him if he wanted to give it a shot behind centre.
Merchant's answer? "Why not."
The choice ended up paying off. By his senior year in high school, Merchant was the top-rated Canadian quarterback, leading St. Andrew's College to a 7–1 record and being named a first team All-Canadian.
Combine his skills on the field with his success in the classroom — a 4.0 GPA and an Outstanding Leadership Award in Grade 12 — and it's not hard to understand why he was such a coveted athlete.
His high school accolades landed him a full-ride scholarship to the University at Buffalo, a National Collegiate Athletic Association Division I program in Buffalo, New York.
It was a dream come true for Merchant, the manifestation of years of hard work. It also made his path to greatness clear. After years of torching Mid-American Conference defences, NFL or CFL scouts were bound to come calling.
However, it didn't work out. Merchant sat out his first year in Buffalo as a red-shirt freshman and only appeared in one game in his second year. After two years, Merchant and the Buffalo Bulls decided to part ways.
"It was a great experience; I learned a ton of life lessons and met a lot of nice people," said Merchant on his time in upstate New York. "I'm super thankful that I went there, and I'll be forever grateful."
Merchant entered the recruitment ring once again. On his checklist were a number of things, including academic prestige, program tradition and a championship-calibre coaching staff.
He found all those things at Western University. Plus, with Finch gone and no elite quarterback to replace him, Merchant's spot as the starting quarterback was all but guaranteed from the start.
He enrolled in the kinesiology program and showed up at camp ready to be the player he was never given the opportunity of being in Buffalo.
Merchant had an up and down first season with the Mustangs, as the team went 7–1 during the 2016 regular season. He finished in the top ten in the OUA in passing yards, while throwing for 14 touchdown passes. 
The Mustangs looked like a national championship team that year. They were up 40–19 over the Laurier Golden Hawks with eight minutes left: the Mustangs had the Yates Cup in their grasp. 
Until they didn't.
That loss could have taken a toll on this program and its quarterback; to be that close to glory and have it snatched from their hands was devastating, but instead of letting it bring them down, the Mustangs came out in 2017 with their sights set on redemption. That drive started with Merchant.
"I try not to think about it too much, but it's obviously in the back of my mind a little bit, and you'd like to get that redemption whenever you can," said Merchant on the effects of the loss. "But it is a new season, a new team with a lot of new faces, and we want to win this year. The past is in the past, and the future is in the future, and we're focused on one game at a time."
Merchant doesn't have a gaudy stat line this year. He's probably thrown more interceptions than he'd like. With 1,827 yards and nine touchdowns, Merchant has been consistent and solid. That's what the Mustangs need.
What matters more to the Western football program and to Merchant as its poster boy is that 7–0 record. Wins trump statistics. Nobody knows that better than Merchant.
"At the end of the day, nobody looks at individual statistics when you're looking at a championship team, and that's what I want to do — win a championship with my teammates and do whatever I can to make that happen," said Merchant. "If I don't put up any numbers and we still end up winning the game, then I'm still happy."
There's a certain amount of pressure that comes with being the starting quarterback at Western. The weight of nearly 90 years of successful football can be crushing without the right mix of confidence and humility.
But for Merchant, it's all noise. There's no reason to dwell on the past, on things he can't control. He's more focused on winning that next Vanier Cup and on fighting in the trenches alongside his teammates.
"There's obviously pressure when you're on any team," said Merchant. "While I'm honoured to be the quarterback of such a historic program, I have a lot of teammates behind me who support me, and that takes the weight off my shoulders a little bit. I can lean on them whenever I need to."
The Mustangs have one more regular season game: a Homecoming date with the Ottawa Gee-Gees. Then, it's playoff time. The games will matter a little more. One loss and the season is over.
But through the talk, the expectations and the pressure, Merchant will keep calm and collected. He'll head into every practice and every game with a quiet, gunslinger mentality. He'll keep listening to his country music.