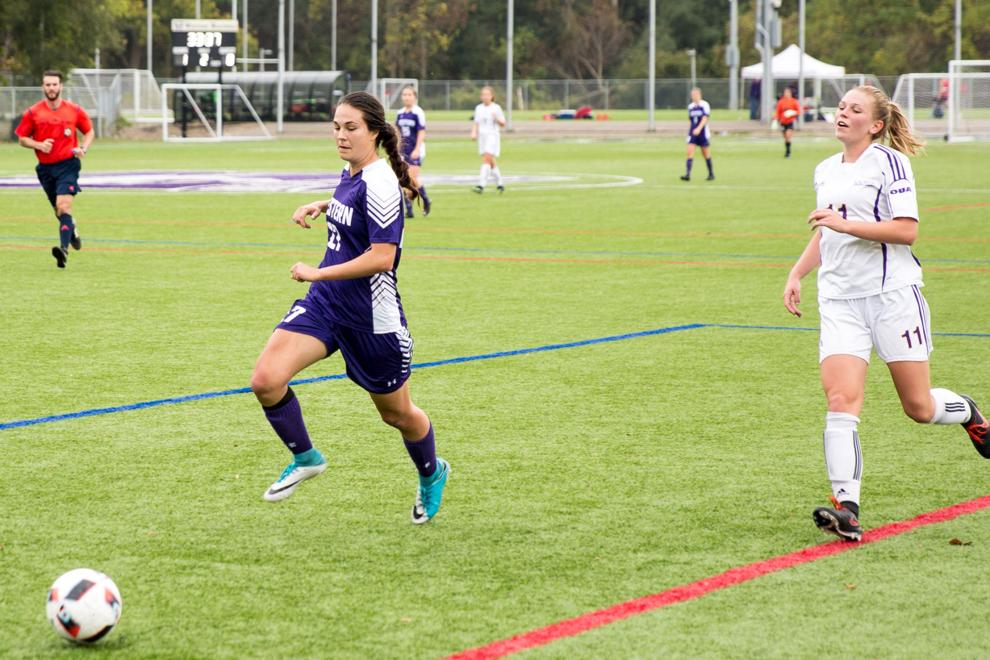 Through 16 games of the Ontario University Athletics season, the Western Mustangs women's soccer team lost just once. Their 14-win campaign earned them 43 points, assuring them of first place in the West Division. Now, though, with a single-elimination playoff game looming this Sunday, regular season success goes out the window. 
The Mustangs secured a bye to the OUA quarter-finals by finishing first, meaning they're guaranteed to play at home this weekend. They won't find out who they're playing against until Wednesday night though. Their opponent could be any of McMaster University, York University or the University of Waterloo (all of whom the Mustangs beat twice this year).
In fact, Western University beat most teams this year. Their only loss came in the second game of the season at the hands of the Guelph Gryphons. That was a difficult stretch of the season as the Mustangs scrambled to integrate a sizeable cast of first-year players into the lineup. 
"At the beginning of the season, we were very unsure what the team was going to look like," said fourth-year midfielder Jessica Vieira. "We had a lot of first-years coming in, and we had a big senior class that just graduated. That uncertainty made us work a lot harder."
In total, 13 rookies have made appearances for the Mustangs this season. Key among them has been Giulia Geraci, who netted 11 goals in 15 games — tied for the team lead with Julia Crnjac, and second in the OUA. Defender Rachel Drouillard has made 11 starts in the team's strong back line, and midfielders Andrea Fraser and Madison Johnston have been very impactful as substitutes. 
Perhaps the main reason for Western's dominance this season is their impenetrable defence. They've been scored on just five times all year, easily making them the best defensive team in the province. 
"We take pride in the way we defend," said head coach Martin Painter. "The hard part about defending is doing it for 90 minutes, and our team's done a great job of that." 
Players like captain Jenna White have been critical to the team's well-organized defence. The Mustangs' ensemble of intelligent defenders has combined with goalkeeper Megan Girardi to produce an incredible 12 clean sheets. 
Western hasn't always been the most potent attacking team this year, with seven of their wins finishing at 1–0 (although they've heated up in October, with a 5–2 victory in Guelph and a doubleheader against the Algoma Thunderbirds that saw the Mustangs tally 12 unanswered goals). Nonetheless, they've drawn confidence from the fact that a goal or two, which Geraci or Crnjac often provide, can win them a game. 
Looking ahead to this weekend, Painter won't have much time to make a game plan, with the opponent unknown until Wednesday night. Regardless, he doesn't think his strategy will change much based on who they're playing. 
"We want to control the tempo of the game," he said. "We try to be the team that dictates play. If they want to adjust to us that's up to them." 
The Mustangs will play whichever remaining West Division team ranked the lowest in the regular season. So, unless the fifth-placed McMaster Marauders beat the Laurier Golden Hawks, Western's opponent will be the winner between Waterloo (fourth place) and York (sixth place). 
The OUA quarterfinal will kick off at noon on Sunday, Oct. 29 at Mustang Field.