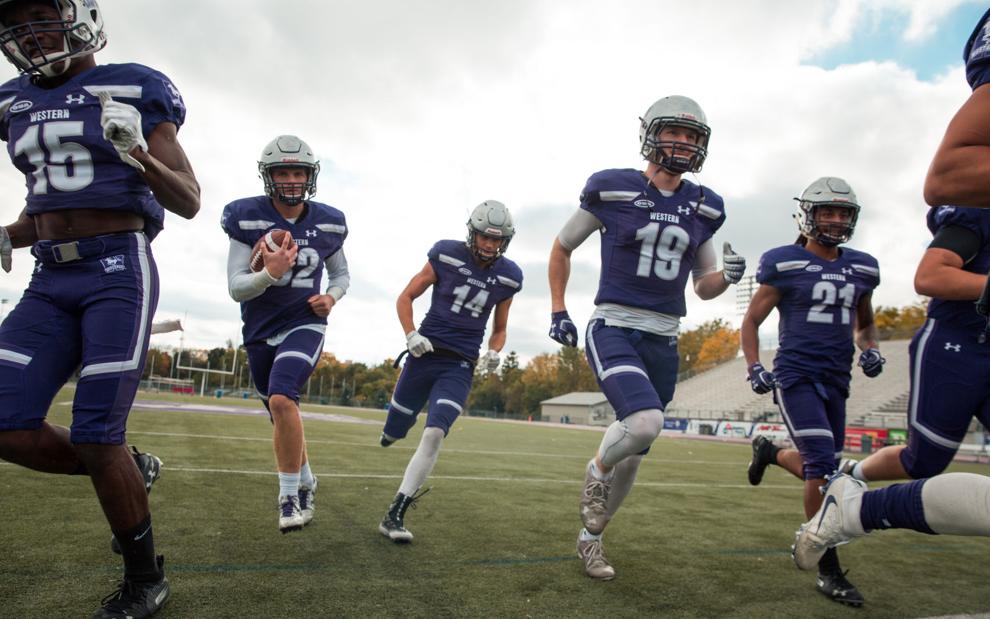 As winter gives way to spring, Canada's top university football players gather  for evaluation by CFL coaches and general managers.
The opportunity gives players a chance to test their mettle against the best and prove to teams they are players to watch out for during the CFL drafting season.  
At least that's how it usually happens. This year, student-athletes will have to settle for videos from remote locations instead gathering in a common location.
Five Mustangs were invited to this year's combine. Linebacker Myles Manolo was invited to the main event, while wide receivers Justin-Ajayi Nickson II and Griffin Campbell as well as defensive linemen Austin Fordham-Miller and Nicolas Theriault were invited to the regional combine.
The Mustangs were given instructions by the CFL on how to record videos to be submitted to the league. 
"It definitely wasn't the combine experience that you'd think of," said Fordham-Miller. "But it's the best combine experience for [these] times."
With university football cancelled and access to gyms and workout facilities limited by government restrictions, players had to find creative ways to train for the combine while facing the same problems your everyday student faces when wanting to workout.
Fordham-Miller resorted to using resistance bands as his main piece of equipment and still got noise complaints from his downstairs neighbours in his apartment. 
"I was happy with my combine numbers," said Fordham-Miller. "But at the same time, that conventional lifting and that conventional training is something that is very important to me. It was extremely difficult to try and maintain my levels this year."
In light of restricted training environments, many athletes resorted to outdoor places to work on movement skills, but when winter came along, the situation deteriorated. When the weather got cold, ice and snow made practice hazardous.
"Down south, they can go seven days a week if they want to. On the field, in the sand, whatever they want," said Manolo. "Here, we've got like five months."
For Manolo, Fordham-Miller and Nickson, getting a chance to play in the CFL would be a dream achieved.  
"Every football athlete in the OUA and U Sports is aiming to be in the CFL," said Fordham-Miller. "I want to play football. It's been what I've been doing for 15 years. It's all about the love of the sport."
But for every athlete, sports affect and benefit them in different ways. For Fordham-Miller, his desire in high school to play football at the next level forced him to focus on his academics to achieve the grades he needed to play at university. Football gave Hickson a chance to fit in and feel at home.
"I moved to Canada at a young age," said Hickson. "Going to school, I didn't see a lot of people that looked like myself so I've always felt a little bit on the outside growing up. But through sport, I felt it gave me some sort of belonging or some sort of importance."
They also all have different sources of motivation which have pushed them to the next level. 
"Adversity kept me going," said Manolo. "That just gave the mentality every time I work on and off the field in the gym and stuff, I got to be not just as good as that person but I got to be better because I'm one step behind everyone due to my surgeries."
For Hickson, his success is about reciprocity and showing the people that invested their energy in him that their effort was not wasted.
"So [many] different individuals that put a lot into my growth and ultimately my success in the sport … for me it's just about allowing them to see not just my work but their work ethic put in me to sort of flourish and get to the professional level."
All five Mustangs at the combine hope to hear their names called and to be introduced to the long list of Mustang alumni that have gone on to play in the league. With the CFL draft on May 4 drawing near, they won't have to wait much longer to see what their football future holds.