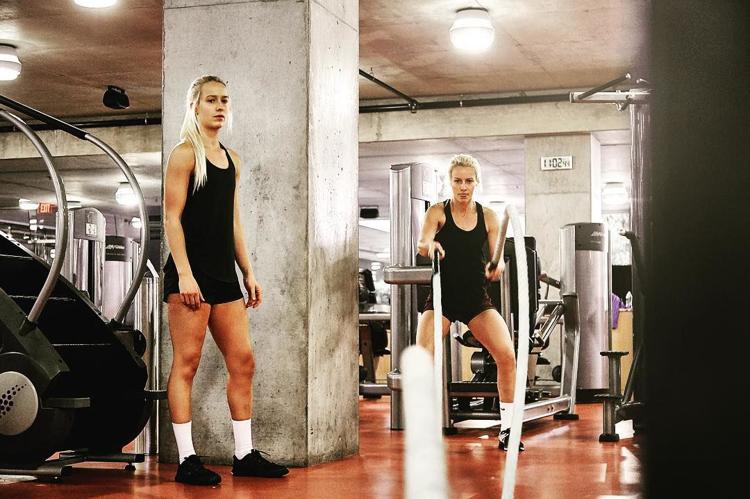 Celery juice, an online business and lifting heavy poundage.
These are just three of a multitude of things that keep sisters, online health and fitness influencers and Western University alumni Hayley and Chelsey Liske moving all day, every day.
Hayley and Chelsey are currently living in Scottsdale, Ariz., approximately 2,500 miles away from their hometown of Niagara, Ont.
Since graduating, the sisters have started operating their own online health and fitness business, Liske Twins.
Their new business is becoming more involved with the health and fitness community in Scottsdale and surrounding areas as their reputation and brand awareness grows.
"Right now, we're primarily online because we don't have a physical location, but we will be doing meetups with people at gyms and participating in group classes," said Chelsey.
"We're working with a bunch of brands right now actually," added Hayley. "Some protein, clothing, skin care and supplement brands."
The Liske twins are also beginning to sell ebooks. They are publishing material summarizing everything they have learned through their experience in the health, fitness and nutrition industries.
Blogging, posting free content and attending retreats throughout Arizona also help the influencers grow their brand awareness, while simultaneously satisfying their love for travelling.
Just one year ago, they were both Academic All-Canadians and team captains of the Western Mustangs women's lacrosse team, graduating with honors bachelor's degrees in kinesiology and minors in economics and appearing on the dean's list. 
"Western was definitely the best five years of our lives," said Hayley. "[Lacrosse] has made us who we are today: leaders. It was so much fun playing a sport that built so much mental toughness."
While they studied at Western, the Liske twins had goals of working in the athletic training and physiotherapy industries.
The pair explained how they constantly navigated potential career paths during their senior season, shadowing strength and conditioning coaches and working with Western's athletic department sports marketers.
 "We're living everything that we've come to know and experience," said Chelsey. "We're marketing ourselves, and for strength and conditioning, shadowing people has been huge for our personal training [business]. Everything we've wanted to do, we've incorporated into our lifestyle today."
Chelsey also mentioned that she advises any Western student to start applying for positions in different areas of work that they may be interested in. She added how just researching a certain career path isn't good enough to find what one wants as a future career.
After graduating in April 2018, the sisters worked at a golf and country club until November, when they finally made the move to the Grand Canyon State.
Hayley mentioned that, initially, it wasn't the easiest move they've had to make.
"We sold all of our stuff," said Hayley. "We sold our car, and we brought two luggage bags each and flew out [to Scottsdale]."
Chelsey added that during the first two nights, the twins had to stay at an Airbnb in a rather "sketchy" neighbourhood by a "men's club."
Once they moved into their new apartment, sight unseen, for the first few months, they said they actually had to use the cardboard box packaging of their mattresses as their coffee table.
However, both Hayley and Chelsey said that overall, the transition has been relatively seamless, and they eventually learned to fall in love with their new lives.
When asked what the differences are between London and Scottsdale, both sisters said that there are many similarities.
"[Scottsdale is] a party scene," said Chelsey.
"Lots of restaurants, but what we really came for was the hikes and just being outdoors," added Hayley.
Chelsey even stated that that her hikes in the red rocks of Arizona remind her of the Sunday morning strolls she used to take along London's Thames River.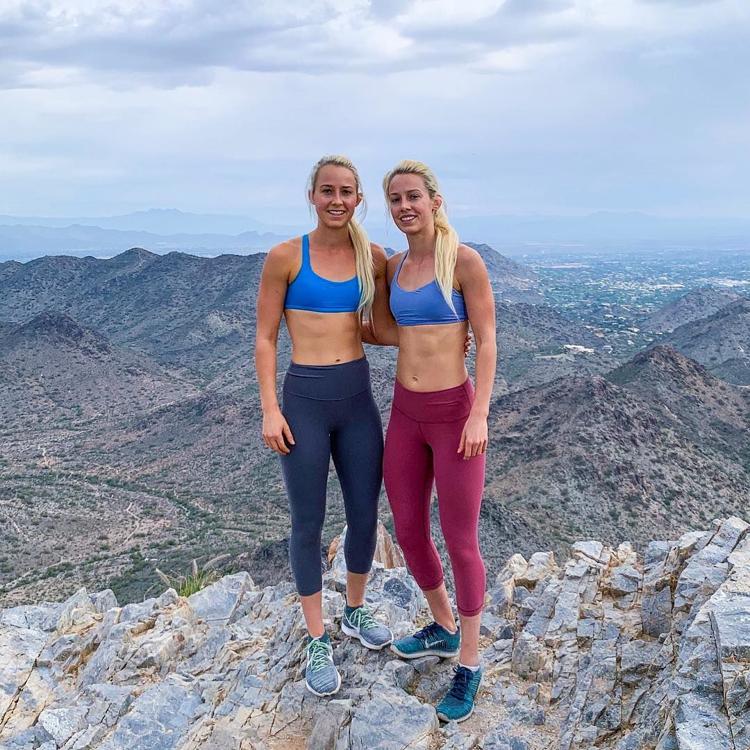 Many lessons have been learned about operating an online business over the past few months, according to the Liske sisters.
"There are many things that you have to think about that you may not need now, but will need in the future," said Chelsey.
For example, setting up the company bank account associated with their LLC was something very new to the young entrepreneurs. They also mentioned how learning about the different business promotion and engagement features of social media platforms such as Instagram took some getting used to.
"I think treating [social media] as a business is also hard because you go from having your own personal account with just your friends to having all of these [followers] who you have no idea who they are," explained Hayley.
"Meeting with grown-up people and having to be an adult and not just posting a picture, there's a lot of logistics when it comes down to it," added Chelsey.
The twins are both excited for the future, as they plan to release much more content, including two more ebooks, that they have been working on for a while now.
"The next couple of months are going to be big for us just launching the stuff that we've been working on, so that's exciting," said Hayley. "We're trying to work on one thing at a time and it's working out so far."
When asked about the advice they would like to give to Western students, both Hayley and Chelsey agreed that current students should focus on enjoying what they have now and not worrying too much about the future.
"Enjoy your time with your friends and don't take [your Western experience] for granted," said Hayley. "Don't think that there's just one set path, be open to opportunities and have fun with it," added Chelsey.
"We have Mustang pride for life," said Hayley as she held her new Scottsdale apartment décor, a Western Mustangs flag, over her head.
Liske Twins' Daily Schedule

7:30 a.m.

Drink 16oz of water
Lemon water
Coffee/tea
10 minutes of meditation
10 minutes of journaling (gratitude, goals, positive affirmations)
10 minutes of reading

8:30 a.m. – 11 a.m. 

Write blog posts (nutrition tips, workout plans, travel workouts, healthy recipes, positive mindset tips)
Brainstorm content ideas for future posts on social media platforms (Instagram, YouTube, Facebook)
Reply to emails, messages, phone calls from the brands they're working with

11:30 a.m. – 2 p.m.

Gym time
Film clips of their workout
Usually turns into a "social hour" as well

2 p.m. – 5 p.m. 

Create content for brands (I.e. Instagram posts, Instagram Stories)
Shoot pictures around Scottsdale for social media

5 p.m. – 6 p.m.

Stop by Sprouts Famers Market to pick up fresh produce for dinner

6 p.m. – 8 p.m.

Dinner time, they usually throw a TV show on in the background
Respond to DMs, comments, brands

8 p.m. – 9:30 p.m.

Go for a walk around Old Town Scottsdale after dinner and hang out with friends!

9:30 p.m. – 10:30 p.m.

Relax and read for an hour, shut off all social media
Liske Twins' Sample Workout: Monday "Leg Day"

Four Sets

Four Sets

Dumbbell Walking Lunges x15/leg
Kettlebell Stiff Legged Deadlift x15

 Four Sets

Burpee Box Jumps x10
Dumbbell Front Squat x10

Four Sets

Three Sets

Single Leg Press x12/leg
Back Extensions x15

Three Sets

Single Leg Dumbbell RDL x10
Single Leg Extension x10-12