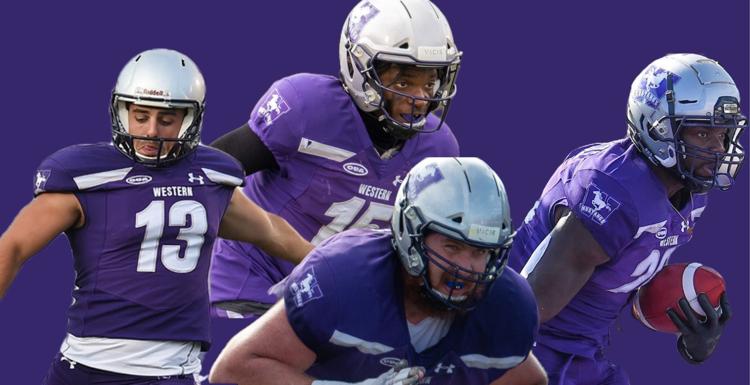 Four Western Mustangs heard their names called in the 2020 Canadian Football League draft last night.
Dylan Giffen, Marc Liegghio, Jonathan Femi-Cole and Bleska Kambamba were all selected to be part of the next wave of Canadian talent. 
Giffen, a first-team Ontario University Athletics all-star offensive tackle, was the first Mustang off the board. He was drafted by the Toronto Argonauts with the 28th overall pick in the third round. Shortly afterwards, another first-team OUA all-star, kicker and punter Liegghio was picked by the Winnipeg Blue Bombers, 39th overall in the fifth round of the draft.
A recent University of Minnesota transfer and Western runningback, Femi-Cole was the third Mustang to come off the board — drafted by the Saskatchewan Roughriders with the 53rd overall pick in the sixth round.
As the draft was coming to a close, first-team OUA all-star defensive back, Kambamba earned the coveted title of Mr. Irrelevant, being selected in the eighth round with the 73rd and final pick in the draft by the Winnipeg Blue Bombers, reuniting with fellow Western University Mustang, Liegghio.