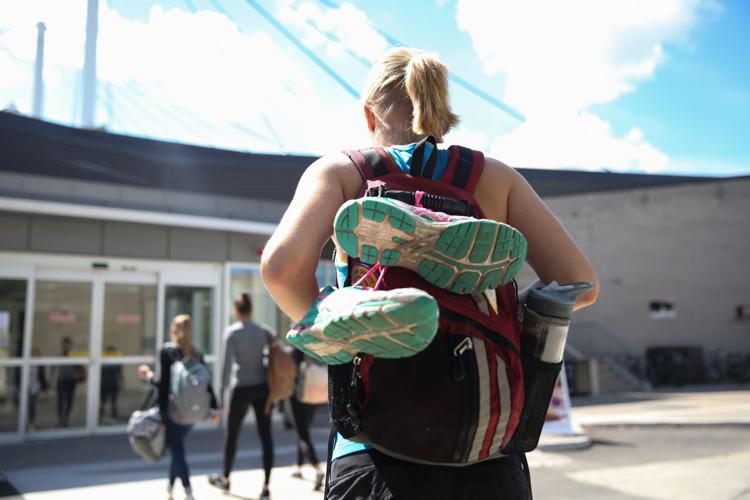 Making the transition from high school to university is already an arduous task for any prospective student. But, making that change while playing a varsity sport adds another layer of difficulty.
First-year varsity athletes face higher athletic and academic standards. Add on the shift every student feels living away from home, surrounded by new people, and the transition can seem too much to manage.
Student athletes spoke to the Gazette about how they handled the change, and the advice they'd offer to students just starting.
For some students, the transition starts before move-in day. While some students are recruited, others have to prove themselves in tryouts, unsure if they will make the team they want until they've already picked their school. Caroline Stricelj, a recent kinesiology graduate, started at Western University on the track, trying to make varsity.
"[It was] definitely a little bit overwhelming…. Just based on what I'd run in high school they were kind of like, 'Uh, we're not sure what this girl can do,'" said Stricelj. "It was definitely challenging. But I have a pretty determined personality that if I think you're going to underestimate me, I'm going to prove you wrong."
Future first-year students may have an easier transition to life as a varsity athlete, though, since Western implemented the Student Athlete Academic Mentorship Program in 2016.
The program was originally conceptualized by Rebecca Matheson, a graduated member of the Women's Rugby team, and is now a joint operation with Sports and Recreation Services, Mustangs Athlete Student Council and the Student Success Centre. SAAMP strives to partner upper-year student athletes with incoming freshmen in order to ease the transition and provide academic support. 
Liz Tkachuk — a third-year media, information and technoculture student and squash player — is currently a mentor in the program. She explained that SAAMP allows her to hand down the academic advice she needed as a rookie.
"Pretty much my role is: I'm in MIT, so the girl on the squash team in first year was also in MIT, so I helped her manage," said Tkachuk. "We know our schedule and all our practices — you know pretty much what you have the whole year in September. So I was like, 'Look at your schedule. Get a calendar and plan it out.'"
"That's what I wish somebody told me, because my first mid-term in first year did not go well," said Tkachuk.
Proper time management was an aspect of preparation that Ryan Evans, a third-year kinesiology student and decathlete, also stressed in his advice for future student athletes. Specifically, he pointed to understanding yourself, in knowing when you need a break.
"Sometimes, depending on the person, it can get a little much," admitted Evans. "You might lose a little bit of sleep, more than you're used to with classes. The biggest thing is knowing your body, knowing when to take it a little easier, when to shut it down, and when you can really push yourself."
The kinesiology major, who currently splits his week between 30 to 40 hours of practice and a full course load, clearly understands the sacrifices needed to balance a hectic schedule. Five full credits requires about 21 hours of lectures in his program.
Even though the schedule may seem daunting, each of the three athletes spoke glowingly about their coaches' ability to adapt training schedules in order to prioritize education.
"Obviously academics comes first, that's why we're in school: we want to get our degree, we want to do the best we can off the court or off the track," said Evans. "All the coaches are really understanding of that; they want us to be students first before athletes. If it's possible for us to rearrange something they're always willing to do that."
Of course, added into this academic-athletic balance is a focus on nutrition. Living in residence offered a challenge to Tkachuk, who was underwhelmed by the options in Delaware's cafeteria, where she lived in first year.
"My rez, specifically, I feel like they could have done more," said Tkachuk. "The salad options were really limited. You couldn't have a salad as your main meal by any means, unless you wanted to have literally lettuce and tomatoes."
However, the fourth-year student noted that this was an isolated incident, rather than a collective shortcoming.
"Saugeen and O-Hall were a lot better; they had way more options. It was towards more of a customized, full meal," she said. "I know that one of my friends on the squash team was in O-Hall and she told the chef her dietary restrictions in regards to squash. If the main meal [didn't fit her diet], they'd give her alternative options."
A student's choice of residence goes further than the cafeteria, though. And for a student-athlete, there is more reason to consider the building they'll call home in first year. Stricelj explained that while she loved her first-year experience, living in Medway-Sydenham Hall, a traditional-style rez, brought its own challenges.
"I was really lucky that I roomed with someone that I went to high school with and she was super respectful to the fact that I was doing track," she said. "But definitely I had my moments where my floor would be really loud at midnight on a Wednesday and I'd be like, 'I have to race in two days, please shut up.'"
Stricelj said that, in hindsight, knowing she would be on the track team would push her towards a hybrid or suite–style residence for the added privacy. It would've been quieter too, she added.
While some aspects of first year may have been difficult, the fifth-year graduate couldn't say enough about Western's athletic programs. In fact, she returned for a fifth year to complete a diploma specifically because she didn't want to leave what she had built as a Mustang.
"After my fourth year, that was my best year of track. Pretty much everything was awesome and I just felt like I wasn't done… just kind of not ready to give up the dream," she said. "I went from being a nobody that couldn't medal at all, didn't make the finals in OFSAA in high school, to being a national medalist multiple times at Western."
Satisfaction with their careers after making the transition was a consistent theme among the three athletes. As well, each student stressed the need to enjoy every aspect of university life—including the social side—in order to come away with the best possible experience.
"Honestly, just have fun with it—it goes by quick," advised Evans. "I'm going into my third year now and it feels like I just got here. You just want to enjoy it—it's going to be the proudest moments of your life with your teammates—you just want to remember it."