It was over a decade ago when a small eight-year-old boy named Gamal Assaad first found his passion for swimming.
This passion was discovered more than 10,000 km from London, Ontario, while he was living in Saudi Arabia.
After gym class one day, his teacher suggested to his parents that Gamal sign up for private swimming lessons. After some time in private lessons, he eventually transitioned into a swimming club.
Assaad attributes his family's move to Canada in his formative years as a large factor in the development of his career as a swimmer.
"Everything was more performance-based rather than just having fun," said Assaad of the transition to swimming to Canada. "It didn't take the fun out of it though. It's just it had a little bit more of a drive to it."
Upon arriving in Canada, Assaad started swimming with the North York Aquatic Club before moving to Oakville and joining the Oakville Aquatic Club, where his coaches instilled the mental toughness and discipline that was needed for Assaad to excel in the sport. 
"They made us work hard," said Assaad."There was no joke in that club. The top group that we were in, it was just one of those things where if you want to be there you needed to prove that you needed to be there."
All the hard work with the Oakville Aquatic Club led to great results for Assaad in high school, something that made him a highly desired athlete for university swimming teams across North America. He garnered interest not just from universities across Canada, but also American universities, such as Columbia University in New York City.
Although he had a lot of options, the decision to come to Western was relatively easy for Assaad. 
"The reason I picked Western is because of the coaching staff," Assaad said. "Ken [Fitzpatrick] was an Olympic captain and Paul [Midgley] has sent, I think, three people to the Olympic Games and it's one of those things where those credentials were pretty hard to beat."
Assaad also fell in love with the campus when he came on a recruiting visit. He thought it was better than all the other campuses he had seen and it was exactly what he had pictured a stereotypical university to look like. The strong reputation of the engineering program at Western, which Assaad is now a part of, was also a big selling point.
To this day, Assaad is happy with the choice he made three years ago to attend Western. However, it has been a lot of work and Assaad admits he struggles to balance both academics and athletics. 
"You get to kind of this point where something's gotta give," he said. "Whether it's sleep or school or swimming, something at some point is going to break. And it's sitting there and deciding what it's going to be on that day."
"I always consult Paul [Midgley] with those things," he added.
Head coach Midgley also advises Assaad on aspects of his swimming technique he needs to improve on. The expectation this semester is to win gold in the Canadian Interuniversity Sport 100-metre butterfly, but Assaad also has his eyes set on a more important race in April, when he will be swimming in the Canadian Olympic trials in Toronto. There, he hopes to qualify for the Rio de Janeiro Olympics this summer in the 100-metre butterfly.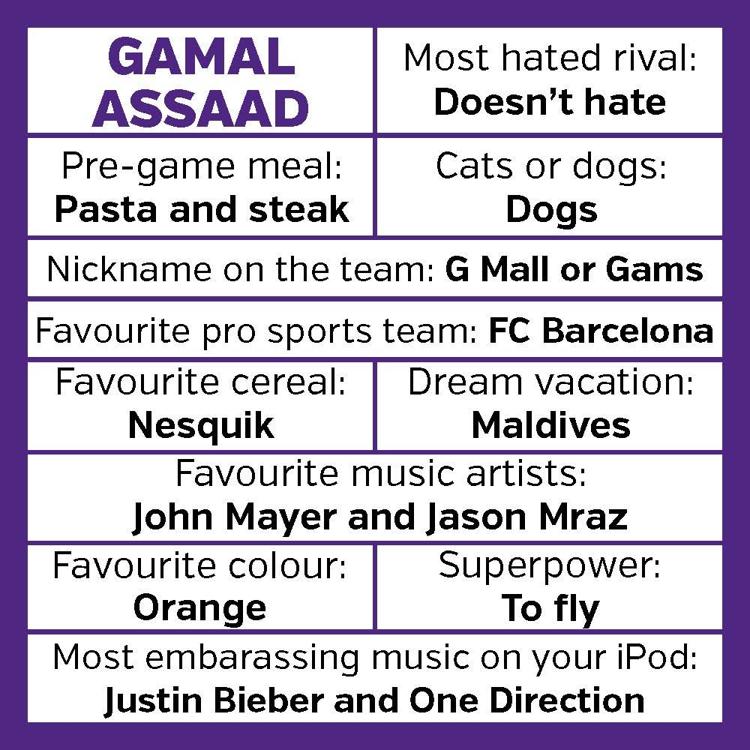 To be able to compete with the best 100-metre butterfly swimmers in Canada and around the world, he needs to find a way to overcome some challenges.
"In that event those guys are usually muscular dudes and I'm still not as big as they are," Assaad explained. "So they're out to the 50-metre mark a lot faster than I am. And that's something we're trying to work on, is try and get myself close enough to them at the halfway mark."
If Assaad makes the Olympic Games this summer, he will rely on past experiences he has had at international events. After his first year at Western, he made the 2014 Commonwealth Games in Scotland for the 100-metre butterfly. Although he was disappointed with his result – he finished fifth in his heat – it was important for him to experience swimming under the pressure at such a young age.
"It's a little bit of a shocker when you walk up to your race and there's two guys with cameras about three feet away from your face," he said. "If you ever watch a video of my face in the first race that I did it was really kind of terrifying."
"The race after that I felt a little bit more comfortable but I was still pretty scared and yeah it's what I guess everyone would kind of expect it to be when it comes with media," he added. "They're everywhere."
Even if Assaad doesn't make the Olympic Games this summer, he still plans to train for the 2020 Summer Olympics in Tokyo as well. 
But before he has to worry about the Olympic trials there is some business that needs to be taken care of with the Mustangs' swimming team this season. 
The Mustangs' first big meet of the season is the Ontario University Athletics championships, which will be hosted on campus from Feb. 11 to 13 at the Western Rec Centre. Here, Assaad hopes to defend his gold medal in the 100-metre butterfly.
Two weeks later, Assaad and his teammates will travel to Quebec City to compete at the CIS Championships at Laval University from Feb. 26 to 28. In Quebec City, Assaad expects to improve on his second-place finish at the CIS 100-metre butterfly last year and win his first CIS title.