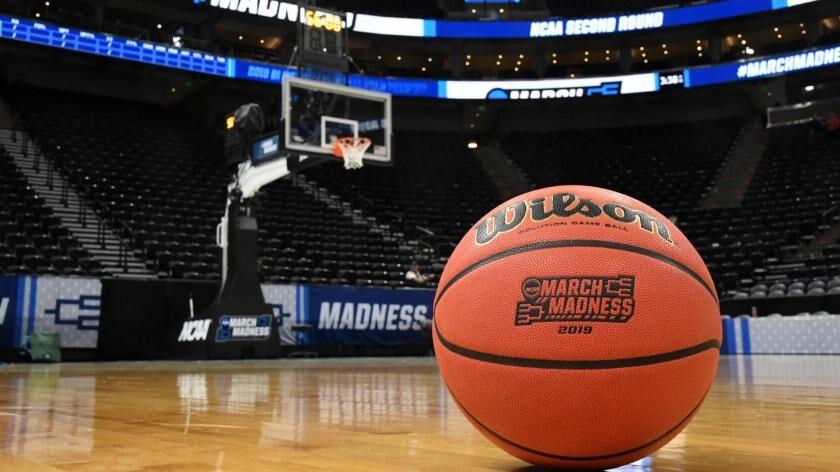 March Madness season is upon us and we are ready to get hurt again.
To avenge our loss against the Queen's Journal in our fantasy football series three months ago, the Gazette is once again going head-to-head against the Journal's sports section. We hope the basketball gods will be more benevolent as we risk going 0–2 against our most hated rival.
Due to the coronavirus pandemic, all tournament games will be played in Indiana with limited fan capacity. Most games will be played in Indianapolis, including the national championship on April 5.
From Cinderella stories to half-court buzzer beaters and basketball-loving nuns, the Gazette is both excited and terrified for what is to come for our bracket. Here are our picks for this year's tournament.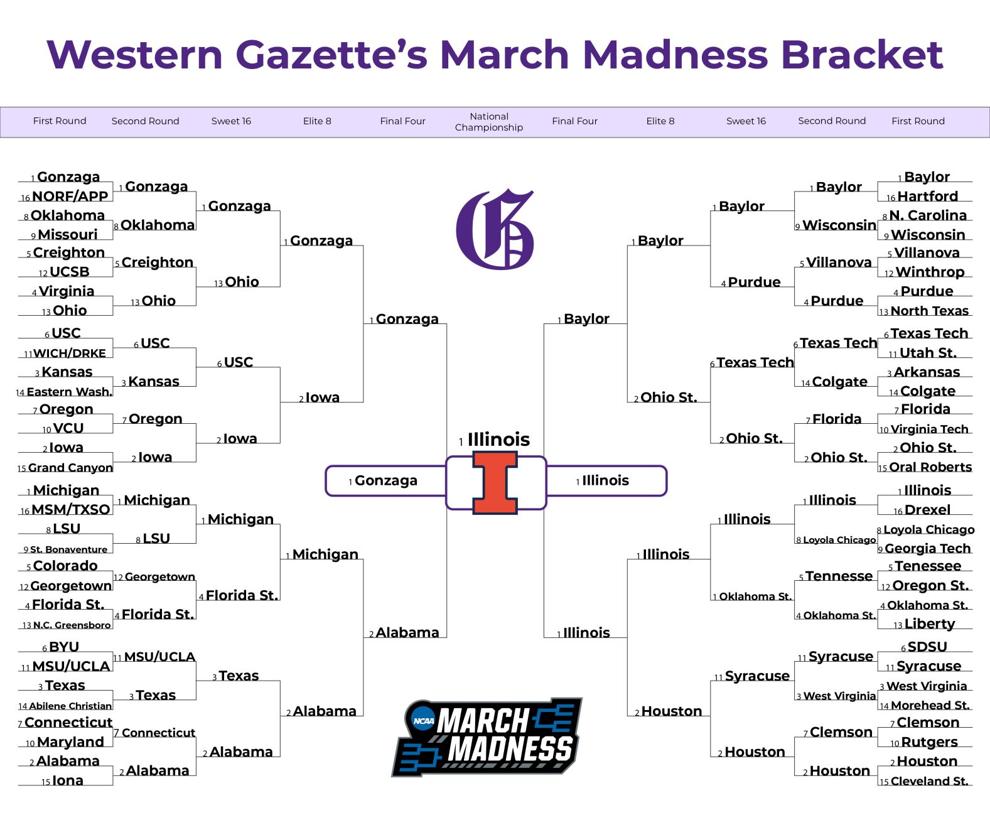 Upsets
Alex: No. 12 Georgetown defeats No. 5 Colorado
Don't let the 13–12 Georgetown Hoyas' record fool you. The Hoyas won the Big East Tournament by winning their last four consecutive games — you can bet they'll take that momentum into Round 1. March Madness is about fighting adversity and Georgetown has proven to be effective, even in the coronavirus pandemic. The Hoyas' three-point shooting is second in the conference at 37.6 per cent — a statistical category the Colorado Buffaloes had trouble defending against in their 70–68 Pac-12 conference title game loss to Oregon State.
If you're going to pick an upset, this may be the one.
Patrick Ewing and his Georgetown Hoyas squad are heading to the Big Dance. "Started from the bottom..."March Madness, baby... pic.twitter.com/91Tn33dtv7

— Rex Chapman🏇🏼 (@RexChapman) March 16, 2021
Jordan: No. 14 Colgate defeats No. 11 Arkansas
Arkansas and Colgate are both teams that like to score, with Colgate ranked 2nd in the nation in points per game and Arkansas ranked 7th. Both teams like to shoot the three, and use that weapon well. But, reliance on shooting can create more volatile outcomes, as opposed to well-rounded and stable teams. Mix that with the high-pressure stakes and the "one-and-done" nature of the tournament, and it makes a recipe for an upset. 
Sleepers
Alex: No. 11 Syracuse
The Syracuse Orange have been successful as a double-digit seed before and they'll do it again with that same 'Cuse mystique. In 2016, under the same head coach, Jim Boeheim, the Orange went all the way to the Final Four as a 10 seed. In 2018, Syracuse went to the Sweet 16 after upsetting six seed Texas Christian University and three seed Michigan State. Have I mentioned that Boeheim is 23–5 in the first round? Yeah, that too.
The Orange have a history of being underestimated and with Boeheim's signature 2–3 zone defence, they'll be hard to keep off your bracket after at least two rounds.
Jordan: No. 13 Ohio
As far as low seeds go, Ohio got a great draw. Their first round opponent, Virginia, is dealing with the ramifications of a positive COVID-19 test in their program. They had to pull out of the Atlantic Coast Conference tournament and most of their players won't get out of quarantine until Thursday. They won't get to Indy until Friday, before their matchup with Ohio on Saturday. Their matchup will be a battle of paces: Ohio plays fast, Virginia plays slow. If Ohio can beat their rusty opponent, they'll either get Creighton or the University of California at Santa Barbara in the second round.
Creighton's coming in under pressure with distractions stemming from their coach, Greg McDermott, who came under fire for referencing plantations last week in a speech to his team about unity and sticking together. USCB is a 12th seed, a good matchup for Ohio should they beat Virginia. If you're looking for a surprise Sweet 16 team, take the Bobcats.
Best game to watch
Alex: No. 8 Loyola University Chicago versus No. 9 Georgia Tech
Most people who were at least interested in the 2018 March Madness tournament remember Sister Jean — the chaplain for the Loyola University Chicago Ramblers and a new celebrity in NCAA basketball. That season, the Ramblers went on a Cinderella-story run to the Final Four as Sister Jean cheered from her courtside seat. She recently received her COVID-19 vaccine and will be in attendance for Loyola's game against Georgia Tech.
I'm no fortune teller, but look for the Ramblers to pull off another special performance in front of their favourite fan.
"Before they go out for their last warmup, we say a prayer and I give them my scouting report." 👏#SisterJean reveals how she's maintained her pre-game rituals during this unique season with @RamblersMBB. #MarchMadness @TheAndyKatz pic.twitter.com/Kld54tZ52u

— NCAA March Madness (@marchmadness) March 18, 2021
Jordan: No. 8 UNC versus No. 9 Wisconsin
The 2021 tournament field has a distinct lack of blue blood programs, with Duke and Kentucky both missing the tournament in the same year for the first time since 1976. The Blue Devils' sworn enemy, the University of North Carolina, scraped their way into the tournament, but a lacklustre season only got them to the 8th seed. By facing 9th-seed Wisconsin, another Power Five school, fans will have a chance to see two big name programs with similar seeds face each other.
Take advantage of the opportunity, that might be a rarity given the field of teams in this year's tournament.
Final Four: No. 1 Baylor, No. 2 Alabama, No. 1 Gonzaga, No. 1 Illinois
Baylor: Once upon a time, the Baylor Bears were the number one team in the nation this season before the Gonzaga Bulldogs took that reign away. The Bears' shooting from beyond the arc is still the best in the NCAA — sitting at 41.8 per cent — and possess two of the best guards in the country — Jared Butler and Davion Mitchell — who shoot 48.8 and 51.5 per cent from field goal range, respectively.
Alabama: The Alabama Crimson Tide took home their first Southeastern Conference championship since 1991 this year and are looking hot heading into Saturday's first round matchup against Iona. On paper, the Tide aren't consistently dominant in the second half, but on tape their defence steps up on key plays to make stops when they need to — especially in their nail biting 80–79 SEC title victory against Louisiana State University. In a physically — not to mention mentally — exhausting tournament during an even more challenging pandemic, Alabama will be one of those teams that can will their way to the Final Four.
Gonzaga: The Zags are the clear favourite to win the tournament. The selection committee picked them as the top seed in the tournament, they're the betting favourite in Vegas to win it all and the only undefeated team coming into the tournament. Led by likely lottery picks in the 2021 NBA Draft Jalen Suggs and Corey Kispert, the team has already played and defeated their top three competitors in their region of the bracket by more than ten points: Iowa (2), Kansas (3), and Virginia (4). It wasn't even close, they won each game by more than ten points.
In fact, they've only won one game this season by less than 10 points, and it was over three months ago. Their lack of experience in close games, combined with the weak schedule that comes with playing in the West Coast Conference, is concerning as the tournament progresses to the later stages. Take Gonzaga to get to the Final Four, but don't take them to win it all.
Illinois: The Illinois Fighting Illini (yes, that's their actual name) are a machine. They went 16-4 in the Big Ten Conference, which was college basketball's toughest conference this year. They took home the conference championship mere minutes before being announced as the top seed in the Midwest region. The team is coming into the tournament hot, winning 14 of their last 15 games.
Job's not done yet. #Illini | #EveryDayGuys pic.twitter.com/tFF48Z6c9k

— Illinois Basketball (@IlliniMBB) March 15, 2021
The Gazette is predicting they add another six wins to that record. When the dust settles on April 5 , we expect to see head coach Brad Underwood and star guard Ayo Dosunmu cutting down the nets in Indy as 2021 NCAA Basketball Division I National Champions.