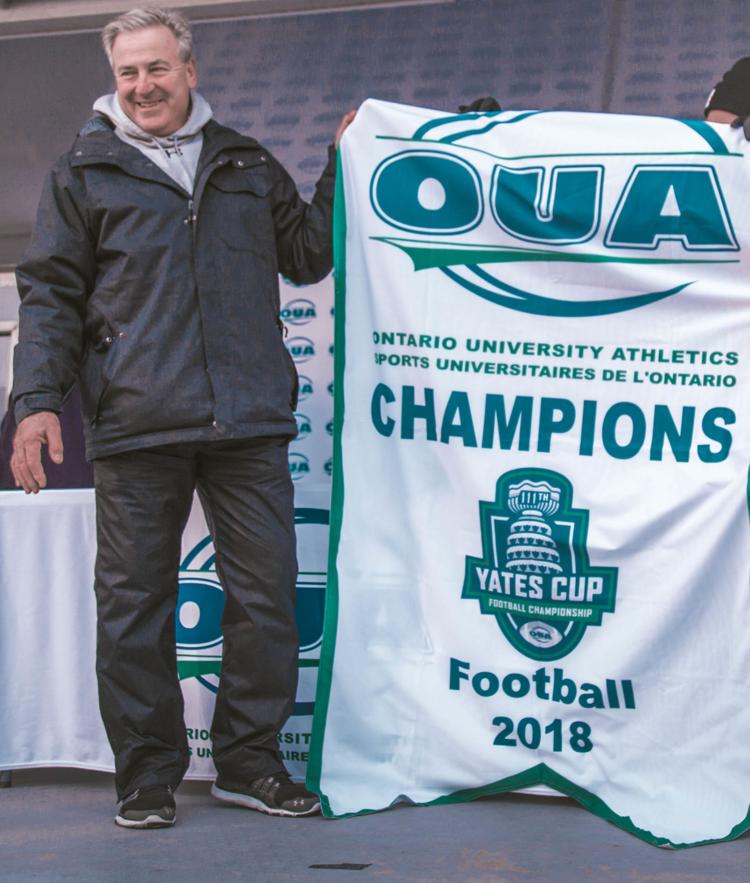 Let's be real here: The greatest coach in Canadian university football history is surely some guy whose name none of us know. He toiled with scant resources. He won something about which only next of kin and a few other dedicated stragglers cared. Actually, maybe he didn't win anything at all. Maybe he went winless, but his players improved cohesively from absolute scratch.
But the most successful coach in Canadian university football today might just be Greg Marshall. He's won nearly as much as anyone in the sport ever has — in less time. He's rebuilt the nation's greatest program, historically, into the nation's greatest program, currently. He's won 10 Yates Cups and a Vanier Cup, and by the end of November, he could add a second national title notch to his belt.
He's one of the greatest program builders the sport has ever seen; when he arrived in Hamilton in 1997 to take over the McMaster Marauders, the program had won two games in two years. Within four seasons under Marshall, they were a six-win team, and within five, they were Yates Cup champions.
When he returned to his alma mater, it needed a turnaround. With eight years since its last Yates Cup title, Western's administration hoped Marshall would reconstruct the Mustangs back into a championship contender. The spring after his hiring, the Yates Cup was back in London.
Wherever he's gone in the university game, Marshall has won — 157 wins, in fact; good for fourth most in the history of U Sports football. While he's behind such titans of the sport as Brian Towriss, Glen Constantin and Larry Haylor, two of those coaches have at least three years on him, and Constantin coaches with unlimited resources and rabid support from both boosters and fans at Laval.
Marshall has done the nearly impossible; he's built a program once marred by underachievement into one that exudes an air of inevitability so strong that it rolls over teams like a tidal wave. Under Marshall, Western has every expectation of winning provincial and national championships every single season, no matter how many CFL draft picks left the year before.
For so long, the only blemish on Marshall's storied career was that empty spot on his shelf where the Vanier Cup was meant to go. While programs like McMaster and Queen's won national titles and then quickly faded from the national conversation, Western always contended but could never reach the pinnacle. Years and years went by since Western's last title — 23, to be exact, which was, for context, the same age as The Lion King and the original Sony PlayStation.
Finally, with the billowing smoke of Hamilton's steel mills providing the perfect backdrop, Marshall ended that streak, the prodigal son finally achieving what he returned to do. It was bound to happen sometime, and it finally did.
In the argument of "Greatest Coach of All Time," the very kind of useless discussion that helps people get through life, big bouquets should go flying Marshall's way these days. His team is on the precipice of a second straight national championship and their 23rd straight win. His offence is rolling, and his defence is the best in the country by a long shot. His program is beyond rebuilding now; year after year they reload, and when this batch of Mustangs greats hang up their cleats, a new batch will take their places.
If Marshall, who is 59 years old now, coached for another decade, it's safe to imagine he'd win 60 more games, at least. That would get him to over 200 victories. No coach in the game has ever reached that milestone, although Constantin could also surely reach that marker given Laval's continued dominance. 
With 200 wins, a dozen Yates Cups and two or three Vanier Cups under his belt, one would be hard-pressed not to rank Marshall as one of, if not the, greatest coaches in Canadian university football history.