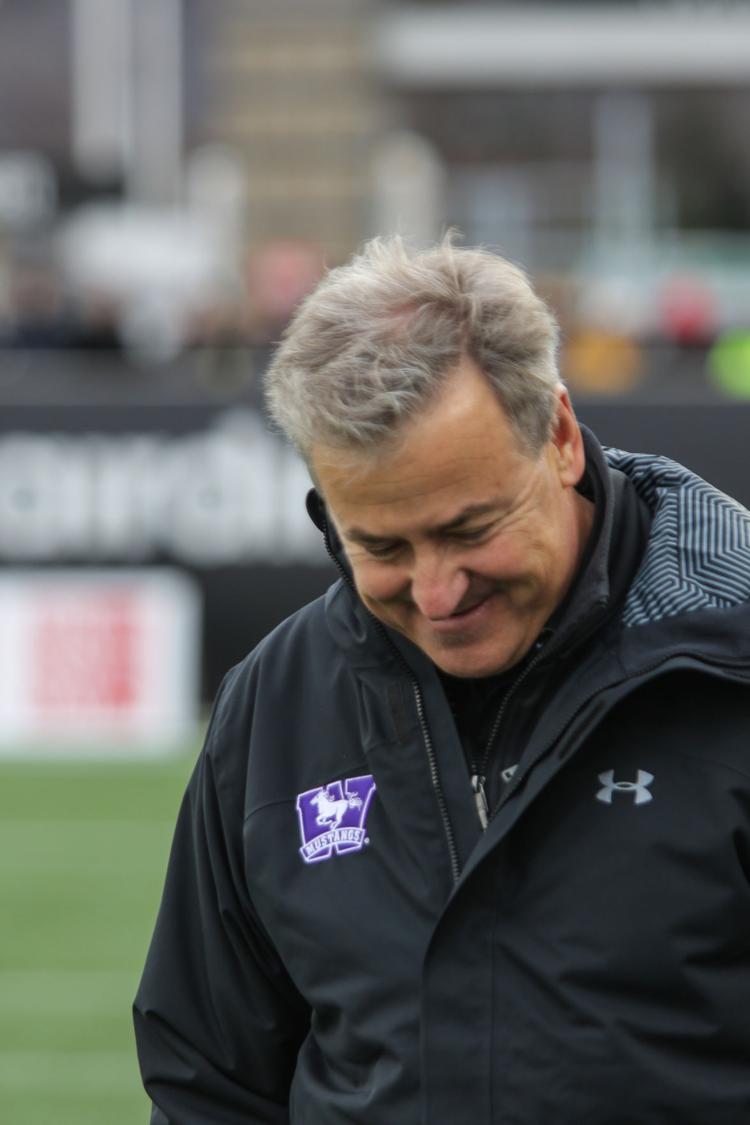 Greg Marshall is a realist. He understands the rigours of Canadian university football. He acknowledges the inherent challenges that coaching in a post-Laval era of big money boosters brings. 
He knows how hard it is to beat the best teams in the country because, in November, he did it. He beat the Laval Rouge et Or like no other coach has since the kings of Quebec began their reign of dominance.
Along the way, he cemented his place in the pantheon of great Canadian university football coaches. He showed that, with a team unhindered by injuries, he's as good as the best minds in U Sports football. 
He'll never make excuses for himself. But more often than not, Marshall's teams have suffered catastrophic injuries that grounded sky-high expectations.
There was 2009, when star quarterback Michael Faulds tore his knee and the Mustangs lost to the eventual Vanier Cup champions, the Queen's Gaels, in the Yates Cup.
In 2011, the Mustangs lost another quarterback, as Marshall's son, Donnie, dislocated his ankle. The team then lost in the Yates Cup again, this time to the McMaster Marauders team, which they had beaten by 40 points earlier that season. 
Then Will Finch came along, destined to be the quarterback to end the Vanier Cup drought and return Western University to greatness. However, his well-documented concussion problem would lead to two more early playoff exits for Marshall and the program in 2014 and 2015.
"It kind of felt like we were snake-bitten," admits Marshall. "It's easy to say 'Yeah, next man up,' but it's not easy to replace a quarterback that's played for you all season, especially when you have the quality of quarterbacking that we had all those years."
Due to the cyclical nature of university football, where players only have five years of eligibility and roster turnover occurs annually, Marshall continued to be confident that a national championship would come.
His mantra has always been to take it one season at a time. And because only one team is truly happy at the end of the season, he never allowed the losses to define his program.
"I guess the one thing is that I would just say there is always next year," says Marshall. "Always next year. We'll give a good run next year, but it's not an easy feat to do given the situation of university football in Canada."
That situation is two-fold. In Ontario University Athletics, the Laurier Golden Hawks and Guelph Gryphons have built perennially successful football programs, creating an arms race in the province both on the field and on the recruiting trail. And on the national level, programs like Laval in the Quebec conference and the University of British Columbia Thunderbirds and Calgary Dinos in the Canada West conference have made it increasingly difficult for the Mustangs, or Ontario's other top teams, to contend for Vanier Cup titles.
After a legendary playing career as a Mustangs running back that saw him win the 1980 Hec Crighton Trophy as the national player of the year, Marshall started his coaching career in 1984 as an assistant on Larry Haylor's staff at Western. He would eventually leave his alma mater in 1997 to take the reigns of McMaster University's program.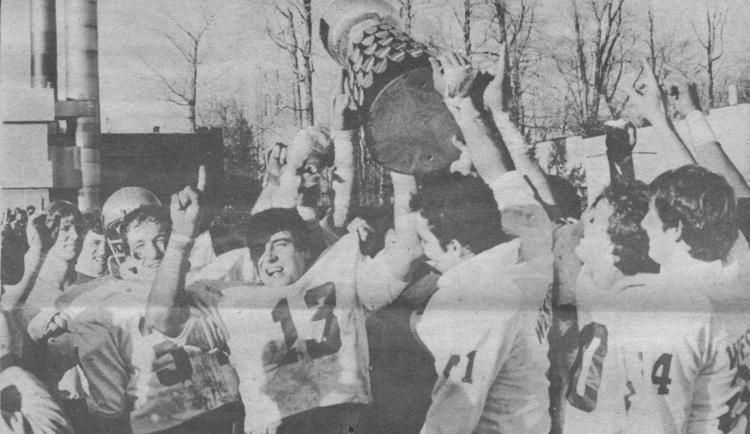 In 2003, he left the college game to take the head coaching position with the Hamilton Tiger-Cats of the CFL.
With his sons growing up in Hamilton and his head coaching career flourishing, the city holds special memories for Marshall. 
But there were also challenges, particularly with his move to the CFL.
"I don't ever look back and say that anything was a mistake, but I should've stayed at Mac," says Marshall. "We had a young family, and I wasn't at home enough. I never watched my sons play high school football. Those were tough years."
Marshall has three sons who all played for him at Western. Donnie, Brian and Tom would all play pivotal roles in the program; Donnie as a quarterback, Brian as a receiver and Tom as a running back.
Perhaps that's what makes his first Vanier Cup win so poetic; it came in the town where so much of his life played out, both the good and the bad.
Marshall returned to London in 2006, spending one year under the tutelage of Haylor as the appointed coach-in-waiting. The program became his in 2007, at which point Marshall was tasked with returning the Mustangs to national prominence and ensuring they win their first Vanier Cup since 1994. 
For years he came so close. In 2008, just one year into his tenure at the helm of the Mustangs program, he fell to Laval in Hamilton. The loss was almost prophetic: a 44–21 loss to the same team that he would beat in 2017 to win his first Vanier Cup, in the same city where he raised his sons and spearheaded his coaching career.
Until 2017, he had four Yates Cup titles and an overall record of 82–25 as the head coach of the Mustangs, along with five Yates Cups during his stint at McMaster. But the big one, the one win that would signify the program's return to the top, the Vanier Cup, was still missing.
In 2016, after the Mustangs' devastating loss to the Laurier Golden Hawks in the 109th Yates Cup, some began to wonder whether Marshall could ever get there. But, the following year, his staff and his team responded, and they responded with one of the greatest seasons in Canadian university football history.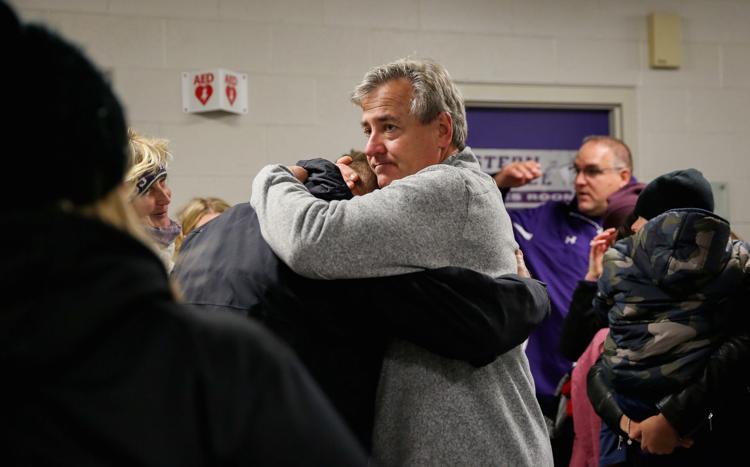 Marshall himself responded. He worked hard in the off-season and brought in a visionary offensive coordinator in Steve Snyder. He added a stellar recruiting class that included standouts Daniel Valente and Myles Manalo. He was ready to make another run at that ever-elusive national title.
Once the season began, his team ran the table. Eight regular season games and eight regular season wins. After his team won their first two playoff games against the Ottawa Gee-Gees and Guelph Gryphons, by a combined score of 129–22, Marshall knew this was the team that could do it.
"I really thought by the end of the season that Guelph was one of the top teams in the OUA and to beat them as handily as we did [66–12] and to completely shut down their offence, it was probably at that point where I thought we'd have a chance at something special," Marshall admits.
Something special happened indeed. A 75–32 win to avenge Laurier University and claim Marshall's fifth Yates Cup. An 81–3 clobbering of the Acadia Axemen in the Uteck Bowl. Then, the biggest win of his coaching career, the one that had slipped out of his grasp for 10 years, came as a 39–17 dismantling of the Rouge et Or in the 53rd Vanier Cup.
"At the beginning of the season, I thought we'd be pretty good, but if you told me that we'd go undefeated and rout four teams in the playoffs to win the national championship, I would've thought you were a little crazy," Marshall says with a chuckle. "So it really is a reflection on the type of character that we had in that locker room."
Marshall always talks in those terms. It's not about him; it's about his players and his program. He sheepishly admits he didn't take much time off after that glorious November afternoon in Hamilton. He had to get back on the recruiting trail to ensure his program doesn't fall behind.
"Because we were playing in the playoffs, we're behind," says Marshall. "We had recruits in last weekend and we'll have recruits in this weekend. It's about us making sure we build on this national championship."
That's the life of a university football coach. The happiness of winning lasts a fortnight and the agony of defeat lasts an entire offseason. For Greg Marshall, his job doesn't feel like work. He loves the game of football and he loves the young men who choose to spend four years under his tutelage.
He also loves his alma mater. And his alma mater loves him back. After all those years of hardships and struggles, he's returned the Mustangs to the university football summit. 
It's been a career of triumphs and shortcomings. But as a football coach, Marshall should never be doubted again. He has won everything a football coach can win and has done it at his alma mater and one of the most prestigious football programs in the country. He's responded to adversity over and over again.
And he's finally come out on top.