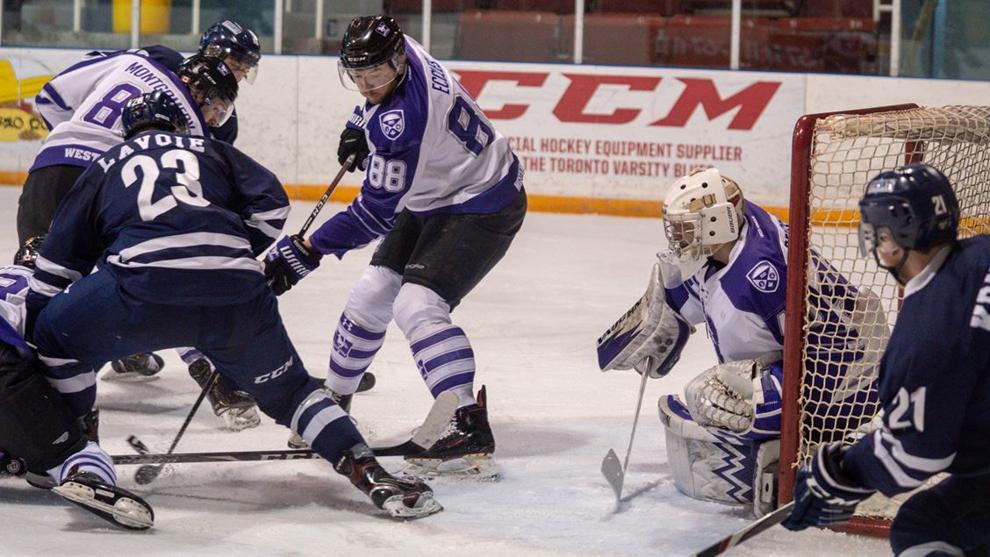 Fighting and physicality aren't leaving hockey because players are getting softer — it's because they're getting smarter.
Old-time hockey fans long for the rivalries and hatred they once knew of the game in the '90s. They reminisce about the days of a flying Scott Stevens elbow or Tie Domi dropping the mitts, or the pure bloodbaths and intensity of the playoff series' between the Red Wings and Avalanche.
But, as much as they hope, that era of hockey isn't coming back — not just due to safety concerns.
Hockey has changed over the past few decades. The game is shifting towards players who exhibit skill and speed instead of whoever is the tallest, heaviest and most physical. The amount of damage you can enforce on the other team isn't as critical as it once was to win the ultimate prize.
The rule changed partly for players' safety and for entertainment purposes, and changes in player development programming has tilted the game towards favouring skill and speed.
These principles have been part of Mustangs men's hockey team head coach Clarke Singer's on-ice coaching philosophy for years.
Singer described three key pillars of Mustangs hockey: pace, playing inside and playing with grit.
"Grit's more of a mental thing than a physical thing," said Singer. "Whatever your body does is what your brain tells it to do."
Being gritty isn't about making your opponent see stars. It's about winning puck battles, being strong on the puck and making second-effort plays. These plays focus on recovering and possessing the puck, putting skilled players in a position to score.
At the pro level, a common way for the macho men of the league to show their brute force is by dropping the mitts and fighting. But at the U Sports level, the automatic penalty for fighting is a five minute major, a game misconduct and a one game suspension. As with other displays of physicality in hockey, rules shape actions. As a result of this rule, fighting scarcely occurs in a U Sports hockey game and it's been that way since Singer joined the league in 1997.
Mustang hockey represents the modern style of hockey — play tough, but play skilled. That's not only the safer way to play, but the better way to win games.
"If you go out of your way to be physical, you take yourself out of the play," said Singer.
NHL teams tend to agree with Singer. Enforcers are now extremely rare to find at the NHL level. The modern poster boys for the "in your face" brand of players are guys like Matthew and Brady Tkachuk and Brad Marchand, players who are more pest than gladiator and have the skill and playing ability to walk the walk. 
The physical and dangerous style of hockey of the '80s and '90s gave us Todd Bertuzzi cracking three of Steve Moore's vertebrae with a suckerpunch. It led to Marty McSorley using his stick as a sword to slash Donald Brashear right across the face.
The damage caused by this style of play wasn't just injuries — it was a threat to star players who drew in the majority of the audience. Dirty hits have caused concussions which took away 114 games from Sidney Crosby's prime less than 10 years ago. Professional leagues are incentivized to keep their stars healthy and as such, we've seen rule changes across all sports to achieve that goal.
"Physicality is absolutely a part of the game, and an important part of the game," said Singer. "[But] there are rules put into place that prevent physicality that's dangerous."
In hockey, both a decrease in fighting and a change in the threshold on what defines a dangerous hit have changed the game. Fans may not enjoy the seemingly strict penalty calls in the moment, but they'd hate their team losing a star player to an avoidable injury. 
Bang your fists on the table as much as you want, but the game is becoming more and more skill-based. As player safety and star player retention become increasingly important, the rules have shifted to incentivize teams to focus on raw talent and effort plays over intimidating but immobile enforcers.
Has it led to weaker rivalries and lower intensity? Potentially. 
But is it better for the game? Absolutely.