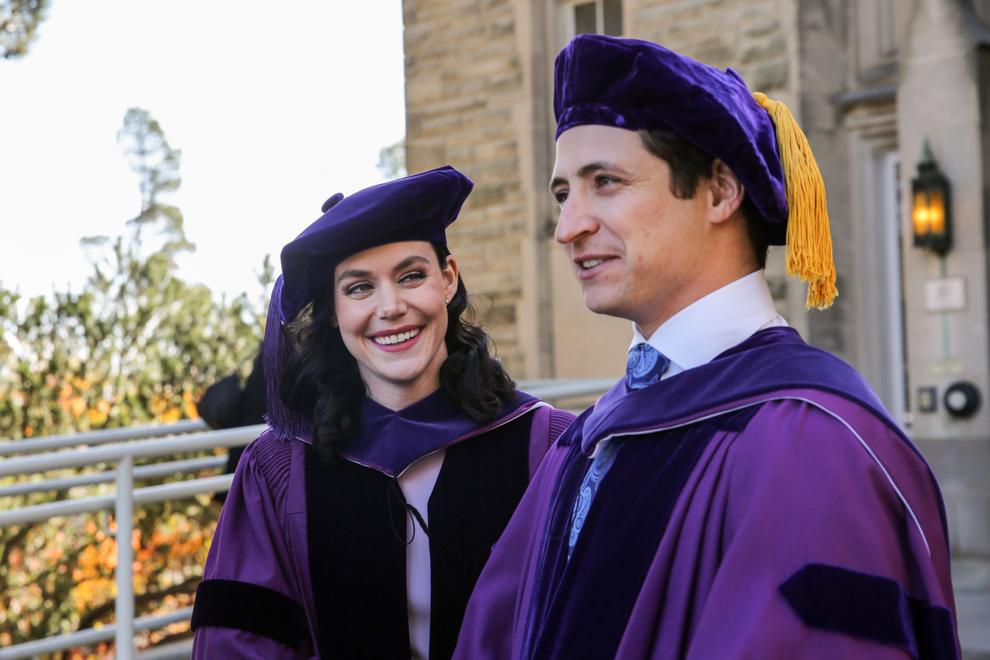 Not many people can say they have shared the stage with Canadian ice-dancing legends Tessa Virtue and Scott Moir, but as of today, graduates of Western's Class of 2019 have.
World champions, Olympic gold medallists, international sport celebrities and now doctors, Virtue and Moir received honorary Doctorate of Law degrees at Western University's fall convocation on Wednesday. 
"To be honoured by [Western] is the thrill of a lifetime," said Moir.
This pure enthusiasm and honour for their new degrees, was further echoed by Virtue. 
"This has to be the highest honour of our entire career," said Virtue. "It is something that we wouldn't have even known to dream of or aim for."
Both athletes have a history intertwined with the university and its city.
Native Londoners, Virtue and Moir have a long and steeped history in Western's past.
Virtue, who was once a student at Western, remembers the university most as being the place where her mother worked for most of her professional career.
Likewise, Moir's mother, Alma Moir, has played a dominant role in the long-term success of the Mustangs figure skating program for over 40 years. As head coach of the figure skating team, Moir has accompanied the team to 14 Ontario University Athletics championship titles, and countless other victories.
As could be expected, her reaction to hearing that the pair that she once coached, would receive honorary degrees from the institution she has given so much time to, was ecstatic. 
"She was thrilled for me and Tessa," said Moir.  "I grew up wearing Western University clothing long before any kid usually does because of my mom's involvement in the program."
Scott and Tessa at convocation
Virtue and Moir delivered a touching address that revealed the likeness between themselves, and the class of graduates. 
"We share a lot of similarities with the students who are kind of ending this chapter of their life and going into the real world," said Moir. "We kind of feel like that as well."  
After a 22-year partnership in ice dance, the two recently announced their official retirement from the sport. 
But rather than dwelling on the hardships of the change, focused on takeaways, and urged on the graduates to do the same. 
"We have learned ice dancing and its accompanying lessons can be applied to life in more ways than you might imagine," said Virtue. 
Learning from and re-framing failure, mitigating pressure, and asking for help when you need it, are among the valuable lessons taken from their address. 
But still, for the duo and graduates alike, forging new paths can come with a degree of uncertainty. 
Though humbly claiming to not have all the answers, the pair offered up advice to help guide this uncertainty. 
"Live your life authentically, what will make you proud, at the end of the day, a year, a career, a lifetime," said Virtue. "What is it you must do to feel fulfilled?" 
For Virtue, she seeks to continue her education in the coming year. Already possessing a Bachelor of Arts in psychology from the University of Windsor, she now looks to pursue a Master's in Business Administration. 
Though Moir is not certain of what he wants to do in his life off-ice, he certainly thought an honorary doctorate degree was a good place to start.