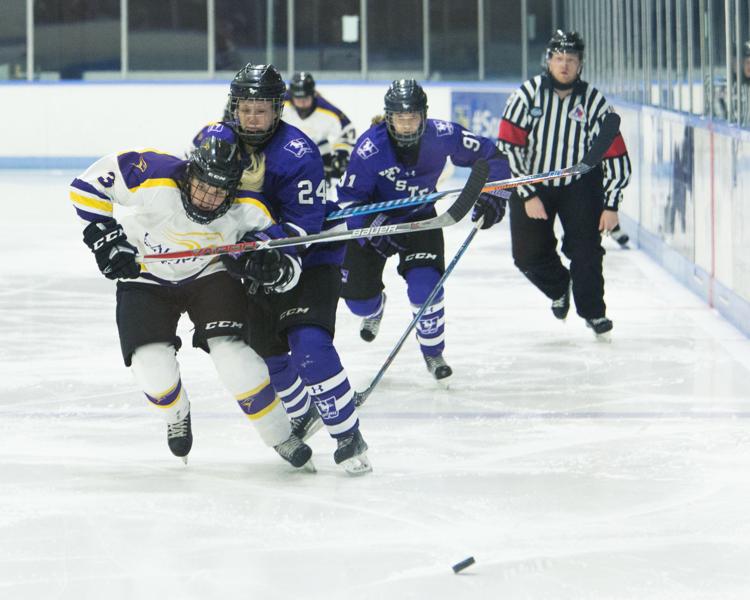 On Friday morning, the Western Mustangs women's hockey team won an impressive 3–1 defensive victory over the struggling Laurier Golden Hawks. 
A school day game starting at 11:30 a.m., the crowd was full of children from elementary schools across London.
"It was weird," said fifth-year forward, Megan Taylor, on the unusual start time. "I haven't played a game that early since probably my midget career."
The players appreciated how the crowd helped prepare them for the atmosphere of the upcoming U Sports national championship which will be hosted at Western University.
Igniting the crowd early, Alyssa Chiarello opened the scoring with a nice play off the boards leading to a goal just two minutes into the first period.
Caught in a dangerous two-on-one chance, Western gave up the next goal to Laurier's Danielle Wark, off a backdoor pass from Kaitlyn Hatzes. Far from an offensive juggernaut, this was just Laurier's 14th goal in 17 games this season.
However, with just under 11 minutes left in the third period, a pass to the slot found Beres, who shot the puck up over the shoulder of the Laurier goaltender to add the go-ahead goal.
After a lull in the action, Beres' goal gave the crowd new life. As the players were celebrating on the ice, the crowd made their excitement heard.
"[The atmosphere] was fantastic," said fourth-year forward Ali Beres. "Looking forward to that at nationals." 
The game was then finished by a strong effort from Megan Taylor who beat out an icing and put the puck in the empty Laurier net with four seconds left. 
With seven penalties called against Western, some players were frustrated with the amount of time they spent shorthanded.
"London is just kind of known for having a lot of penalty calls against us," said Taylor after the game. "We're just kind of used to it."
However, with strong defensive and shorthanded play, the team was able to finish with a perfect six for six on the penalty kill — though it should be noted that Laurier's power play percentage, at 4.4 per cent, is worst in the league.
 "It's been a strength of our group through the second half of the season," said Mustangs head coach Kelly Paton on the strong penalty killing performance.
The Mustangs, second place in the Ontario University Athletics, are next in action on Sunday, when they'll take on the Windsor Lancers at 3 p.m. at Thompson Arena.