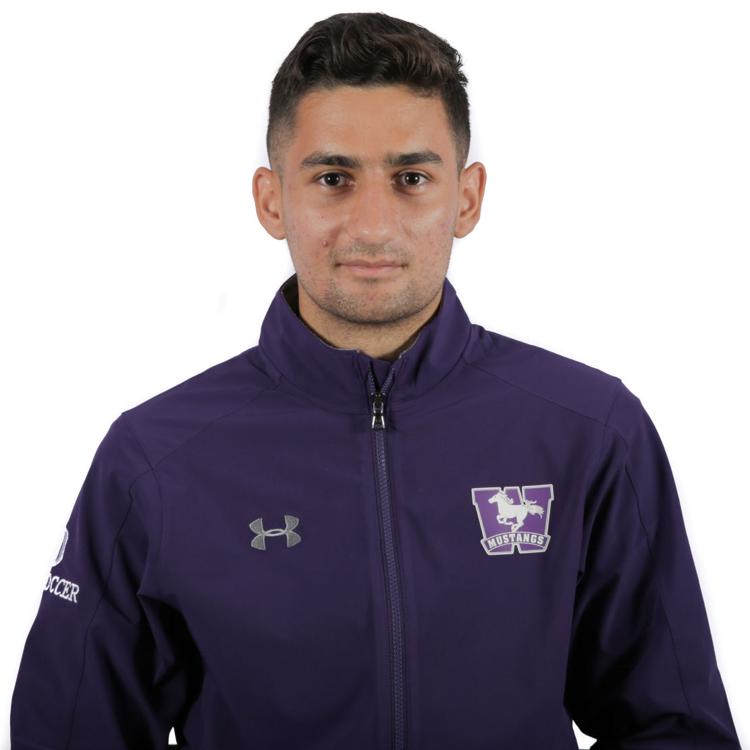 The minute he stepped off the plane from Tehran, Iran in 2015, Reza Nafar was homesick. He'd traveled over 10,000 kilometres to come to Canada, leaving his family back in Iran. 
Nafar, who has made a name for himself as a dangerous striker for Western University's men's soccer team, has been here for three years now. He's well into his financial modelling degree, and he's lighting up the Ontario University Athletics on the soccer pitch. He moved to Canada for university, following his older brother Amin (who plays soccer at the University of Waterloo).
"Here, there are more opportunities than back home," explains Nafar. "My father told me 'it's better for you, the education is better, everything is better.'"
Western wasn't Nafar's first choice: he had looked at a lot of schools in Canada and in the United Kingdom and was particularly interested in joining his brother in Waterloo. He ended up in London, Ont. because he knew a few people here who encouraged him to apply. 
The exact differences between Nafar's life in Iran and his new life in London are hard for him to articulate. He points out that there are less restrictions on him here; for example, he's free to play soccer in concert with his studies. Back home, he would've had to pick one; to continue his athletic ambition, he'd have to leave school.
"To be honest, at first I didn't want to leave," says Nafar. "I kept on telling my brother I don't want to stay here, I want to go back. He helped me stay. He told me it's normal: everybody feels like this."
Nafar says that soccer was a major factor in easing his transition to living in Canada. In Iran, the sport is much more culturally significant: it's the number one sport and most of Nafar's family played it at some point.
Since he came from so far away, Nafar wasn't recruited to Western's team. He had to go through open tryouts at the beginning of his first year. That meant a nerve-wracking evaluation of his abilities, in front of a completely foreign group of players and coaches.
Fortunately, Nafar's skills didn't fail him. He's a naturally talented soccer player, honing his craft at home in Iran. The game is played differently there, according to him. He learned a more pragmatic style of play, which he thinks gives him an edge in Canadian competition.
"Here, I think people are always thinking about athletics," he explains. "But you need to be smart: you need to understand it. I feel like in Iran, it's more technical; it's more about keeping the ball than being physical. Here, it's super physical. People are super fit, super fast, but over there you play with the ball more."
Iran is currently the 25th-strongest soccer country in the world, according to FIFA's rankings. Comparing that with Canada, ranked 96, it's easy to see how the level of play might be a little higher over there. 
A different approach to the game has allowed Nafar to fit into Western's team smoothly. He has become an integral part of the lineup this season, appearing in every match and leading the Mustangs with three goals and one assist.
The team knows how important Nafar is to their success. He was named their rookie of the year in his first season, and they sorely missed his abilities last year when he took some time off, choosing to focus on his commitment to the local soccer club FC London.
"Reza is an absolute joy to watch on the field," said head coach Rock Basacco.
The players and coaches that now value Nafar's skills so highly were instrumental in helping him adapt to a new country and a new brand of soccer. He says that the bond he has formed with his teammates especially, has allowed him to integrate smoothly; the sport provided him with a ready-made group of friends that he sees every day.
Nafar and the Mustangs are currently 5–2–2 this season, sitting fourth in the OUA West. The men lost both of their contests this past weekend, but will look to return to their winning form this upcoming weekend when they'll take on the Windsor Lancers and the York Lions.