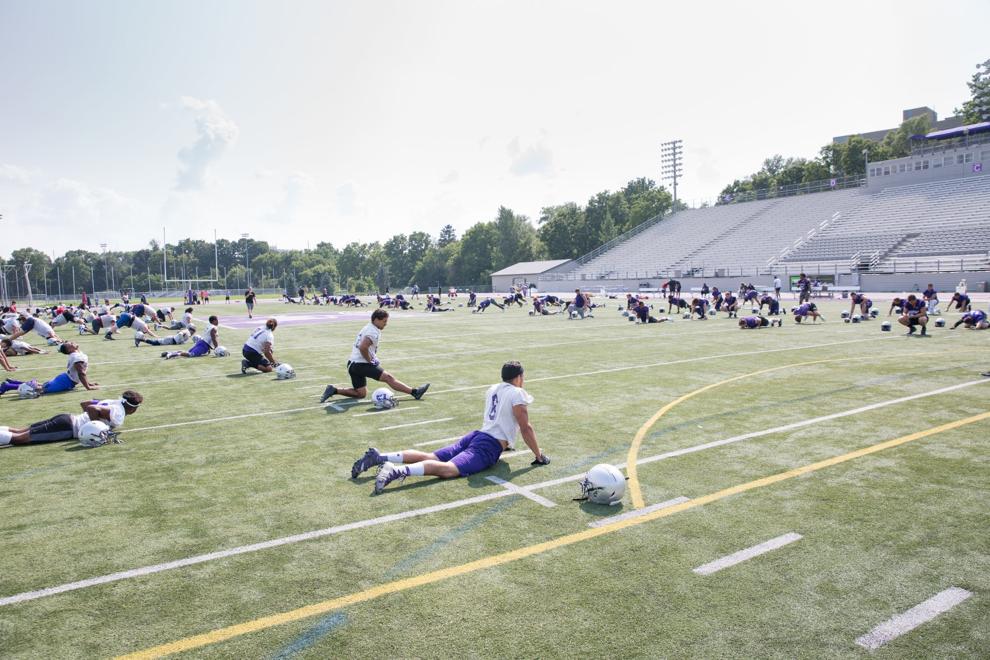 In 2002, famed Pittsburgh Steelers centre "Iron" Mike Webster lay dead on a table in the coroner's office in Pittsburgh.
By the time forensic pathologist Dr. Bennet Omalu finished his autopsy, he discovered chronic traumatic encephalopathy, a neurological condition coming from repeated concussions or subconcussive hits, which Webster confronted almost every day on the football field. 
With Dr. Omalu's research and further findings into the dangers of football, young athletes and their parents have been forced to ask: is this sport safe?
"To be perfectly honest, I don't know," says Michael Robinson,  postdoctoral fellow at the Fowler Kennedy Sport Medicine Clinic and assistant professor at Western University.
Dr. Omalu's discovery triggered a wave of research on football's dangers, especially related to concussions and head trauma. A 2017 study showed that three of 14 studied players who stopped playing in high school developed signs of chronic traumatic encephalopathy — brain degeneration — all of which were mild cases. 
Damage can also extend past the head as football can injure knees, shoulders and bones all over. 
However, football isn't all bad. Through a shift in rules and culture, the sport has the potential to allow young athletes to enjoy the game's benefits with lessened risk, today and when they get older. 
Football gives players an opportunity to get active and reap all the rewards sports offer, on and off the field. Exercise benefits the body, while teamwork and social skills help young players develop as people. 
Contact is ingrained in football. But, there are rules that can be enacted to limit the danger of contact and thus, head trauma.
In recent years, the NFL and youth sports changed kickoff rules to prohibit the motion of players — besides the kicker — on the kicking team. Denying a run-up reduces the momentum of players as they run into the returning team's blockers. It's a simple adjustment, but by proactively reducing force of impact, football has seen a decline in injuries on kickoff plays — previously a disproportionate source of harm. 
Studies, like the one conducted in 2019 by the American Academy of Neurology, conclude that a rugby style tackle is far safer than the head-on collisions common in football. A change in football's tackling techniques, either enforced by rules or by training, would also help tip the scales. 
It's for this reason Robinson would let his hypothetical children play rugby, while football remains uncertain.  
Football is plagued by a "tough it out" mentality, often pressuring players to play through injuries — a culture that makes football dangerous. Recent research indicates early intervention in concussion cases can reduce their long-term impacts, so it's become increasingly important for coaches and players to urge their teammates to immediately seek help when facing a brain injury as opposed to playing on.
"From a health standpoint, football does get a bad rap," says Robinson. "It is one of the higher risk sports but if we understand the risks, we understand how to mitigate the risks, and we take those risks seriously, I think it's viable, 100 per cent."
Despite its track record as one of the most dangerous youth sports, football still boasts multiple rewards on the other end of the scale.
Football, like most sports, requires physical exertion and all of the positive health benefits exercise creates. As a team game, it also teaches kids lessons about interacting with others. As a competition, it teaches them life lessons about winning, losing and how to play the game the right way.
"If the benefits of sport, exercise, group socialization, all those things outweigh risks like concussion and we're able to mitigate those risks, I think that needs to be taken into consideration as well, because that's just as important," says Robinson.
"At the end of the day, youth sport is about exercise, it's about community, it's about fun, but there's a lot of life skills built into those things … like peer support … those are important for child development."
Football has the potential to evolve. If the sport's risks fade with the introduction of new rules and cultural shifts, players can benefit from its overwhelming positive impacts. 
Ultimately, the ball is in the hands of youth football coaches, organizers and parents. By changing the game and the culture around it to make it safer, they may have the power to make what is a difficult decision for this generation's parents and players a far clearer one for the next.