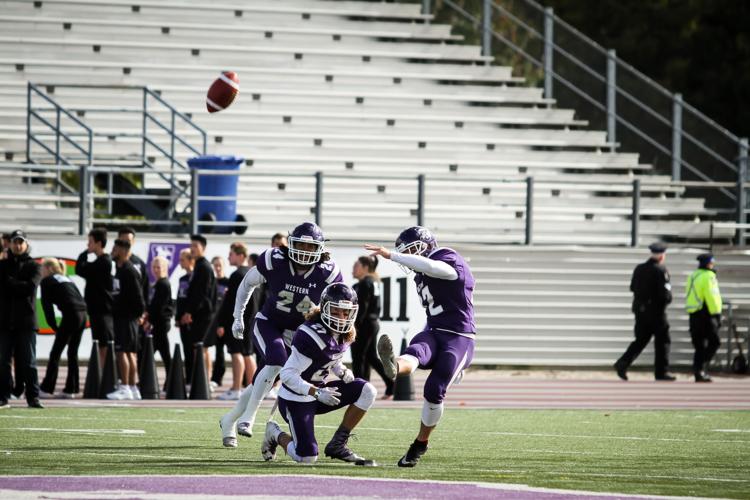 The sideline of a Western football game features a wide array of activities. Players could be grabbing water, getting treatment from trainers, hyping up the fans or watching the play. But there is one constant: Marc Liegghio diligently practicing his craft.
Football after football is blasted off the kicker's foot and into a sideline net. His teammates pay him no mind — they know there is a method to the madness.
Liegghio, affectionately known to his teammates as "Legs," has set his sights on the Canadian Football League once he graduates.
"I just wanted to increase my punting average as much as I can this season because my goal is to play at the next level," said Liegghio after Saturday's game against Waterloo University. "And hopefully it's generating some interest in the next level of coaches. But, I'm just working hard with [Mustangs kicker's coach] Darryll [Wheeler] every day and fine tuning things so I can help the team every day I'm on the field."
There wasn't a tinge of bravado or arrogance as he explained his goals. When he says he wants to help this team win, it's genuine. And when he says he wants to make the CFL, you'd be a fool to doubt him.
The fourth-year player's 48.2 yard punt average, which leads all other U Sports punters by over five yards, would place him as the fourth-best punter in the CFL.
If coaches haven't noticed him yet, they should soon.
Liegghio also leads the league in extra points made and total kickoff yardage. He's second in field goal percentage and fifth in average kickoff yardage, just 2.1 yards behind the leader. 
Want more? He'll likely be an Ontario University Athletics record holder by the end of the season — in two different categories.
Mike O'Brien, a former Western University punter, kicker and quarterback, set the OUA record in 1999 for highest punting yard average in a season at 47.1. The current Mustangs punter stands to pass that mark by over a yard, if his averages hold.
Liegghio said he's noticed the record, and knows who holds it currently, but he could only offer that it would be "pretty cool" to slot his name above the Mustangs legend. 
The fourth-year player also sits two points back from tying the OUA record for all-time points. With another game, he'll undoubtedly pass the current record holder, another former Mustangs punter and kicker, Lirim Hajrullahu. Three more points during Western's Homecoming matchup next Saturday would also make Liegghio the second-all-time points leader in Canadian university football history. 
None of that seems to phase the understated fourth-year veteran, though. After Saturday's game against the Waterloo University Warriors, Liegghio explained that these personal accolades are an afterthought — what's truly important is winning as a team. 
"You know, it's just another record — another point thing," explained Liegghio.
"I don't worry about that. I worry about doing my job on the field every day and making sure that I can help the team in any way I can." 
Of course, passing a former Mustang does make the record a little bit sweeter.
"I talked to Lirim and he's kinda mad at me," joked Liegghio. "But, you know, we're friends. So, we'll have a beer over it or something."
If all goes according to plan, they'll be able to share that beer as peers — both members of the CFL.