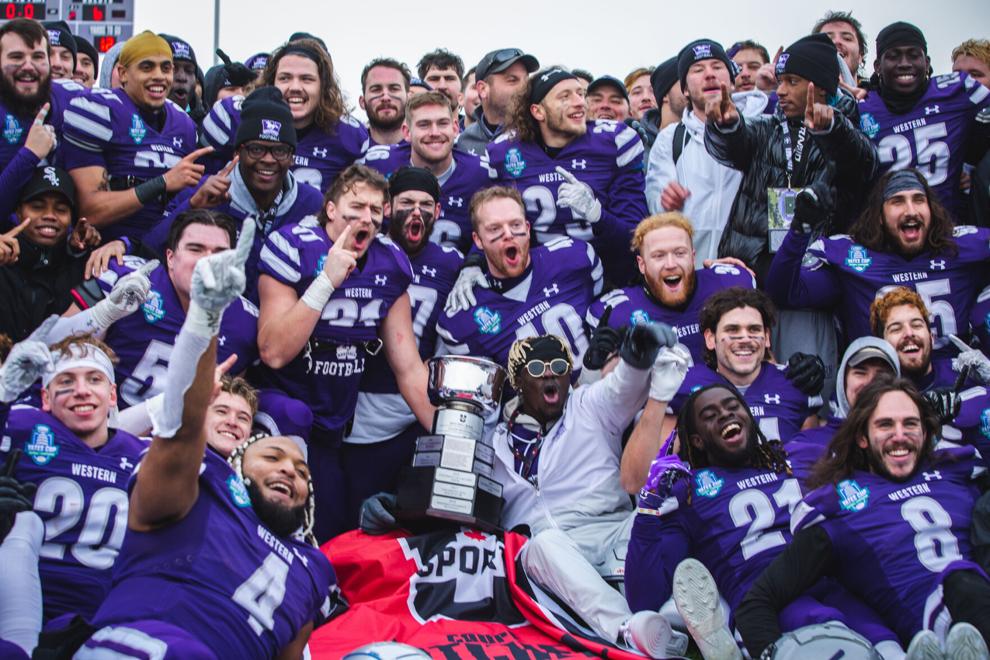 It was an easier Saturday afternoon than most for the Western Mustangs football team.
Western University ran all over the St. Francis Xavier X-Men and cruised to a 61–6 Mitchell Bowl victory, securing their U Sports record 15th Vanier Cup appearance.
The Mustangs scored 51 points in the first half alone, allowing them to coast through the second and chew the clock down to double zeroes without much issue.
"They struggled keeping up, and coming into the game I thought that might be the case. And I thought their offence would do more, but our defence just played flat-out unreal," Western head coach Greg Marshall said. 
The Mustangs defence extended their 14-quarter streak of not allowing a single touchdown and made life difficult for X-Men quarterback Silas Fagnan at every turn.
"Today, we smelt the fear on them. Our goal is always to hit them in the mouth, and if they don't hit back, then we know we got them," Western safety Daniel Valente Jr. said.
🏈INTERCEPTION!!Daniel Valente Jr. reads the throw and takes it out of mid-air and gives Western great field position.STFX l 0WES l 37#RunWithUs #WesternMustangs #STFXvsWES pic.twitter.com/iaZhjPiP2q

— Western Mustangs (@WesternMustangs) November 27, 2021
The X-Men defence was able to hold the Mustangs without a score on their first drive, as Brian Garrity dragged a 35-yard field goal attempt wide right after a long Western drive stalled out.
But from that point on, it was all Mustangs.
Western's rushing attack totally overwhelmed St. F.X.'s defence early, putting up video game numbers and turning the second half into nothing more than a formality.
Keon Edwards amassed 104 yards and a touchdown and Edouard Wanadi tallied 102 yards and two touchdowns. Trey Humes had a "disappointing" half, racking up only 91 yards, in comparison. But he did pace the other Mustangs rushers with three first half touchdowns.
Wanadi had the bulk of the carries in the second half, as Humes and Edwards hit the bench. The freshman from Lennoxville, Q.C. would finish the contest with a staggering 238 yards and three total touchdowns.
"All year, we looked like superstars, but it's so easy to run behind those guys [offensive line], they're making us look so good," Wanadi said.
🏈MUSTANGS TOUCHDOWN!!It's #️⃣3️⃣ for #️⃣9️⃣ as Edouard Wanadi runs it in.STFX l 6WES l 61#RunWithUs #WesternMustangs #STFXvsWES pic.twitter.com/TwXFix1Ma0

— Western Mustangs (@WesternMustangs) November 27, 2021
When the dust had settled at the end of the first half, Western's offence had put up 411 all-purpose yards while the X-Men could only muster up 57. The score at the end of 30 minutes sat at 51–3, which made the second half less eventful, as the Mustangs pulled their starters and ran out the clock to advance to the Vanier Cup.
"It's been awesome, man, there's something different about this group. We're close knit, the chemistry is there and we all want it for each other. I love this team and I'm just excited," Valente Jr. said.
Western will face the University of Saskatchewan Huskies in the 56th Vanier Cup at the University of Laval's Telus Stadium in Quebec City on Dec. 4.
---
Update (Saturday, Nov. 27, 6:45 p.m.): This article has been updated to reflect that Western will be playing Saskatchewan in the Vanier Cup.