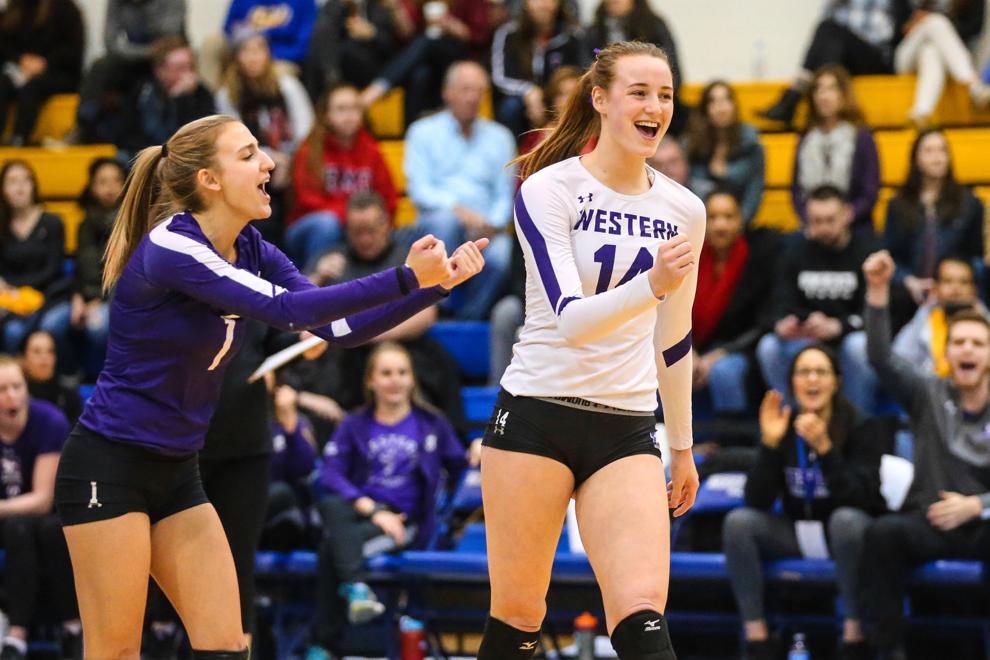 When she was younger, Kelsey Veltman wasn't anywhere near the phenom she is today.
"I remember I was one of the only girls not able to get a serve over the net," she reminisced. "But my dad would take me to the backyard, and he set up a string where I had to try to get the ball over. I would stand on one side of the yard and practice getting enough power to hit it this far and this high."
A decade later, at the age of 22, Veltman's backyard practice seems to have paid off. She recorded her 1,000th career kill, best among active players, in a 3–0 victory last weekend against the Brock Badgers.
"It was a goal I set when I was in first year," she recalled. "I remember counting down, like 'nine-hundred and ninety-seven...nine-hundred and ninety-eight.' It was such a big relief, I was so happy and so excited."
And considering her position — middle — where strategic, defensive substitutions are common, Veltman's personal feat looms especially large among individual athletic achievements at Western.
Now in her fifth year, Veltman has been a pillar of Western's women's volleyball team over the last four years. Efficient on offence and intelligent on defence, she recorded 259 kills and 79 solo or assisted blocks last season, ranking her among the best in individual production in Ontario University Athletics.
This year, a little more than halfway through the 19-game regular season, she's on pace for another staggering performance.
Yet her journey from backyard string-ball to the Alumni Hall rafters was not a simple one. She initially chose lacrosse as her primary sport, playing the game her uncle and father excelled at professionally.
Although she shone on the court — eventually playing for the under-19 Ontario Provincial team — Veltman grew uncomfortable with her tall stature among shorter competitors.
"You know, I would tell people 'I'm 5'12,' because I didn't want to be tall," explained Veltman. "I never wanted to say six feet. Lacrosse players are not normally that tall, so it got a little awkward on the field. But then I started playing volleyball, where the girls are taller."
Although her attraction to volleyball was well-reasoned, she endured a rough start to her playing career. "I was really bad," she remembered. "I had no idea what I was doing." But her father told her to stick with it, helping to improve on the court and build confidence in her abilities.
By high school, Veltman's true potential was beginning to show as recruitment offers came in from American colleges. In spite of that, the time she spent playing under Melissa Bartlett for Team Ontario convinced Veltman that Western would be the best place for her continued growth.
And her presence was deeply felt, as the Mustangs went from 6–13 the year before her arrival to 16–3 in her sophomore season.  
In her first season at Western, Veltman racked up awards and nominations, including OUA Rookie of the Year, OUA West Division Player of the Year and OUA First Team All-Star honours. Her dominance followed into her sophomore and junior years, where she became the first player in at least a decade to win OUA Player of the Year in three straight seasons.
"The first time was actually pretty shocking, like I had no idea there was an award system at all," Veltman said. "You never really expect the coaches to vote like that, and to keep doing it to the same person. I was just shocked the first time, and I was not expecting it at all again, two, let alone, three times in a row."
And yet for all the personal accolades that Veltman has collected in her time as a Western Mustang, the most important of them all has continued to evade her: an OUA championship.
Not that she hasn't been close in the past. With four straight OUA Final Four appearances — including a heartbreaking loss for championship gold in 2016-2017 — Veltman knows the Mustangs are capable of winning the OUA.
"There's some of us who have been to a Final Four, three or four times. So we're trying this year, with our young team, to get everyone on the same page," Veltman said. "We want to get them motivated to win."
This season — considered by many to be a partial rebuild — the team is simply looking for a berth in the Quigley Cup playoffs in March. They currently sit tied for third in their division, just inside the top four they need to secure a playoff spot.
One potential roadblock is the 6–7 Windsor Lancers; a Feb. 8 rematch with their OUA West Division rivals could serve as the ultimate test of the young Mustangs trajectory. In their last meeting on Nov. 23, the Mustangs were walloped in three straight sets.
"That was probably one of our roughest games," Veltman said. "It was like one of those perfect storms. You know, the last few times we beat them kind of handily, and maybe going in, we kind of underestimated them a little bit."
But the key to success, Veltman says, is learning from those tough experiences. She says that improved communication and valuable mentorship opportunities have helped refocus the players since that game.
Off the court and inside the classroom, Veltman discovered a passion that combines both her athletic and academic pursuits. Now studying disability studies at King's University College, Veltman is considering a career helping to train and develop future Paralympic athletes.
However, in the near future, Veltman intends to continue her dominance on the court, looking to make her mark overseas.
"The goal for me is to play professionally," she said. "A lot of European countries have volleyball teams that actually pay very well. So the next couple of months, I'm going to start looking for an agent, start talking to people and maybe travel Europe a bit. I'm just going to go from there and try to play as long as I can."
And for all that the future holds for this young superstar, Veltman still looks back on her time at Western with great pride. When asked about the advice she'd give to student athletes, she responded, "Just have fun. Play every game like it's going to be your last. By the time you're in fifth year, you don't want to look back at those days and say 'If only I tried harder.'"