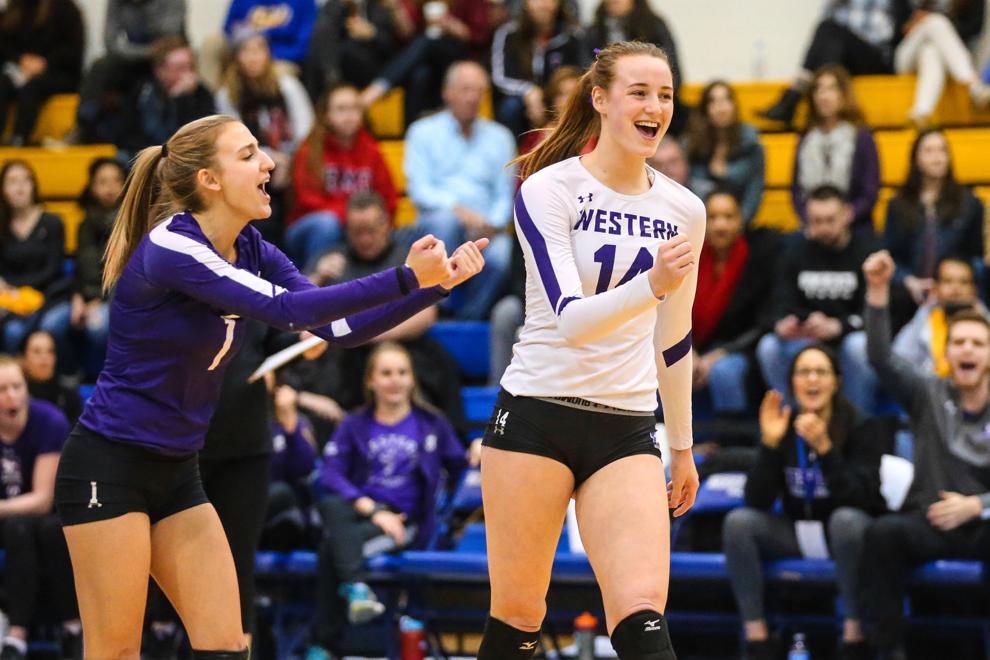 U Sports unveiled its 2017–18 women's volleyball awards, and for the fourth consecutive year, Western Mustangs superstar Kelsey Veltman was honoured.
For the second year in a row, Veltman was named a Second-Team All-Canadian. Two seasons ago Veltman earned a spot on the All-Canadian First-Team and in her freshman season she was honoured as a member of the All-Rookie Team.
Veltman continued what has become one of the greatest careers in Mustangs athletics history. She established herself as one of the most lethal servers in the league this season, and also exhibited an outstanding versatility on the court by moving between the middle and left side positions throughout the season.
Veltman is proud to once again be honoured for her efforts.
"It's an amazing honour. Knowing that all the hard work done behind the scenes is being recognized is a great feeling," said Veltman.
And like most stars, Veltman credits her teammates and coaches for her sustained excellence through four seasons as one of the top players in the nation.
"My team is a big reason towards me winning these awards," said Veltman. "They make me look good, and they've been consistent year-to-year which makes my job much easier."
During the 2017–18 season Veltman had a hitting percentage of .356 while averaging 3.55 kills per set. She was also one of the most dominant blockers in Ontario University Athletics with 36 solo and 43 assisted blocks.
However, despite all the individual accolades, Veltman still lacks the one accomplishment she's yet to add to her resumé. This season the Mustangs entered the season with OUA title aspirations, but they lost in the Final Four and took home a bronze medal. The season before, the Mustangs won an OUA silver medal and earned a trip to the U Sports National Championships, where they fell in the quarter-finals.
Veltman will return for a fifth and final year with her eyes set on an OUA championship and a return to the National Championship tournament.
"Gold," said Veltman on her goal for her final season of university volleyball. "Winning a gold medal is my goal for this program, we deserve it, and now with the extra berth to nationals I would love to bring Western back to a National Championship. And personally the goal is to be a five time All-Canadian and with the team we have next year, it's very possible and I'm already excited to see what next season will bring."