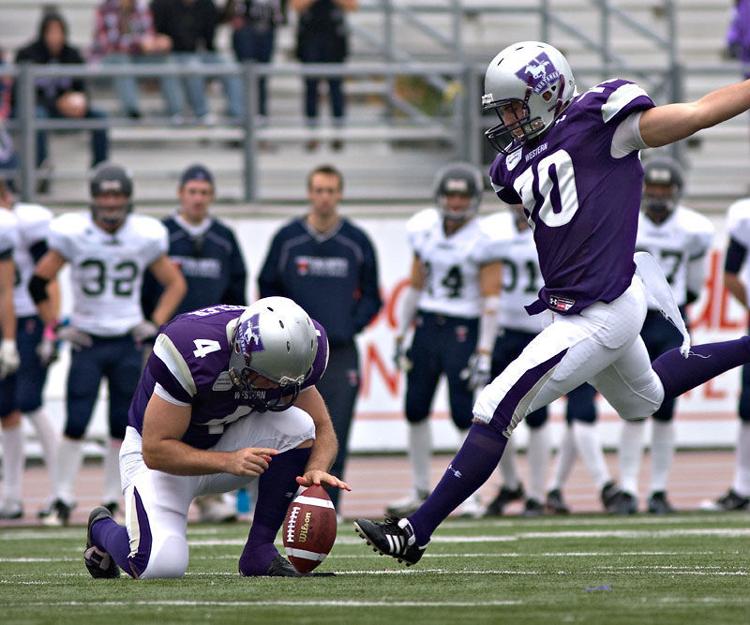 Former Mustangs kicker Lirim Hajrullahu signed a three-year contract with the Los Angeles Rams, becoming the seventh Mustang to sign with the NFL.
Following a six-year career in the Canadian Football League with the Winnipeg Blue Bombers, Toronto Argonauts and most recently the Hamilton Tiger-Cats, Hajrullahu was released in January to pursue National Football League opportunities in the US. Hajrullahu chose the Rams over five other interested teams. He signed on April 13.
He will be competing with former Dallas Renegades (XFL) kicker Austin MacGinnis to replace former Rams placekicker Greg Zuerlein, who signed with the Dallas Cowboys this past off-season.
Hajrullahu, a Western University master's of kinesiology graduate, played for the Mustangs for five seasons from 2009 until 2014. The CFL all-star said he'll never forget his experience as a Mustang student-athlete.
"Living with the guys, playing football with the guys, going to school with the guys — you build camaraderie among not just your football teammates, but even your classmates and it's just a different time in your life that, once you graduate, you really cherish how important those experiences were," said Hajrullahu. "I have nothing but good memories of when I was at Western."
The former Mustangs placekicker said his time at Western greatly impacted his professional career. He mentioned that his old special teams partner, Darryl Wheeler, who played for Western after transferring from Utah State University in the National Collegiate Athletic Association (NCAA), has been one of his greatest mentors. Hajrullahu said playing for the Mustangs and trying to match Wheeler's personality and talents, along with playing in front of large crowds, ultimately helped him reach his end goal.
His goal to become a professional football player.
The two-time Yates Cup champion said he'll cherish moments with his teammates off the field the most.
He mentioned that one of his most treasured memories as a Mustang was after Western won the 103rd Yates Cup, defeating the University of Ottawa in a 26–25 thriller. Hajrullahu sealed the victory for the Mustangs, as he kicked the game-winning 34-yard field goal with just over two seconds remaining in regulation. 
"One of my favourite times was winning the Yates Cup in Ottawa and seeing the smiles on the guys' faces," he said. "It really made me work harder because I really enjoyed that feeling and having everyone going crazy. I think we made it back from Ottawa in five hours. Having one of the buses break down, having everyone come back on the same bus and showing up at [The] Ceeps, those type of things I cherish a lot."
@Lirim_70 will become the seventh former @WesternMustangs varsity football player to sign an NFL contract.🐎 John Priestner (1979) 🐎 Tyrone Williams (1992) 🐎 Tim Tindale (1994)🐎 Vaughn Martin (2009)🐎 Tyler Varga (2015)🐎 Daryl Waud (2015)🐎 @Lirim_70 (2020) pic.twitter.com/CzShWKDVua

— Gazette Sports (@SportsAtGazette) April 15, 2020