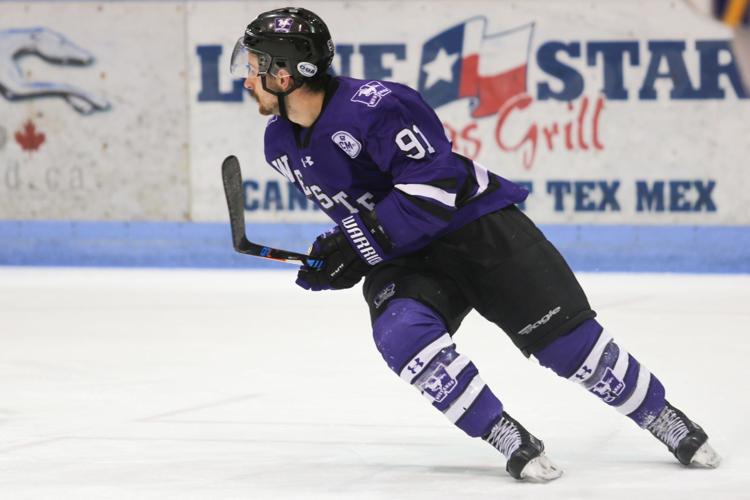 The Western Mustangs men's hockey team failed to extend their winning streak to three games on Wednesday night, with a tough 4–1 loss against the Toronto Varsity Blues at Thompson arena. Despite the strong offensive effort, Western was unsuccessful on three power play opportunities and struggled with turnovers at the blue line.
"I thought Toronto had a great start to the third period and got that early goal. We just couldn't get back on track," said Mustangs head coach Clarke Singer. "Overall, it was a game I don't think we deserved to win with our effort through 60 minutes."
It was a high-paced and physical matchup, which resulted in both teams generating some big hits and good scoring opportunities. The Mustangs breakout was noticeably more efficient and effective than in their last game against the Laurier Golden Hawks, and it paid off.
A rush from Rob Polesello in the first led to a two-on-one opportunity, which saw Cody Brown set up Spenser Cobbold for his fourth goal of the season, opening up the scoring to make it 1–0 at the end of the first period of play.
The high energy and aggression continued into the second period, but it resulted in a cross-checking penalty to Polesello. The Blues were able to capitalize on the ensuing power play opportunity, and Evan MacEachern, evened up the scoring to a goal apiece.
Western University's offence kicked things into high-gear after the Blues goal and started to dominate puck possession. They tested the Blues goaltender, Frederic Foulem, from all angles but were unable to get anything by him.
Back-to-back penalties from the Blues provided Western with a two-man advantage and a chance to take the lead. Singer called a timeout early on in the power play, but even with some extra guidance, the Mustangs were unable to make the most of their five-on-three opportunity.
Toronto's Aidan Wallace had a wide-open look after he caught Western's defence out of position early on in the third, but rookie goaltender Zach Springer was there to bail them out. The Mustangs failed to keep the Blues out of their end for very long, and Hunter Atchison fired one high glove side, giving his team the lead early in the third.
A giveaway by Western at their own blue line led to a two-on-one and a goal from Max Lindsay. Shortly after, Toronto was able to slot another one, scoring three goals in less than 10 minutes.
The loss brings Western's record to 3–5–0. Next, the Mustangs will play the first-place York Lions on Friday, Nov. 10. with puck drop scheduled for 7 p.m. at Thompson Arena.