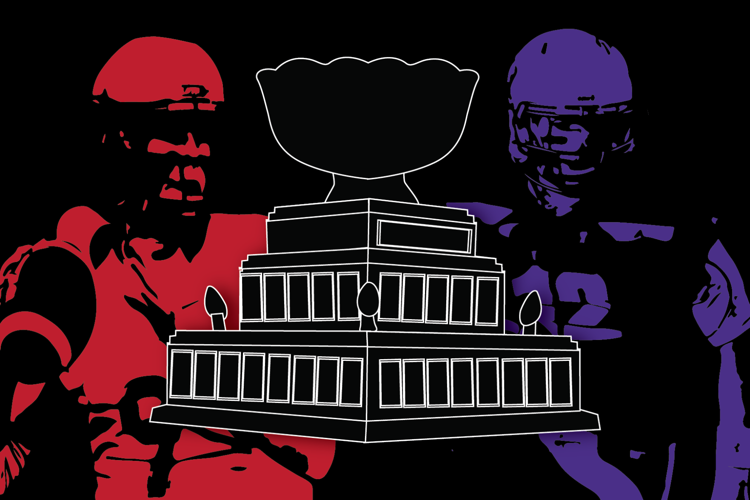 It's a cold November morning, and the Michael Kirkley Training Centre is quiet. Later, football players will congregate here, as they've done every fall for the last dozen years, for lifts and meetings and practice.
But in this quiet, a warm recluse from the shrieking, bone-chilling winds outside, it's a place that still feels hallowed, with the history of an 89-year-old footballing history oozing out of its walls — murals of legends past, trophies in cases commemorating glorious days of yonder, and old, tattered, discoloured footballs and dented, antiquated helmets on display, remnants of a game at the very centre of a university's heart and soul.
The football offices sit on the second floor, tucked past the weight room in a discreet corner of the building. It's an office space like any other, save for the purple and white football memorabilia that adorns it. In the kitchen, paintings of the grand old J.W. Little Stadium line the wall, and a plate of half-eaten bagels sits amid sheets of game plans and lineups and hand-scrawled notes. It is here that championships are born, long before they're officially won on the field. And it's here that Greg Marshall, head football coach of the Western Mustangs, pulls up a chair and talks about the game that could define his career — and the future of his program.
---
"If you want to be the best, you have to beat the best," says Marshall, a statement that he's echoed often in his coaching career; a cliché, sure, but perhaps the most apt of them all, particularly in this instance.
Indeed, his program became the best on an evening nearly a year ago, when they beat the best there ever has been. In their 39–17 romp of the Laval Rouge et Or, in front of 10,000 fans at Hamilton's Tim Hortons Field and hundreds of thousands more on television, Marshall and his team exorcised their demons and threw a wrench at Canadian university football's two decades-old hierarchy. And, by doing so, the Mustangs became the greatest show on Canadian university turf. 
For so long, Laval was the standard in Canadian university football, a program splashed with booster money, a nouveau riche disrupter in an old money game. And they soon surpassed the Western's and Toronto's of the world with championships upon championships. That is, until Western took back its place at the top of the sport.
"For me, it's a special day," Marshall said on that damp November night, 20 years head coaching without a national championship finally over. "I've been working hard at this for a lot of years. I really think this is one of the best teams I've ever coached and certainly one of the best teams that's played U Sports football. This is a dominant team. To win the way we won, going undefeated and doing what we did in the playoffs, I'm really proud of this team."
But like Muhammad Ali and Joe Frazier 40 years ago, every "Fight of the Century" needs its second act. So, while games had to be played and players had to remain healthy, Laval-Western II was written in the stars.
---
The Western Mustangs have not lost a game since Nov. 12, 2016. What was once considered the greatest barrier to the program realizing its potential — Marshall's conservative approach to staffing and play calling — is now its greatest strength. Continuity matters for Marshall, and it has since his head coaching career began at McMaster University in 1997. 
"When I got to Mac, the kids told me they had four different coordinators in four years, which means four different systems in four years," says Marshall. "Yeah, we've made changes, but the core of what we do is the same as it was 12 years ago when I got here."
Even those changes were made with maintaining continuity in mind. When offensive coordinator Steve Snyder was brought in from St. Francis Xavier University, he made sure the offensive system didn't deviate from what players and staff knew. When the Mustangs lost in heartbreaking fashion to the Laurier Golden Hawks in the 2016 Yates Cup, Marshall stayed the course. He's won 8.75 games a season since becoming Western's head coach in 2007. When you win like that, maintaining the status quo is generally the smart course of action.
"We've lost some really good guys who have gone on to coach, but the core stays the same as it was when I was at Mac," says Marshall. "Continuity. And it's the same with players. We need to recruit not only good players, but good people, and then retain them.
---
Championships aren't won by star players. Sure, when it's September and the weather is balmy and the games don't mean quite as much, gunslinging quarterbacks and exhilarating running backs fill the box score and dominate the headlines. But when the temperature drops and the snow starts falling and the ground turns the consistency of concrete, the players in the trenches take over.
"You're always going to find stars and guys who make an impact right away," says Marshall. "But you win with the guys who didn't play for three years and then, in their fourth years, took advantage of the opportunity given to them. That's who wins championships."
The Mustangs have no shortage of stars, from quarterback Chris Merchant to running backs Cedric Joseph and Alex Taylor, game-breakers who can change the complexion of Western's fortunes. But for every Cedric Joseph is an Andrew Thurston or an Antonio Valvano, players who waited patiently for their time in the limelight. They came to practice and watched their film and got their lifts in week after week, year after year, without seeing the field.
But when Marshall turned to them, they delivered. 
"You don't win without those guys," says Marshall.
In many ways, the Mustangs football team has diverged from the university's greater narrative. As Western University has focused on growing its international reputation and putting up multi-million dollar buildings around campus in droves, Marshall's program has taken on an increasingly local emphasis, relying heavily on talent from London's gritty, hard-nosed, development-centric high school football system.
Yes, the Mustangs have as much talent as anyone in the country. But they also have guys in the trenches, often left out of the newspaper clippings but forming the cornerstone of an unprecedented run of success. And that core is set to compete for a Vanier Cup title once again.
---
Stade Telus-Université Laval is, give or take, 980 kilometres from TD Stadium. It's the proverbial holy mecca of Canadian university football, home to a program that, since its inception in 1996, has won nine national championships and has more resources and fan support than anyone in the country. It's also the site for Saturday's rematch between the Mustangs and the Rouge et Or.
But Marshall makes no qualms about it; his team will not be intimidated. They're the reigning champs, without the pressure to win on home turf. They're the team that's proven itself unbeatable again and again over the last two seasons.
"We're going into an intimidating environment like [Stade Telus], where it's noisy and the crowd is there and you're playing against Laval in November; it doesn't get better than that," says Marshall. "Our guys won't be intimidated. I'm probably more nervous than they are."
The Rouge et Or are a formidable foe for the Mustangs. They're as deep as any team the Mustangs have faced, a mixture of explosive offensive weapons and tenacious defensive standouts. They have a grizzled veteran quarterback in Hugo Richard. They have an offensive line that opens holes for a robust running game. Their receivers are sure handed and apt at finding space downfield. And their defensive line is the best in the country, led by a generational talent in Mathieu Betts.
"Their defensive line is their anchor: no one's scored points or moved the ball consistently on them this season," says Marshall. "But no one did last year, until they played us."
In the lead up to last year's Vanier Cup, most conveyed disbelief that the Mustangs could truly compete with the monolithic Rouge et Or. They said the OUA didn't provide adequate competition. They said the Mustangs' storied history of near-misses and heartbreak was a curse unlikely to be overcome. 
But then the Mustangs smashed Laval in the mouth, changing the narrative of an entire program in the process.
There aren't any doubters left, but the drive remains the same. A tale as old as time, English Canada and French Canada, old money and new money, past and present, converging in Quebec City on a cold afternoon in late November. Two teams with legacies on the line.
---
It's serene, the calm before the storm, and Greg Marshall is embracing the moment he's found himself in. 
"Could we do it again this year?" Marshall asks rhetorically before answering himself. "Sure."
What Marshall has built at Western can never be taken away from him. But in his quest for greatness, a second Vanier Cup ring would go a long way in solidifying his position atop the list of the game's greatest coaches. The only thing in his way is the toughest team the Mustangs will play all year.
"We know them and they know us," says Marshall. "It's going to be a battle."
And so Kirkley sits silent, the smell of sweat and metal clinging to the air. The calm before the storm, one final battle on the frozen tundra of Stade Telus on the horizon. The walls in purple and white, the trophies from years past rusting with age.  And one empty spot, which only Saturday can fill.