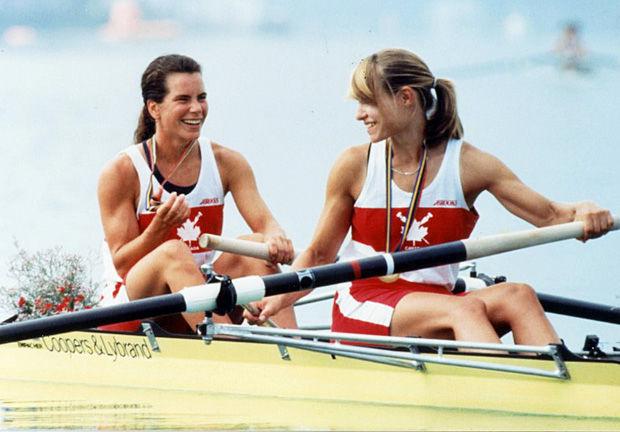 The Mustangs rowing program falls nothing short of impressive, attracting young athletes from across the country. But one name stands alone — Marnie McBean. 
Marnie attended Western University in pursuit of a kinesiology degree, all while competing on the rowing team. When discussing her decision to compete for the Mustangs, she recalls the program's notable reputation. Al Morrow, a former Mustangs rowing coach, was an individual Marnie had been eager to work with.
The alumna attended three Olympic Games, one of which she dropped out of because of an injury. Throughout the two competitions she had participated in, Marnie brought home three gold medals and one bronze.
Marnie, alongside her rowing partner, Kathleen Heddle, are the only two Canadian Olympians to record three gold medals in the Summer Games.
Marnie was named the Chef de Mission in the 2020 Tokyo Olympics.The Chef de Mission is granted to a former Canadian Olympian to lead and guide the competing athletes. Though often the spokesperson, the "Chef" also guides and cheers on the athletes throughout the Olympiad.  
Although she flew into Tokyo with lots of Olympic preparation and mentoring experience, Marnie wanted to focus her time on encouraging athletes to fuel their own passion and motivation.
"I don't see myself as a motivator," she says. "People are naturally motivated and have goals. It's recognizing that starting is sometimes the hardest part. The trick is to realize that everyone has valleys, fears and doubts. No matter how normal we think we are, or our flaws, that doesn't mean we're not on the champions' path."
Marnie says it was exciting to have the opportunity as the head of delegation. Prior to attending the Olympics, she had been given a drum to bring from members of the Squamish nation.
"I felt blessed and honoured," she says. "My purpose was to represent the friends and family who couldn't be there and have a heartbeat resonate through the team from the drum. I ended up being the fan and the flag in the stands for as many Canadian moments as possible."
Despite the safety measures that the pandemic had set in place, Marnie says these troubling times ended up highlighting the mature qualities within Canadian athletes.
"I learned a lot from the different athletes," she notes. "The depth and care they had for their communities [at the start of the pandemic], whether that be as ambassadors for social distancing or the Black Lives Matter Movement, was impressive. They've advocated for the strength and health of all Canadians."
Marnie is infamously known for her Olympic accomplishments with Heddle, who died earlier this year.
"Not too far from the Team Canada building was a beautiful remembrance tree. I went there quite early and I was able to tie a ribbon with [Kathleen's] name on it. Her legacy was still with me."
But Heddle's legacy doesn't end there. As the more introverted one in the pair, Heddle had taught Marnie a lot about how to communicate and listen better to the athletes present at the Olympics.
Marnie took this lesson with her to Tokyo, aiming to be a Chef to everybody, especially the quieter voices like Heddle.
Since her time competing at the Games, Marnie has been focusing on helping others in their team development, leadership skills and personal advancement. Her work revolves around presentations for corporations on ambition management and helping others set up their path to success. 
As a leader, Marnie strives to relay her wisdom about discovering a purpose. She recalls moments of darkness after coming home from the Olympics and how she eventually found the light. 
"I think it was because we lacked purpose. [Purpose] gives you direction and you don't have to know if you're going to get there. You're just trying to close the gap between where you are and where you want to be," explains Marnie. "One of the reasons I have a dog is because I don't like going out for a walk but I do like walking my dog. Even on a shady night, I'll take the dog out for a walk, because I've got a bit of a purpose. It's all about finding a purpose."
The former Olympian's career is nothing short of remarkable, but she has yet to forget her time spent in London. 
"The community took good care of me. There were a lot of Western professors, the deans of kinesiology and people off campus that treated us like family. There was a lot of warmth to it and I'm grateful for that," she says. "[Attending Western] really helped me keep my passion in rowing and reminded me that a big part of being great at something is you still have to enjoy it."
Years later, Marnie continues to be active within the Olympic community, but says future possibilities are endless.
Her advice for university students and student-athletes is to remember that you never know until you try. She stresses that the first steps are always the hardest along the path. 
"You have to keep taking the steps. You don't have to think about the goal or how big it is anymore. It really is normal people who are able to do extraordinary things."