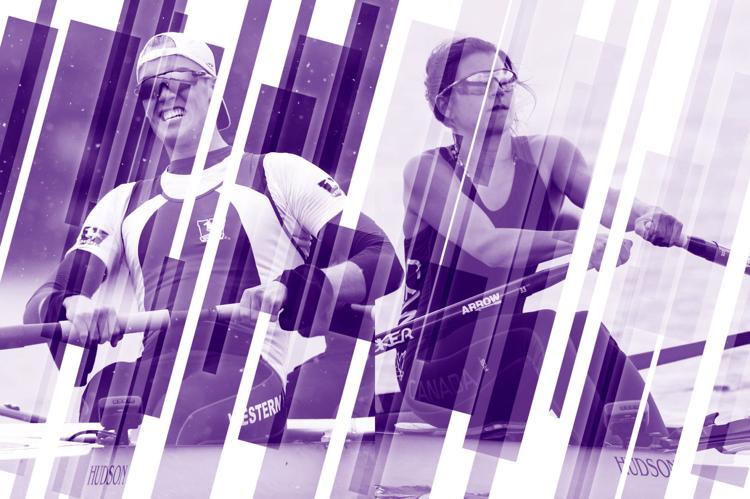 Maintaining an academic life while competing as a student athlete is difficult. However, training for a national team while trying to keep up with school work requires an extra level of commitment.
Such is the case for Larissa Werbicki and Curtis Ames. Both are members of Western University's rowing team and both share the ultimate goal of competing for a Canadian national rowing team this summer.
Ames, a second-year engineering student, has set himself the goal of making the Canadian U-23 men's eight — the event that is widely considered the pinnacle of men's rowing.
Werbicki, a fourth-year kinesiology student at Brescia University College, has already competed for the U-23 Canadian national team. At the 2017 World Rowing U-23 Championships in Plovdiv, Bulgaria, Werbicki finished sixth in the women's lightweight double event. Upon graduation, Werbicki is committed to moving to Victoria, B.C. to train with the senior national team.
For now though, both Werbicki and Ames compete with the Western Mustangs rowing program. And with training ranging from 18 to 24 hours per week during the winter season, the pair have busy schedules to manage.
Western's head coach for the men's team, Daniel Bechard, explained that both athletes have the personalities to persevere through the arduous training schedule. 
"Both Ames and Werbicki are special individuals because they have a clear understanding of how hard you need to work," Bechard said. "They are held to a high standard and ask what more they can do."
Ames explained a key aspect of his training regiment is setting goals "at the beginning of each year, at the beginning of each training period."
Setting goals is necessary with the time commitment required from both of these athletes. Bechard explained that "individuals with expectations of wearing a maple leaf must commit more to their everyday schedules than the typical [student]. Objectively, the effects would be like taking the typical class schedule and doubling it, or more."
"It definitely impacts it" explained Werbicki. "Just because it's so much running around, and I feel like I don't have much downtime or time to put towards academics."
Not having much downtime is understandable, given that she regularly does two to three workouts a day. But for Werbicki, having both her schoolwork and rowing is something that helps her through her most difficult moments.
"I think what has helped me so much is just having that balance and completing my degree while training," Werbicki said. "If training doesn't go well, at least you have school later on to look forward to."
Ames explained that with the long training hours required to make a national team, sometimes even the most successful athletes need to realize when it's time to take a break.
"When you're feeling in the dumps, just take a moment, call your family or do something and just try to reset," Ames said. "You don't want to say 'Don't worry about it, you're fine. You're just having a weak moment.' That's what makes it hard."
The ultimate goal of competing for Canada will make it all worthwhile for the pair. Werbicki is almost at a loss for words when describing what it feels like to represent Canada.
"It's amazing," Werbicki said excitedly. "Representing Canada is such a different feeling than competing for a school. Sitting up at the start line, it's such a great feeling knowing that you have everyone's support in Canada."
Ames highlights how the hunger for this amazing feeling is what motivated him to strive for such an ambitious goal.
"I think right off the bat, when I joined rowing, the reason I fell in love with it was because it was the sport I could see myself going the furthest in."
While not exactly in the spotlight right now at Western, both of these athletes have chosen paths that will hopefully one day lead them to greatness on the international stage.