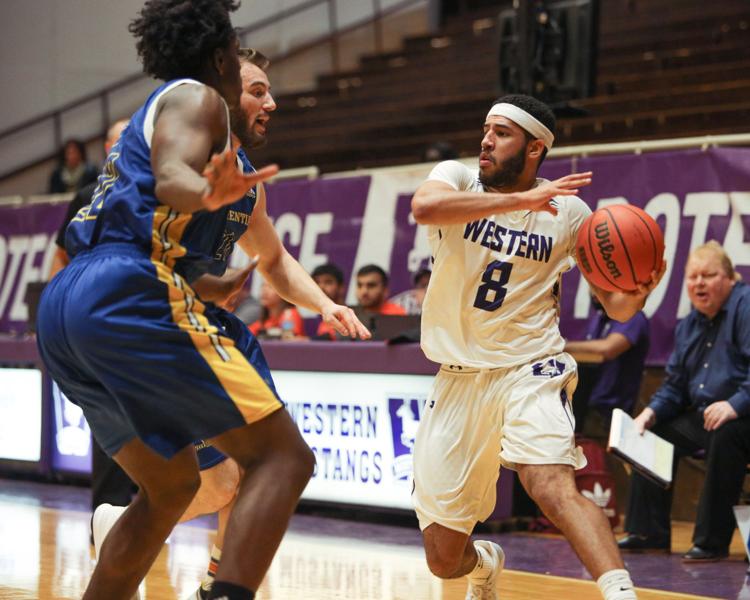 The Western Mustangs men's basketball team had a perfect opportunity to end off the 2017 calendar year on a high note, as the Laurentian Voyageurs and Nipissing Lakers came to London for a pair of weekend games.
Despite hard-fought efforts in both games, the Mustangs fell back below the .500 mark with their 80–74 loss to Laurentian University followed by an 88–83 loss to Nipissing University. 
In both losses the Mustangs showed how far they've come since the struggles of last season. They traded buckets with the 8–1 Voyageurs and led by double digits against the 5–4 Lakers.
However, the Mustangs are also defensively deficient and inconsistent in their late-game execution. On Friday night the Mustangs were unable to shut down Laurentian's Kadre Gray, the leading scorer in the OUA.
Gray scored a game-high 24 points, while David Aromolaran and Anthony Iacoe scored 17 and 16 points respectively. 
The Mustangs were led by 19 points from Omar Shiddo and 14 points from Eriq Jenkins. However, giving up 80 points and losing the rebounding battle 41–23 was too much for Western University to overcome.
"Our defence is important to us; we have to keep scores down. If we give up 80 it's probably going to be difficult for us to score in the 80s," said Mustangs head coach Brad Campbell. "I think as part of that, we didn't do a great job containing Gray and Armolaran in transition and keeping them off their strong hand."
Saturday saw more of the same for Campbell's squad. While the Mustangs only trailed 44–42 at the half, a fourth quarter run by the Lakers led to a seven-point Nipissing lead that the Mustangs couldn't overcome.
It was another heartbreaking loss, showing that, while the Mustangs have come a long way, they still have a long way to go.
"When you've got games like that, every possession matters throughout the whole game but especially in the fourth quarter," said Campbell. "We had some good layup opportunities and just can't convert. As a result, some of those layups that we missed went back in transition the other way, and they scored layups, so they're kind of four point plays in a sense. "
Jenkins led the Mustangs with 24 points on Saturday, while Marko Kovac added 14 points. The Mustangs also dominated the turnover battle, forcing 24 turnovers while only giving the ball up nine times.
It was a tough weekend for a team still searching for their identity. Some nights they're a defensive stalwart. This weekend they've emerged as an offensive efficient unit but also put up two of their worst defensive performances of the season.
The Mustangs now have a month until the 2018 stretch of the season. They still sit second in the OUA West Division.