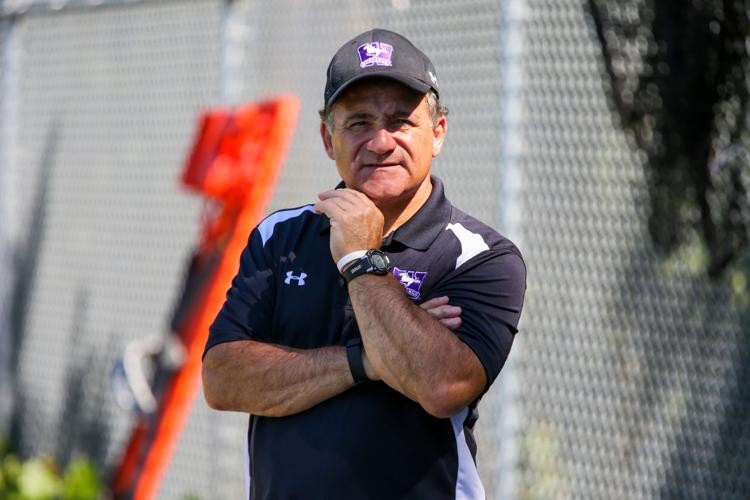 After 21 years at the helm of the Western Mustangs men's soccer program, head coach Rock Basacco has announced his decision to retire.
Basacco attended and played soccer at Western in the late '70s, captaining the squad for three years and earning the team's Most Valuable Player award in 1977. Following his playing career in the purple and white, Basacco had a stint as an assistant coach from 1983 to 1986 before taking the reins as the head coach of the program in 1995.
Basacco's tenure at Western brought stability to the program, guiding the Mustangs to 21 playoff appearances in his 21 seasons. The program won seven Ontario University Athletics championships and two U Sports (formerly Canadian Interuniversity Sport) National Championship titles in 1998 and 1999.
Basacco led Western to great heights early in his head coaching career and, after 21 years, felt it was the time to step away to let a new coach return the program to national dominance again.
"I put 21 years in, and thought it was time to give the program an opportunity to bring a new coach in and get the program back to the next level," said Basacco. "We've been very competitive, so it hasn't been an issue, but at some point more time needs to be put into recruiting and all the other factors that come into play to make it a competitive program."
After taking over a program that had never won a national title and that was suffering through a 42-year OUA championship drought, Basacco built a national powerhouse at his alma mater, transforming an unexceptional team into one of Ontario's annually competitive sides.
As Basacco iterates, the ability to recruit the best student-athletes allowed him the opportunity to build such a successful program.
"The key is the quality of the student-athlete coming in, so recruiting plays a huge role," said Basacco. "We've been really fortunate that we had some great success early, and success breeds success. Western has such a great academic reputation, and we attracted a lot of top quality student-athletes."
While the program hasn't won an OUA championship since 2007 and hasn't reached the OUA Final Four since 2010, Basacco will forever be responsible for the rebirth of Mustangs men's soccer. 
"We're so thankful for Rock and how he's led our program over the past 21 years," said Christine Stapleton, the director of Sport and Recreation Services at Western, in a press release. "Rock will always be an important member of the Mustangs family, and we wish him all the best as he steps away from his role as head coach." 
As the Mustangs start their search for a new men's soccer head coach, they will have a foundation in place to continue winning both on the provincial and national stages. Thanks to Basacco, that championship legacy is well set up to continue for years to come.