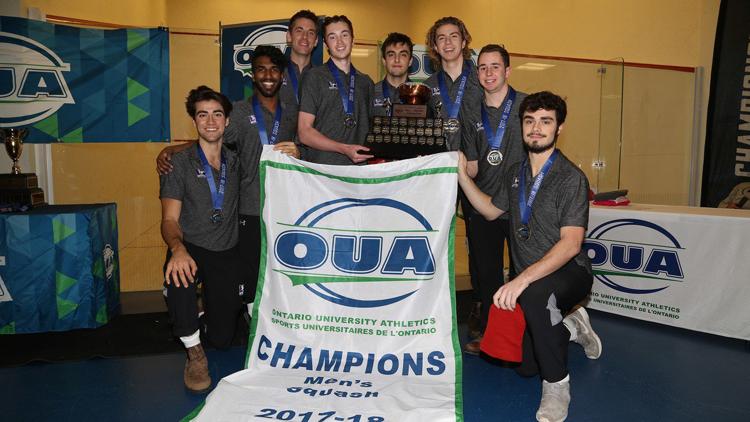 The Western Mustangs men's squash team won a historic 35th straight Ontario University Athletics championship over the past weekend. The team began its streak during the 1983–84 season, well before the members of the current team were born. The 35-year streak is the longest of any sport in Ontario University Athletics history.
David Mill of the Western Mustangs finished the OUA season with a 18–5 record and went 6–0 in the championships. He took home MVP honours for the OUA season and was named an OUA all-star, along with teammate Matt Henderson. Mill highlights another strong recruiting class as a factor in the team's continuing success.
"The Western squash team this year is the strongest it's been in the past decade," said Mill. "We had a strong recruiting class including Canadian Junior Open champion and national champion, Akasham Rajagopaul, along with Jackson Kay and Brett Schille, who were strong additions in the middle of the lineup; that definitely helped with our success this year."
The Mustangs dominated in the championship, winning all of their games and finishing with a 54–0 record. The team has a lot of strong players, and coach Moore works to ensure that everyone gets the opportunity to play in ample competitive matches.
"We're much deeper [than the other Canadian teams], meaning we have a lot more players who are high caliber on our team," Moore said.
Mill attributed a part of the team's success to unity off the court as well.
"The nice thing about our team is we do essentially everything together, we train together, we study together; a lot of us actually live together," Mill said. "The bond is definitely strong within our team which I think plays a key role in our success on and off the court."
With the team enjoying a long period of success, there is pressure in maintaining something that began over 30 years ago. However, the Mustangs have been able to overcome it.
"Everyone that plays on our team has such a competitive drive and nobody wants to be that one team that loses the streak of the longest winning in the history of Canadian sport," Moore said. "So that's something that the guys look forward to every year, to get to play OUA championships and keep the streak alive."
The Mustangs' season is not yet over. The team will turn their attention to the American College Squash Championship taking place in Hartford, Connecticut, from Feb. 23 to 25.
"Going forward we have the reached the top goal in Canada and our next goal is to reach the top of the U.S. as a team," said Mill.