HALIFAX – Imagine, just for a moment, playing in the Canadian Interuniversity Sport national championships in a city just hours from your school, where thousands of fans are supporting you.
Now, imagine being a rookie on that team and scoring a hat-trick in the quarter-final elimination game.
Can things get any better?
For London native Michael Clarke, things did, as the St. FX X-Men forward followed up an impressive quarter-final performance with a triple-overtime goal in the semifinals in front of over 6,000 fans at the Scotiabank Centre in Halifax.
"It feels amazing [to be contributing this much]," Clarke said immediately following the 117-minute game. "I know [when] you get the hat-tricks and the OT goals you get all the credit but ...  there [are] guys in our room who deserve tons of credit. The guys who block the shots – the Trey Lewis's, the Craig Duinincks, the Brad Cuzners – the list can go on and on and on. If they don't block the shots, we don't win the games. It's plain and simple."
Clarke, who attended to St. Thomas Aquinas Catholic secondary school at Oxford St. and Hyde Park, has four goals, nine shots on goal and a +4 rating in the two University Cup games thus far. But he also had a solid first season with the X-Men, tallying 21 points in 27 games.
"It was tough adjusting towards school and hockey, [compared to] the junior lifestyle that you had before," he said. "But it's been a great time. I've met so many great people."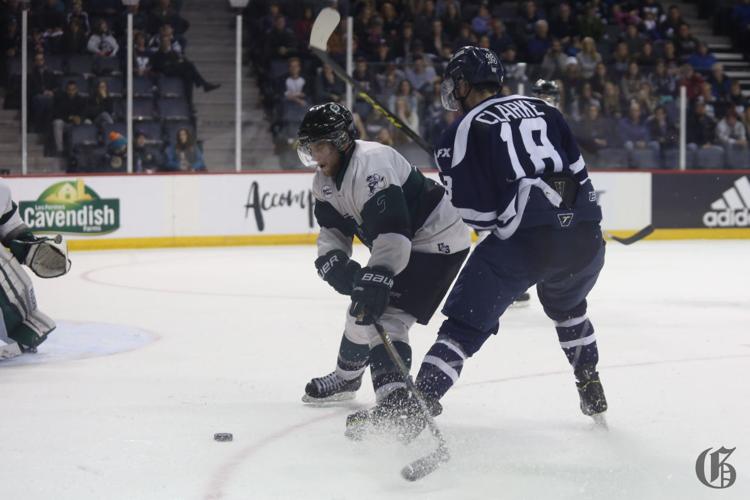 So why did the London native not want to come home after playing a junior career in Windsor and Peterborough?
"I always ... wanted to get out and experience something new and I knew that I had an opportunity," Clarke said. "And then on my recruiting trip I just visited out here and fell in love with the campus – the campus was super nice ... and I liked what [coach Brad Peddle] had to say about the hockey program as well."
One thing Clarke has noticed in his first year in the CIS is how good the hockey is.
"The league is great. It's a super super underrated league," he said. "You can see it out there. Guys who have played pro hockey before have come back and played.... You see some teams like UNB and Carleton, they beat American Hockey League teams so it's really good caliber hockey."
Clarke was drafted by the Colorado Avalanche in 2012 but was never able to secure a professional contract. At the University Cup this weekend, some NHL scouts have been in the building, so there is always still the chance that he impresses enough to get an invite to an NHL training cup.
But Clarke said impressing scouts is the furthest thing from his mind.
"As soon as you start worrying about the outside world, about what's going on and all the talk and stuff, [that] is when you might let in get in your head a little bit," he said. "So I'm just enjoying the moment and having fun right now."
For now, after a triple overtime game, preparing for a gold medal game that is just 21 hours away means going back to the basics.
"It's pretty much just nutrition and rest. You eat the right meals, get lots of rest," he said. "At the end of day your legs are going to be a little sore tomorrow after almost playing two hockey games ... so we've just got to go back and take care of our bodies."