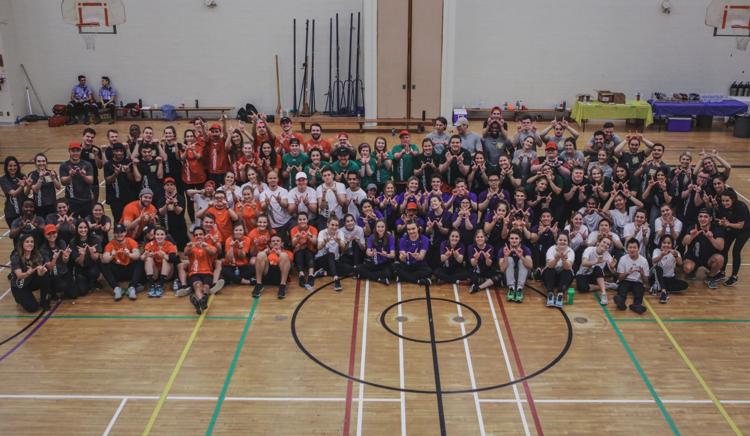 When kinesiology students Sarah Young and David Le Nguyen first joined the motionball chapter at Western, they had no idea it would become such an important part of their university experiences.
motionballU will be hosting their fourth annual Marathon of Sport on Sunday at the Faculty of Education Building gym, co-directed by Young and Le Nguyen.
"We both kind of went out to this event not really knowing in our first year what to expect," said Young. "It has brought us a multitude of opportunities and friendships that I personally did not expect when I showed up in my first year."
motionball is a non-profit organization that prides itself on having expanded to 20 different cities across Canada. This is the fourth year that its chapter at Western University has been running.
The main event that the club organizes is the Marathon of Sport. Western student participants form teams and then add up to two Special Olympic athletes to each of the teams. All the teams then participate in different sports together throughout the day. The goal of this event is to promote inclusive and integrated sport within Western and the London community.
Registration is $20 per participant. This includes a Pita Pit lunch, snacks and beverages throughout the day. The event is also sponsored by Under Armour, so each participant will be given an Under Armour shirt.
Participants are also given the ability to participate in fundraising incentives. There will be over $1,000 in prizes to give out to fundraisers, and those who raise $50 will have the option to have their registration fee returned.
"We have over 140 students that come out consistently," said Le Nguyen. "Last year we raised $11,500, which is really good, and we're hoping this year we break that record."
Over the last four years, they have raised about $40,000.
In terms of the funds being raised, the money collected is distributed throughout different branches of the Special Olympics Canada Foundation. Seventy per cent of funds are directed toward the provincial chapter, 25 per cent goes toward the national level and the remaining five per cent is allocated to the #NoGoodWay campaign.   
"The #NoGoodWay campaign aims to end the use of the R-word by encouraging Canadians to make the choice to eliminate it from their vocabulary and to empower them to take the #NoGoodWay pledge," explained Le Nguyen.
For more information about the event and registration, visit the motionball website at https://www.motionball.com/events/motionballu-marathon-of-sport-western-university/.